435th OMS C-130 Reunion Group
1975-2005
In Memory
Daniel Kozfkay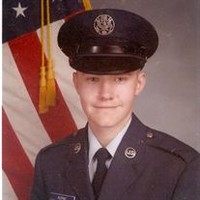 http://www.ramseyfuneralhome.net/obituaries/Daniel-Kozfkay/#!/Obituary
Obituary for Daniel J. Kozfkay
Daniel J. Kozfkay, age 49 of Port Hope, passed away Thursday, September 10, 2015 at Harbor Beach Community Hospital under hospice care.

He was born on December 2, 1965 in Harbor Beach to the late Edward and Elsie (Gwisdalla) Kozfkay. Dan served in the US Air Force for 4 years, from 1984 – 1988. He and Sharon Paolucci were united in marriage on July 8, 1995 in OLLH of Harbor Beach.

Dan worked at Dow AgroSciences of Harbor Beach. He was a member of the Grace Bible Church of Harbor Beach. He enjoyed being in his band, JBS, going to Port Huron to watch the Hockey team, woodworking, watching his son Codey play sports, watching sports on TV, and would help anyone he could when they needed help.

He is survived by his wife Sharon Kozfkay of Port Hope, son Codey Kozfkay of Port Hope, siblings: Marilyn Gosdzinski and her hsuband Jim of Brownstown, Sandra Glaza and her husband Gary of Saginaw, Carol Herriman and her husband Dan of Harbor Beach, and Allen Kozfkay of Harbor Beach, brothers-in-law: David Paolucci of Bad Axe and Shane Paolucci and his wife Beth of Bad Axe, and many nieces and nephews.

Funeral Service for Daniel will be Monday, September 14, 2015 at 11 am at the Ramsey Funeral Home of Harbor Beach, with Rev. Jay Barsaleau officiating. Burial will follow in Forest Bay Cemetery. Visitation for Daniel will be Sunday, from 2-8pm at the funeral home, and on Monday beginning at 10 am until time of services at 11 am.