Rhein Main Air Base - 435th OMS ENROUTE MX SECTION
Years Assigned to RMAB 1960 - 2005
Reunion Items / Newsletters
Happy Thanksgiving
As I reflect on all I'm grateful for this Thanksgiving, our freedom and all those who fought for it ― people like you ― is top of mind. As a veteran, you surely count those among your blessings as well.
That's why I hope you'll join me and my family in reserving a seat at your Thanksgiving table to honor your fellow service members who sacrificed everything to protect our way of life.
You can give thanks during the holidays by downloading this free place card to set on your Thanksgiving table in honor of a fellow service member. Then, take a photo of the place setting and share it with your friends and family using the hashtag #reservedforahero.
Thank you for joining me in honoring your fellow service members. I wish you and yours a very happy Thanksgiving!
Sincerely,
LeAnn Rimes
DAV Ambassador and American Singer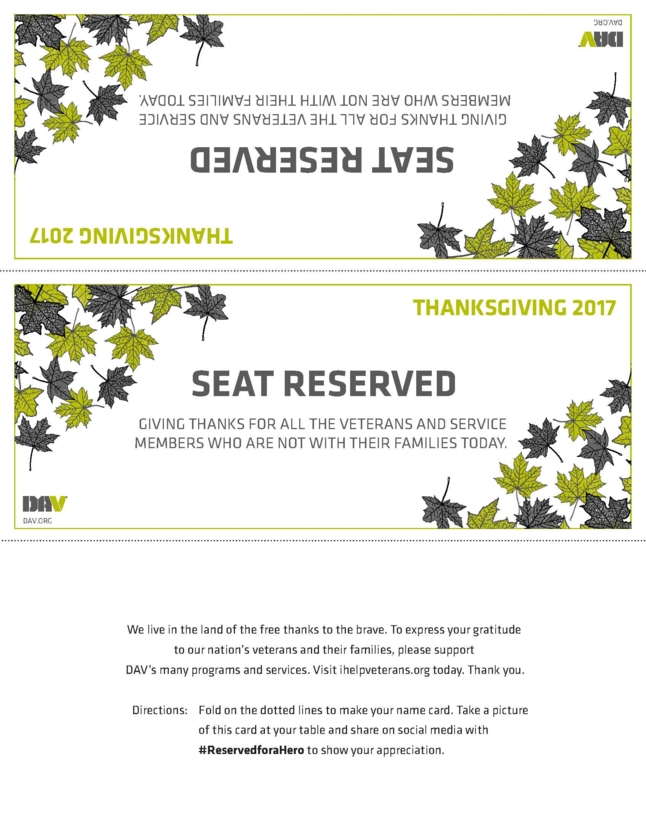 https://secure.dav.org/site/SPageNavigator/2017ReservedforaHero.html;jsessionid=00000000.app360b?s_src=Thanksgivingemail&NONCE_TOKEN=0B956E9B80992469D41B3734E572BC1E
Enroute Reunions
1989 - Alamogordo, NM (Correction) (Greg McCue - Host)
2001 - Myrtle Beach, SC (Stan Miller / John "Bruno" Potter - Hosts)
2002 - St Louis, MO (Neil Bonner - Host)
2004 - St Louis, MO (Neil Bonner - Host)
2006 - Branson, MO (John "Bruno" Potter / John Leonard - Hosts)
2007 - Warner Robins, GA (Stan Miller - Host)
2008 - Reno, NV (Carl & Marie Bodin - Hosts)
2009 - Fairborn, OH (Stan Miller - Host)
2010 - Fairborn, OH Enroute Plaque Dedication Ceremony (Stan Miller / Floyd Johnson - Hosts)
2011 - Dover AFB, DE (Gary/Sue Kutsch - Hosts)
2013 - San Antonio, TX (Floyd Johnson / Russ Brown - Hosts)
2015 - Ft Walton Beach, FL (Jim Warren - Host)
2017 - San Antonio, TX (Russ Brown / Stan Miller - Hosts)
ONE Enrouter has attended ALL of them.
He has been instrumental in getting many Enrouters to attend these reunions.
** Richard "FIG" Figueroa **

Enrouters, Guests and Friends

Our 2019 Enroute Reunion is being planned and when information is available, we will publish.

We will be announcing a major reunion announcement in a couple weeks about our 2019 Enroute Reunion.
We are quite sure, everyone will like the announcement.

Floyd Johnson and Stan Miller will be putting in allot of time and coordination planning this reunion.
We all are going to have a superb time.
If you have any questions, please let us know.

REUNION REMINDERS:

PLEASE UPDATE YOUR PROFILE INFORMATION
Our Reunion Hosts had problems contacting folks.
Make sure your Flight and years you were at Rhein Main are in your profile.

PLEASE POST a picture of yourself in your profile when you were at Rhein Main.


Stan Miller
Please let me know if you will be attending.
Stan: rmvets@gmail.com


REUNION EVENTS / PRICES

I was informed this week, many of our members were not aware of our
435th OMS ENROUTE MX SECTION profile on Facebook.

Anyone that uses Facebook, I would like to recommend you join our profile and interact with fellow member posts.

I also would like to recommend the RHEIN MAIN AB, GERMANY profile on Facebook.

You can find useful information about Rhein Main on this profile.


Stan Miller would like to know if anyone knows the where-a-bouts of William "Billy" Russell.

Looking for William " BILLY " Russell, stationed at Rhein Main AB, (Frankfurt), Germany, 1979-1982 (US Air Force) . Billy worked in 435th OMS Supervision. I think Rhein Main was Billy's first assignment. Billy would be (approximate age) 50 y/o, approximate DOB: 1961. (Possibly from Tennessee) Stan Miller, rmvets@gmail.com

Video of Enroute taken July 2005

Rhein Main Air Base - July, 2005 - 726 AMS Enroute Support Section

https://www.youtube.com/watch?v=HyKLnaY0oFg

Stan Miller rmvets@gmail.com

Webmaster

ENROUTERS,

I came across this website to purchase Rhein Main knick - knacks.

RHEIN-MAIN AIR BASE Store : Air Base Store

Memorabilia, keepsakes and gifts of USAF, U.S. Air Force ( RAF ) bases. Air bas

...

e designs on cups, calendars, t-shirts, stickers, caps and more. Your base may be closed, but your memento is available

.

PLEASE: NO BUSINESSES CONTACT OUR REUNION HOSTS. IF THEY WANT YOUR SERVICES, THEY WILL CONTACT YOU.

Stan Miller

435th OMS Enroute MX Reunion Group Webmaster

*** If you know of Rhein Main Enrouters, Transient Alert, Job Control, Quality

Control, OMS Supervision, Orderly Room Staff, and C-9s personnel not on the

website, Please encourage them to join our website, so they can enjoy the fun we are having.

*** Several folks have asked questions about the reunion. I have referred them

to the website because that is why we have the reunion information posted.

*** For the ones that are not aware of our profile on FACEBOOK, recommend you

check out our Profile Page: 435th OMS ENROUTE MX SECTION.

While you are on FACEBOOK, there is also a great profile for folks that

were stationed at Rhein Main.

Profile: Rhein Main AB, Germany.

If you do have questions, please let us know.

Thanks,

Stan Miller

435th OMS Enroute Webmaster

Email: rmvets@gmail.com

PS: I've had some other Air Force Units to contact and compliment me on our fantastic website and how we are able to keep our members updated and our reunions being so successful. Its an honor to help them to get them up and running, so they are able to get their Units back together from the past.

ENROUTE REUNION - 2017 DOVER, DELAWARE

Russ Brown would like to thank everyone who attended the 2017 San Antonio Reunion.

Russ & Stan enjoyed hosting the reunion and watching everyone have a superb time.

MANY THANKS from all of us who attended.

**************************************************************************************************************************

ENROUTE REUNION - 2011 DOVER, DELAWARE

Gary and Sue Kutsch would like to thank everyone who attended the 2011 Dover Reunion.

They truly enjoyed hosting the reunion and watching everyone have a superb time.

Gary and Sue did an OUTSTANDING job. MANY THANKS from all of us who attended.

Dear ENROUTER Friends,

My name is Holger Werner and I'm living around 30 Miles away from a very Special Place in Frankfurt. A Place you all remember very well. A place that used to be your home for 1, maybe 2, maybe 3 Years or even longer. You wonder why I call you "Friends" right? I don´t even know you, but you Guys helped to rebuild Germany after a horrible 2.World War. A war we still talk about, and all the bad things it brought to our Country. I remember meeting my friend Gregory in 1993. His mother was stationed in Darmstadt and they lived in the Langen Housing Area. He was the one who took me to the Air Base the first time and I just loved it. Maybe it was because the year before I was in the United States for the first time and I missed it when I came back. In Langen, I met more "Soldiers" and I had a great time with them. We used to play Basketball outside, sometimes in the Gym on Rhein Main. We never talked about War, Race or Politics. We talked about Culture, Sports, Music and Life. No matter where you from, what Color you are, we are all Humans. Some people ask me why my friend Calvin, who was in the US Army and is a Black Person, is the Godfather of my Daughter Natalie. I went to his Retirement Ceremony on Fort Hood in 2009 and was honored to be a part of it. The Army is something very Special and I am not surprised that you Folks come together in Dover for a Reunion after all these years you haven´t seen each other. It´s about Friendship, no matter where you are, where you live. You went through thick / thin together, no matter what. I know you miss Rhein Main, a place that had a special flavor, a special Spirit. It was called the "Island", because the Air Base and Gateway Gardens was around the Frankfurt Intl. Airport. "A little America" in the middle of Frankfurt. Once I was in there, I always felt like I was in the States. Great things happened here, and a lot of us are missing you guys for different reasons. I am working for DHL, in the Cargo City right next to where the Air Base once was home. It was painful to see all the buildings going down. The last building that fell was the Church. To me it looked like it was the "Heart". When I read comments on the Internet, on Facebook or wherever I talk to people, I find out that you are missing Germany because of the great food, the open minded people and the culture in Germany and Europe. I have/had so many Friends in the US Army here, I can not describe how much I miss it. Wiesbaden is still big for the US Army here, it is even growing. But Darmstadt and Rhein Main, I feel like something is missing.

So what exactly is missing? Maybe a Book about the History of the US Army in the Rhein Main Area. Something to remember. Pictures & Stories of People who where here. The Trends that came over such as Music, Clothings. A Chapter about "Tears & Fears". Germans who worked on Rhein Main, Americans who lived in a German Neighborhood, Politicians, Musicians, Frankfurt American High School……there is plenty to tell & remember.

I had this plan a long time ago and started to collect everything I could find. I started to research last year and already had great Interviews. I still have a lot of work ahead of me and I will take my time. This will be the only Book I will ever write, so I want it to be something very special. Something that will make you think, cry and laugh. A history book you can always write I guess, and History was one of my Favorite Classes in School.

So while I hope you have a good time in Dover, and by the way I feel very honored that I was invited by Stan Miller to join you ( I can not make it there because I have a family and my wife is pregnant ) I hope you will feed me with Stories and Pictures I could use for my Book. Whether it was the RAF Bomb Attacks in 1984 or any other Story you think is worth to mention, feel free to contact me. Share your Story, share your Pictures and be Part of my Book "America was around the Corner"

PS: You won´t believe it, but I contacted a lot of people who showed interest in my book and being part of it. Some asked me for money, some thought I am working undercover for the FBI and I am trying to get some Information out of them they shouldn´t talk about.

Here is my Answer to all of you: I am not working for the FBI, CIA, TALIBAN or whatever J
+ I am not trying to make any Profit with my Book. If you don´t have Stories like Harry Potter, it is pretty hard to earn Money, believe me. You can be lucky to find someone who will take the Risk and Print it !

Thanks for listening, thank you all & God Bless you !

Thank You
Holger Werner
Gross-Gerau, Germany
Holger.werner.9@t-online.de

America was around the Corner

I have received the following email from Mr. Holger Werner, who lives in Gross Gerau, Germany. He is in the process of writing a book titled: America was around the Corner and is looking for any personnel that were stationed at Rhein Main, and willing to send him your precious memories and any photos of the base. His book is forecasted to be printed in December.

I recently found your Comments on a Web (Photo) Blog on the Internet while searching for Rhein Main Air Base pictures. I am happy you left your E-Mail Address.

The reason I am writing to you is that I have founded a Rhein Main Airbase Group on Facebook and I am planning to write a Book about the Americans in the Rhein Main Area called "America was around the Corner". On the FB Page, you´ll also find some Rhein Main Pics. Feel free to join and please tell all your Contacts about it. I live in Gross-Gerau, around 20 Miles south of the Airport and used to hang out with a lot of Americans in Langen (Terrace Housing) as well as Gateway Gardens and Cambrai Fritsch Kaserne in Darmstadt. My best friend Calvin is also now the Godfather of my Daughter.

Be proud of what you did and your Homepage is wonderful! Thanks for getting back to me so quick. Yes, please share my Request with others. I am probably not able to attend that Reunion but still, thank you for inviting me. It would be a great Experience to share some time with you VETS! I had Friends on Rhein Main and used to play Basketball in the 90s in the Gym. I am working for DHL, our Building is in Cargo City South, apprx. 1/2 Mile away from the Gym and other Buildings. I saw the Buildings go down every morning I drove to work and it brought Tears to my Eyes. You can see some of the Pics on the FB Group "Rhein Main Airbase". After the Base closed, nothing happened there for 2 YEARS ! ...now they build TERMINAL 3 of Frankfurt Intl. Airport on that Areal. It is great that I found you Stanley! Take Care and keep in Touch !

Best wishes,

Holger Werner

Email: holger.werner.9@t-online.de

Website: http://www.hw-event-hosting.de

Link to the Facebook Group

<http://www.facebook.com/group.php?gid=105187052864539>

Veteran to Veteran

(Submitted By Mr. Floyd Johnson, Former 435th OMS Squadron Commander)

When a Veteran leaves the 'job' and retires to a better life, many are jealous, some are pleased, and others, who may have already retired, wonder if he knows what he is leaving behind, because we already know.

1. We know, for example, that after a lifetime of camaraderie that few experience, it will remain as a longing for those past times.

2. We know in the Military life there is a fellowship which lasts long after the uniforms are hung up in the back of the closet.

3. We know even if he throws them away, they will be on him with every step and breath that remains in his life. We also know how the very bearing of the man speaks of what he was and in his heart still is. These are the burdens of the job. You will still look at people suspiciously, still see what others do not see or choose to ignore and always will look at the rest of the Military world with a respect for what they do; only grown in a lifetime of knowing. Never think for one moment you are escaping from that life. You are only escaping the 'job' and merely being allowed to leave 'active' duty. So what I wish for you is that whenever you ease into retirement, in your heart you never forget for one moment that you are still a member of the greatest fraternity the world has ever known.

NOW... Civilian Friends vs. Veteran Friends Comparisons:

CIVILIAN FRIENDS: Get upset if you're too busy to talk to them for a week.

VETERAN FRIENDS: Are glad to see you after years, and will happily carry on the same conversation you were having the last time you met.

----------------------------------------------------

CIVILIAN FRIENDS: Have never seen you cry.

VETERAN FRIENDS: Have cried with you.

---------------------------------------------------

CIVILIAN FRIENDS: Keep your stuff so long they forget it's yours.

VETERAN FRIENDS: Borrow your stuff for a few days then give it back.

--------------------------------------------------

CIVILIAN FRIENDS: Know a few things about you.

VETERAN FRIENDS: Could write a book with direct quotes from you.

---------------------------------------------------

CIVILIAN FRIENDS: Will leave you behind if that's what the crowd is doing.

VETERAN FRIENDS: Will stand by you no matter what the crowd does.

---------------------------------------------------

CIVILIAN FRIENDS: Are for a while.

VETERAN FRIENDS: Are for life.

---------------------------------------------------

CIVILIAN FRIENDS: Have shared a few experiences...

VETERAN FRIENDS: Have shared a lifetime of experiences no citizen could ever dream of...

---------------------------------------------------

CIVILIAN FRIENDS: Will take your drink away when they think you've had enough.

VETERAN FRIENDS: Will look at you stumbling all over the place and say, 'You better drink the rest of that before you spill it!' Then carry you home safely and put you to bed...

-----------------------------------------------------

CIVILIAN FRIENDS: Will ignore this.

VETERAN FRIENDS: Will forward this.

----------------------------------------------------

A veteran, whether active duty, retired, served one hitch, or reserve, is someone who, at one point in their life, wrote a blank check made payable to 'The Government of the United States of America' for an amount of 'up to and including my life'.

From one Veteran to another, it's an honor to be in your company.

Thank you for your service to our country and defending the freedoms we enjoy.

** Items that can be ordered for the reunion **


Polo Shirts: (State size, color, long/short sleeve, quality of shirt, name on shirt)

T- Shirts: (State size, color, long/short sleeve, quality of shirt, name on shirt)

Ball Caps: (State color, type and quality of cap)

Virtually any type item you would like the 435th OMS Enroute Logo put on

Note: In your email, state you would like the 435th OMS Enroute items Stan Miller spoke to Mr Bledsoe about.

LOOKING FOR ALL FORMER ENROUTERS

We still need your help in locating Enrouters. Be sure to check on the Profile Page to see if you have any contact information for any Enrouter that has not joined our website.

(Transient Alert, Quality Control, Job Control, OMS Supervision, Orderly Room Staff members are also welcome to attend)

Stan Miller - Webmaster

Email: 435thomsenroute@gmail.com or flymiller@mindspring.com

FAMOUS QUOTES

'If the enemy is in range, so are you.'

- Infantry Journal-
---
'It is generally inadvisable to eject directly over the area you just bombed.'
- US Air Force Manual -
---
'Whoever said the pen is mightier than the sword, obviously never encountered automatic weapons.'
- General MacArthur -
______________________________________________________________
'Tracers work both ways.'
- Army Ordnance Manual-
---
'Five second fuses last about three seconds.'
- Infantry Journal -
---
'Any ship can be a minesweeper. Once.'
- Naval Ops Manual -
---
'Never tell the Platoon Sergeant you have nothing to do.'
- Unknown Infantry Recruit-
---
'If you see a bomb technician running, try to keep up with him.'
- Infantry Journal-
---
'Yea, Though I Fly Through the Valley of the Shadow of Death, I Shall Fear No Evil. For I am at 50,000 Feet and Climbing.'
- Sign over SR71 Wing Ops-
---
'You've never been lost until you've been lost at Mach 3.'
- Paul F. Crickmore (SR71 test pilot)-
---
'The only time you have too much fuel is when you're on fire.'
-Unknown Author-
---
'If the wings are traveling faster than the fuselage it has to be a helicopter -- and therefore, unsafe.'
- Fixed Wing Pilot-
---
'When one engine fails on a twin-engine airplane, you always have enough power left to get you to the scene of the crash.'
-Multi-Engine Training Manual-
---
'Without ammunition, the Air Force is just an expensive flying club.'
-Unknown Author-
or with ammunition too
---
'If you hear me yell;"Eject, Eject, Eject!", the last two will be echos.'
If you stop to ask "Why?", you'll be talking to yourself, because by then you'll be the pilot.'
-Pre-flight Briefing from a Canadian F104 Pilot-
---
'What is the similarity between air traffic controllers and pilots?
If a pilot screws up, the pilot dies; but If ATC screws up, .... the pilot dies.'
-Sign over Control Tower Door-
---
'Never trade luck for skill.'
-Author Unknown-
---
The three most common expressions (or famous last words) in military aviation are:'Did you feel that?''What's that noise?' and'Oh S...!'
-Authors Unknown-
---
'Airspeed, altitude and brains. Two are always needed to successfully complete the flight.'
-Basic Flight Training Manual-
---
'Flying the airplane is more important than radioing your plight to a person on the ground incapable of understanding or doing anything about it.'
- Emergency Checklist-
---
'The Piper Cub is the safest airplane in the world; it can just barely kill you.'
- Attributed to Max Stanley ( Northrop test pilot) -
---
'There is no reason to fly through a thunderstorm in peacetime.'
-Sign over Squadron Ops Desk at Davis-Montham AFB , AZ-
---
'You know that your landing gear is up and locked when it takes full power to taxi to the terminal.' - Lead-in Fighter Training Manual -
---
As the test pilot climbs out of the experimental aircraft,
having torn off the wings and tail in the crash landing, the crash truck arrives..
The rescuer sees the bloodied pilot and asks, 'What happened?'
The pilot's reply: 'I don't know, I just got here myself!'.