Rhein Main Air Base - 435th OMS ENROUTE MX SECTION
Years Assigned to RMAB 1960 - 2005
Reunions
435th OMS ENROUTE REUNIONS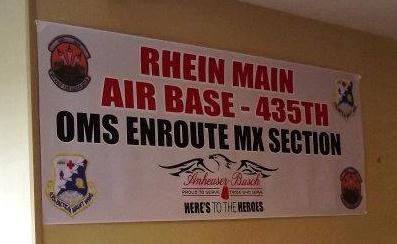 Our 2013 Enroute Reunion is now in the history books as an outstanding reunion.
435th OMS 2013 Enroute Reunion Summary

2013 Enroute Reunion
San Antonio, Texas
October 10-13 Oct 2013
Mr. & Mrs. Floyd Johnson – Reunion Host
Mr. and Mrs. Russell Brown – Co-Reunion Host
The 435th OMS 2013 Enroute Reunion can be summed up – An Awesome Superb Reunion.
The reunion got off to a roaring start on Wednesday with a large amount of folks arriving early to get the party started early. Our reunion hosts booked the world famous historic Emily Morgan Hotel, right across the street from the Alamo. The famed Riverwalk was only a short walk away, as was the RiverCenter Mall. Scenic carriage rides were across the street from the hotel entrance, to include the many other awesome places to see and do, just minutes away.
Our reunion hosts also hosted an awesome hospitality room. A big thanks goes out to the HEB Food Markets for donating food/drink supplies to help feed and provide drinks to our folks.
Amazingly, when Floyd Johnson (Reunion Host) spoke to their Store General Manager about donating items, he said he would be honored to donate items because he was also a former Rhein Main Alumni, having worked in the Command Post in the late 1980's.
Our folks enjoyed visiting the Alamo, Riverwalk and the boat tour we all took on Friday afternoon. While on the boat tour, we saw the famous historic and oldest VFW Post in Texas.

One of the highlights of our 2013 reunion, was attending the graduation ceremony held on Friday at nearby Lackland AFB. This was a very touching ceremony and was enjoyed by all and brought back many memories of our days at Lackland AFB going through basic training. Thanks to Russ Brown (Reunion Host), we enjoyed reserved seating immediately next to the Commander's Reviewing Stand. This event will be remembered by all who attended.

During the graduation ceremony, I had the pleasure and honor of meeting Robert D. Gaylor, CMSGTAF. Yes, the 5th CMSGT of the AF. A big thanks goes to Thom Miller (CMSGT, Retired, Enrouter and friend of Chief Gaylor for introducing his lifelong friend to me).

The majority of us all enjoyed either lunch or dinner at the famous Mi Terra restaurant and visited the El Mercado area (great Mexican specialties market). On a funny note, members that know Rolando Santamarina, may want to ask him about his surprise birthday party while his wife and him were having dinner on Saturday afternoon. (Rolando, I was jealous you having all those beautiful ladies hugging and singing Happy Birthday to you) !!!
I hope you enjoyed your birthday, the one that you didn't even know you had.
Note: The restaurant staff was told, it was Rolando's birthday, but it really wasn't. When the waitresses all surrounded Rolando hugging and singing Happy Birthday to him, his facial expression was priceless while saying, its not my birthday. This will be a birthday, Rolando won't forget.
Our Saturday evening banquet will be another event that will be remembered by all that attended. Not only was our meal superb, the presentation Russ Brown gave, was priceless. For the ones that don't know, Chief Brown had many awesome assignments during his 30 year career in the Air Force. His presentation Saturday evening was no doubt, the best one he ever presented. His presentation highlighted numerous unforgettable events that happened at Rhein Main involving Enrouters, many causing Enroute Management explaining to the DCM and Wing Commanders, why the incidents were done by the various Enrouters.

We would also like to recognize our special guests in attendance. Peter Coutandin, his daughter Denise and Janet Schultz flew in from Frankurt Germany to attend this years reunion. Peter was made an Honorary Enrouter at the 2011 Enroute reunion in Dover. In the late 70s and early 80s, most people on base thought Peter was an actual B flight Enrouter due to friendship and love of the folks in Enroute and the special friendship we all shared. Denise quickly learned why her dad loves our group and proud to be called an Enrouter. Denise told everyone, she is already looking forward to attending our 2015 reunion. In addition, we would like to thank Janet Schultz for attending. She is the daughter of Chief Foster. Amazingly, Peter, Denise and Janet all live within 3 miles of each other in Germany. All three enjoyed the hospitality of our reunion and we hope to see them all back at our next reunion.
A big Thank You goes to Floyd Johnson and Russ Brown for hosting our OUTSTANDING 2013 Reunion.
During the banquet, the 2015 Enroute Reunion location was announced.
Fort Walton / Santa Rosa Beach (FL) will be the location of our next reunion.
Jim Warren, Floyd Johnson and Stan Miller volunteered to host this reunion.
Planning has already begun and details will be forthcoming.

The majority of folks don't have a clue the amount of time and planning that goes into coordinating a reunion. Please help our hosts and UPDATE your personal information in your website profiles.
We hope to see you at our 2015 Enroute Reunion. Please tell your friends, mark your calendars and plan to attend our next reunion. The word is getting out, we have awesome reunions and everyone enjoys the quality time being shared with fellow Rhein Main colleagues.
2013 Enroute Reunion Ball Cap / T-Shirt
Stan Miller
Webmaster
************************
Our 2011 Enroute Reunion is now in the history books as an outstanding reunion.
Dover AFB Air Museum
2011 ENROUTE REUNION

Our 2011 Reunion was awesome!!
6-9 October 2011 Dover AFB, Delaware
HOSTS: Mr. and Mrs. Gary Kutsch
Dover Hilton Garden Inn
Wednesday
Several Enrouters arrived at the Dover (Delaware) Hilton Garden Inn Hotel and the party began. Jim Warren, Jim Whalen, Vicki Hopkins and Stan Miller checked out one of the Italian Restaurants for dinner in Dover Downs Casino. Awesome food and service.
Thursday
By Thursday afternoon, the City of Dover knew the 435th OMS Enroute had arrived.
The hotel had Enrouters running up and down the hallways, elevators, the bar and a few even were enjoying the pool. Thursday evening,
Enrouters that had arrived, we all went to the Dover Downs Casino Buffet Dinner.
The restaurant overlooked Dover Downs and the food was superb.
We all returned to the hotel to enjoy the fellowship of fellow Enrouters, spouses and friends.
Friday
We were treated and hosted by the Dover AFB Public Affairs, and were given a base tour of Dover AFB. We toured Dover's Super Cargo Port Processing APS Facility.
The amount of air cargo that is processed at this facility was absolutely amazing.
Then we all tour the newest Control Tower in the Air Force and the Approach Control Facility. Everyone is familiar with a Control Tower. The view was superb! The Approach Control Facility controls aircraft in all the airspace surrounding Dover AFB.
We were then given taken to the Dining Facility. We were treated like VIPs.
The food and service was awesome.
We were then taken to the flightline and toured C-5M and a C-17 aircraft.
For the ones not familiar with the C-5M, this aircraft has the new super quiet and more powerful engines installed, in addition to many other upgrades. The capability of the
C-5M is incredible.
A BIG THANKS GOES TO THE DOVER AFB PUBLIC AFFAIRS OFFICE.
After returning to the hotel, a bit of freshing up, a couple drinks, we all went the Boondocks Seafood Restaurant. The seafood was incredible, but sorry to say, the service was not so incredible.
We all returned to the hotel to enjoy the fellowship of fellow Enrouters, spouses and friends.
Saturday
We started the day out touring the Dover Air Museum. We were given full access to every airplane on display. First time I've been in a C-133 and KC-97.
The first C-141A ever built is on display. Tail # 612775.
Freddy Garrison was able to reunite with the KC-135 he crewed for many years while on Active Duty. Brought back many wonderful memories.
We had a group photo taken.
Our Saturday evening banquet, was truly outstanding.
Followed by a superb reunion program.
Gary and Susan Kutsch did an outstanding job coordinating our banquet. The food was superb.
Colonel Mike Harper (ret) former Base Commander Rhein Main, gave an outstanding presentation regarding the Dover AFB Air Museum and the role the Volunteers play in keeping this outstanding museum open and in outstanding condition. Everyone enjoyed his presentation. A BIG thanks to Colonel Harper, fantastic presentation.
Stan Miller (Webmaster) thanked everyone for attending our 2011 Enroute Reunion.
Stan had the pleasure of making Peter Coutandin a Honorary 435th OMS Enroute Member.
Peter is a German foreign national that has been a longtime personal friend of many Enrouters.
In the late 1970s and early 80s, Peter attended all B Flight functions and was at Enroute building nearly every day.
Peter flew in from Frankfurt (Germany) to attend our reunion and I'm quite sure we will see him at our 2013 San Antonio reunion.
Peter is a Captain in the German Air Force Reserves and is an Air Traffic Controller at the Frankfurt INTL Airport. We welcome Peter and looking forward to seeing you more in the future.
Peter, I'm very sorry, it has taken so long for you to become an Enrouter. Seeing the look in your face when I presented you the certificate, was priceless. You are welcome and urged to attend all future Enroute reunions.
Stan Miller then thanked former OMS Commander (LTC) Floyd Johnson for being the Master of Ceremonies at the 435th OMS Enroute Section Memorial Plaque Dedication Ceremony year at the Air Force National Air Museum, Wright Patterson AFB, OH in May 2011. Folks, if you are ever at the Museum, please be sure to look up our plaque honoring all the men and women of the 435th OMS Enroute MX Section located in Freedom Heritage Park.
We have had Enrouters to visit the Heritage Park at Wright Patterson and been thrilled when they see our plaque honoring all Rhein Main Enrouters.
Floyd Johnson thanked Stan and the group for having the honor of being our Commander, and being the Master of Ceremonies of the Plaque Dedication Ceremony.
Mr. Floyd Johnson then announced, his wife Lois, himself and Russ Brown (CMSGT, Ret) will be hosting the 2013 Enroute Reunion, in San Antonio, Texas.

We would like to THANK Gary and Sue Kutsch for the outstanding job they did hosting our 2011 Reunion. Truly SUPERB reunion.

*********************
13-15 May 2010 Plaque Dedication Ceremony
Our 2010 Mini Reunion is another fantastic Enroute Reunion in the history books. Majority of our folks arrived on Thursday afternoon/evening and enjoyed the hospitality room.
Plaque Dedication Ceremony
National Air Force Museum, Wright Patterson AFB, Ohio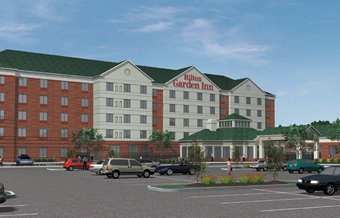 2009 REUNION
All former members of Enroute, Transient Alert (TA), OMS Supervision,
Job Control, Quality Control (QA) and Orderly Room Staff
are invited and encouraged to join our website.
Enrouters,
Our 2009 Enroute Reunion was enjoyed by all and was noted as being the biggest and best Enroute Reunion ever held.
Everyone has said, they thoroughly enjoyed the reunion and seeing so many old friends and making new ones.
Here is the 2009 Enroute reunion summary:
Wednesday evening: Several members enjoyed dining at the Texas Steakhouse, returning to the hospitality room to get our reunion started in great fashion.
Thursday: Due to the rain, only a few members went to the Young's Dairy for lunch. Later in the evening, we all enjoyed getting together at Beef-O-Brady's. Fantastic turn out. Truly SUPERB!! Thanks goes to Mr. Todd Koogler & Staff at Beef's for having us.
Friday: We toured a C-5A at Wright Patterson AFB. The base provided (4) crew members to answer questions. The aircraft had a hydraulic leak and several of our members offered to help repair the leak, but the mechanics thought they could handle it without our help.
Friday evening: We all enjoyed the catered German banquet at a local fellowship hall. The lady that owns the catering company, also works with Enrouter Ernesto Goenaga during the day. Donna and her crew did an OUTSTANDING job on the food & decorations. Truly SUPERB!!
Saturday: Members toured the Air Museum and took advantage of the various places of interest located in Fairborn and Dayton, Ohio.
Saturday afternoon: A group photo was taken with a special panoramic camera in front of the C-141C on display at the Wright Patterson AFB Air Museum. Tail # 660177 – last C-141 to be retired.
Another group photo was taken Saturday evening at the hotel, prior the banquet.
You can go on our reunion website, look under Group Photos – Shirts for information on how to order the different pictures, Enroute Shirts and hats.
Folks, these pictures are awesome and will be cherished for years to come.
Please note: For our members who attended the reunion and saw the panoramic pictures, these were the first printing. The photographer did not have the time to photo shop the pictures. The pictures you order, will have the colors enhanced and the airplane centered.
The WPAFB Honor Guard opened the Saturday evening banquet by posting our nations colors.
The hotel served an OUTSTANDING dinner banquet.
During the reunion program, Steve Pavon and Stan Miller held a small memorial service for all of the Enrouters that have passed away.
At the end of the reunion program, the WPAFB Honor Guard retired our nations colors. The Honor Guard did a SUPERB job and was appreciated by all.
Our reunion hotel provided a very nice welcome reception spread and Stan bought some pizzas.
Friday morning, the Plaque Ceremony was an awesome and very touching.
Mr. Floyd Johnson ( LTC, USAF, Ret, former 435th OMS Commander) was our Ceremony M/C. Mr. Johnson welcomed the various VIPs and informed everyone what all would take place during the ceremony, then proceeded to M/C the ceremony. Everyone who attended, will always remember the dedication ceremony.
After the ceremony, the entire group went to a local restaurant, Quaker Steak and Lube and enjoyed a fantastic buffet luncheon.
For dinner, the entire group went to BDs Mongolian BBQ in "THE GREEN", an upscale dinner/shopping area of Fairborn. Everyone enjoyed the dinner and then reassembled in the hospitably room.
Saturday, majority of everyone met for breakfast prior going home.
Sure was great seeing Jim Warren at the reunion. Jim is a lucky man with the near fatal accident he was involved in September 2009.
Reunion Shirts
Several folks asked how they could obtain T-shirts, Polo Shirts and ball caps with the 435th OMS Enroute logo on them. I contacted the company who made them for me and the owner would be delighted to make them for our members. See the Group Photos – Shirts tab for ordering details.
Stan Miller
7213 Avila Drive
Fayetteville, NC 28314
Email: 435thomsenroute@gmail.com or flymiller@mindspring.com
Chief "Jolly" Rogers presented Stan Miller a homemade American Flag, for keeping the 435th OMS Legacy alive. (The American Flag was made in Chief's woodworking workshop. Folks, the flag is OUTSTANDING and BEAUTIFUL.
Stan Miller
Webmaster
********************************************************************************************
I would like to recognize a special military reunion organization and recommend their services to anyone needing help with reunions.
Sharon Danitschek <sharon@militaryreunionnetwork.com>