Rhein Main Air Base - 435th OMS ENROUTE MX SECTION
Years Assigned to RMAB 1960 - 2005
In Memory
Robert A. Flood - Year Assigned 1985 VIEW PROFILE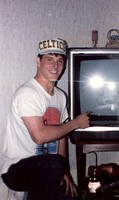 Robert A. Flood
Born: 25 March 1962
Passed: 24 May 1999
D - FLIGHT
WESTFORD, Mass. - Robert Allen "Bob" Flood, 37, died Monday, May 24,
1999, at Massachusetts General Hospital in Boston.
Born March 25, 1962, in Limestone, Maine, he was the son of Donald
Flood of Stratham and Sheila (Mullaney) Flood of Leominster, Mass. He
graduated from Leominster High School. He lived in Westford for the past
two years and previously lived in Townsend, Mass.
He served in the Air Force.
For four years, he was employed by Ascend. He was currently employed
as a manager of networks and communications at Sycamore Networks in
Chelmsford, Mass.
He was a member of the H.E. Fletcher Social and Athletic Club of
Westford and played softball on the Crory Stonewall team in Littleton,
Mass. He also enjoyed golfing and fishing.
He was the husband of Sarah (Kendrick) Flood.
In addition to his wife and parents, survivors include four daughters,
Tiffany, Samantha, Jennifer and Kelly Flood, all of Westford; his
stepmother, Barbara Flood of Stratham; a sister, Kathy O'Dell of Patterson,
N.Y.; a brother, Dan Flood of San Jose, Calif.; and a close friend, Jake,
of Westford.

Robert, you are sadly missed by all of you co-workers and Enroute Family
http://files.usgwarchives.net/nh/state/obits/1999/port19990527.txt
Click here to see Robert A.'s last Profile entry.