Berryville High School
Class Of 2000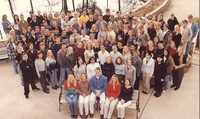 Welcome to the Berryville High Class Of 2000 web site. Please update your profile so we can stay in touch!
Please Sign Up for Our 10 Year High School Reunion!
Class Poem:
We stand looking back on yesterday. A time when childish play was innocent,
Superheroes seemed to be our only friends, And the impossible was possible to believe.
But the years have passed us by, As have the dreams of yesterday.
We can't hold on to time, and Memories will eventually fade away.
But the dreams we live and keep inside will forever continue to thrive in our hearts.
Time isn't written on a wall. It's not set in stone.
It's almost like looking through a mirror, Seeing reflections on the past.
The future is our own.
-Laura Freeland and Terri Card
Class Song: "Nothing Else Matters" by Metallica
Class Flowers: Yellow & Lavender Roses
Class Moto:
"What lies behind us and what lies before us are tiny compared to what lies within us." -Ralph Waldo Emerson