Bixby

High School




Class Of 1990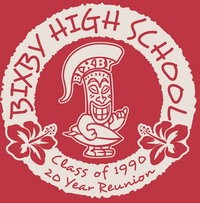 October 21, 22, & 23 2010
Oct. 21 (Thurs
)-
High School Football Game
7:30pm
There will be a roped off section of seats at the game
for the Class of 1990
Game Starts at 7:30 pm
(tickets need to be purchased separately)
Oct. 22 (Fri)- The Ivey Rooftop Wine Bar & Lounge on Brookside
7pm - 33rd & Peoria
We have a reserved section just for us
Come & catch up with everyone
The only cost will be what you drink!
Adults Only
Oct. 23 (Sat)- Hard Rock Casino
It's a Reunion Luau!
7pm
Dinner from 7-8:30pm
We have a designated banquet room
"Taste of the Islands" buffet and cash bar
Nice casual attire is suggested
Jeans are fine!
Thanks to Zach Walthall we now have a sound system!
Load you ipods full of your favorite 80's music to share with everyone!
Adults Only
Check us out on Facebook

Bixby HS Class of 90