Blairsville Jr/Sr High School
Class Of 1989
---
Welcome to the Blairsville Senior High Class Of 1989 web site.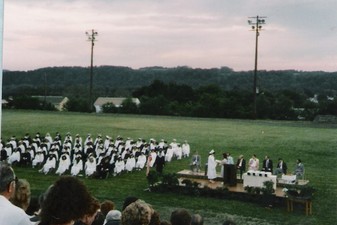 Don't be shy!! Log into your profile and post a current photo of yourself. Family photos work well too.
Please use this website for all information and communication.
ANNOUNCEMENTS
•




We would like to thank everyone:

who contributed to the raffle baskets. They were a huge hit and helped us raise money for our next gathering.


for helping us locate our fellow Bobcats! Even if they didn't attend the reunion this year, we know where they are for future events.

(although there are a few still on the missing list)

for such a fantastic weekend!


If you haven't done so already, you should join Facebook to keep in touch with all your Blairsville High School friends.

•

We are still searching for a few classmates. The list of Missing Classmates here reflects the people who have yet to register to the website. Many of them we have been in contact with, but again, they have not set up their profile here which would remove them from the missing list. The following people we are still working on locating: Bob Anthony, Tammy Clark, Laura Clay, Lisa Deal, Sam Douglas, Angela Fink, Matt Heiss, Stacie Himes, Frank Liscsak, Terry McAdams, Marie-Ange Paget, Becky Pizer, Amy Risinger, Alicia Shirley, Joe Sleasman, Eric Smith, Jake Smith, Mike Stiles, Lori Wisor, Akeno Yayama, Dave Zedick. If you know how to contact any of these classmates, please pass this web address onto them.

If you are in contact with any of the classmates on the missing list, that we have contacted, but have not come to register here, please encourage them to do so.

•

Walk Down Memory Lane: We have created a Flickr group account to share old high school photos. Create a personal account, then share the photos with the group. We are planning something fun with the photos you share! Don't delay, scan and upload as soon as you can. You can find us at www.flickr.com/groups/bshs89/.





Find us on Facebook! We have a BSHS Class of 89 group. Just send a request to join the group.