Bothell High School

WHEN: CHANGE OF DATE August 20, 2021 FRIDAY, 1-6 pm
If you've already sent your check in to Toni, it's good for the above date!!
WHERE: Inglewood Country Club
6505 Inglewood Road NE
Kenmore, WA 98028
FORMAT: Lunch Buffet
No host bar
Soft drinks provided
Attire: collared shirt for men; denim pants acceptable--(country club requirement)
COST/PAYMENT: $35 per person
Make out check to: Robert W. Haynes (no later than July 1st—For planning purposes, to confirm number
of meals needed)
Account will no longer accept checks made out to BHS
Send check to: Toni (Franklin) Bitterman
823 Orin Rice Rd.
Colville, WA 99114
Toni's Contact Info: email: tonif718@aol.com
OTHER HELPFUL INFORMATION:
PASS THE WORD—Class website & committee contact list are outdated.

Send new/changed contact information to Toni (Franklin) Bitterman—address above.

Donations encouraged—to defray the cost of decorations, music, snacks, cake and those unable to pay.
70th BIRTHDAY BASH - PHOTOS
Nardone's - Saturday, August 19, 2017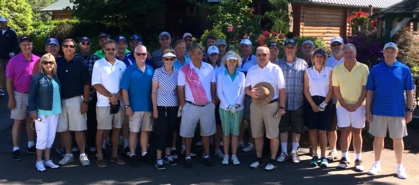 BHS'65 Cougar Classic Golf Tournament August 21, 2017 - actually more of a fun gathering @ Mt. Si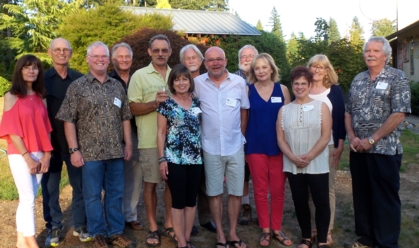 Woodinville Elementary - Nardone's August 19th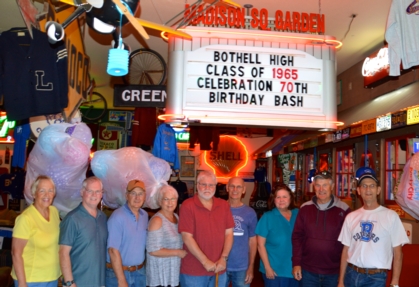 BHS'65 70th Birthday Bash Committee
JOIN OUR BHS'65 Website so we can better inform you of up-coming events @ http://www.classcreator.com/Bothell-Washington-1965/
---
Pass the word. If you know I anyone who does not have internet or social media access let them know. Thank you
OFFICIAL WEBSITE
BOTHELL HIGH SCHOOL
CLASS OF 1965
When the "Jerk" and the "Frug" replaced the "Twist"
Our goal for this website is to
Celebrate our past, share the present, and hear about future events.
Join our Website: Click on "Classmate Profiles" (toward the top left-hand column). Click on your name. You'll then be invited to join, establish your own password, and then your profile.
This is a secure site and your information is not used elsewhere. You will have complete control of the amount of information you choose to share with other classmates. After you join, you will have full access to Class Creator. We will be using Class Creator in the future for posting announcements to keep you informed regarding upcoming classmate and community events.
Trivia:

The list of classmate names were derived from the high school Commencement Program (432 names) and the 1965, 64 and 63 yearbooks (109 names).
TOTAL NAMES = 541
This count does not include Guest relatives or faculty members
NOTE: if you know of faculty members who should be invited to join our website please contact the adminstrator through this website
COUGAR CLASSIC GOLF TOURNAMENT - 2020
August 31, 2010, Monday @ Mt. Si Golf Course