Butler Area Senior High School

Class Of 1966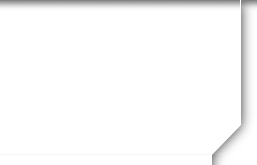 Not a member?
JOIN HERE
Find and click on your name.

WHO'S ONLINE NOW
No registered users are online right now.
UPCOMING BIRTHDAYS
Show More
JOINED CLASSMATES
Percentage of Joined Classmates: 57.7%


| | | |
| --- | --- | --- |
| A: | 433 | Joined |
| B: | 317 | Not Joined |
WHERE WE LIVE
Who lives where - select from the dropdown to find out.



Show Classmates on map
MISSING CLASSMATES
Know the email address of a missing Classmate? Click here to contact them!
ANNOUNCEMENTS
Scroll to the Bottom of Each Page
That Way You Won't Miss Anything
We're

We will be celebrating our Christmas get together on
5:00 at the American Legion Victory Room
Those planning on attending...
we are asking you to bring from your home
a Christmas ornament or Christmas decoration
(don't go out and buy it
and oh yeah...don't forget to wrap it )
to participate in a fun Christmas Exchange.
| | |
| --- | --- |
| | For your security we are requesting anyone wishing to join our website be understanding that we have added a verifying step before they can view our password protected pages. We hope all will be understanding for the extra step. It's just one more level in our security to protect any information about you that you have made available. |
This site has been created and is managed at zero cost to you. It exist to promote, celebrate, and reconnect with all members of our cla
ss
Once you join you'll find announcements with up to date reunion and/or other activities being plannd, plenty of memories from our high school days, and a great way to see what's become of everyone and reconnect with old friends
December

Federal

and Observed Holidays
| | | |
| --- | --- | --- |
| Dec 1 | Sun | First Sunday of Advent / Rosa Parks Day |
| Dec 2 | Mon | Cyber Monday |
| Dec 6 | Fri | St Nicholas Day |
| Dec 7 | Sat | Pearl Harbor Remembrance Day |
| Dec 8 | Sun | Feast of the Immaculate Conception |
| Dec 12 | Thurs | Feast of Our Lady of Gaudalupe |
| Dec 13 | Fri | National Guard Birthday |
| Dec 15 | Sun | Bill of Rights Day |
| Dec 17 | Tues | Pan American Aviation Day/Wright Brothers Day |
| Dec 21 | Sat | December Solstice / First Day of Winter |
| Dec 23 | Mon | Chanukah/Hanukkah (First Day) |
| Dec 24 | Tues | Christmas Eve |
| Dec 25 | Wed | CHRISTMAS DAY |
| Dec 26 | Thurs | Kwanzaa (First Day) |
| Dec 30 | Mon | Lst Day of Chanukah / Hanukkah |
| Dec 31 | Tues | New Year's Eve |
Sagittarius - November 22 - December 21
Strengths: Generous, idealistic, great sense of humor
Weaknesses: Promises more than can deliver, very impatient, will say anything no matter how undiplomatic
Sagittarius likes: Freedom, travel, philosophy, being outdoors
Sagittarius dislikes: Clingy people, being constrained, off-the-wall theories, details
Capricorn - December 22 - Janaury 19
Strengths: Ambitious, diligent, responsible, sincere, loyal, friendly, compassionate
Weaknesses: Fussy, moody, distrusting, conceited, materialistic
Capricorn Likes: Persistence, improving themselves, practical thinking, responsibility
Capricorn dislikes: Laziness, gossip, public displays of affection, being angry, unnecessary foolishness
E
veryone that has registered need
s to make sure that you can receive email from our website -
you have your

spam filter set high you need to add to the "safe list" or "safe sender's list" in your email program the email address noreply@classcreator.net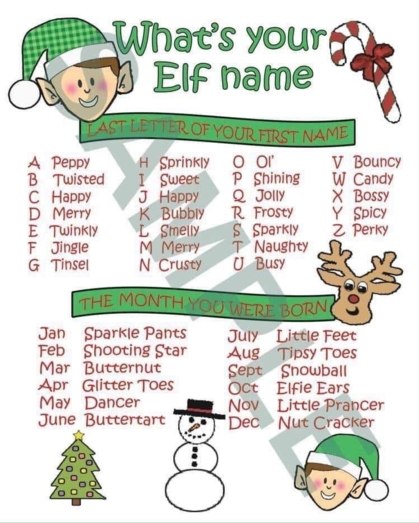 Christmas Tree Joke
On Christmas Eve, a long time ago, Santa Claus was getting ready for his annual journey. But this year there were many problems. Four of the elder elves became ill and the younger more in-experienced elves did not produce the toys as quickly, so Santa started to worry that he would not be ready in time. Then Mrs. Claus tells him that her mother is visiting. This makes Santa Claus stressed even more so. When he begins to gather the reindeer for his sleigh, he discovers that three of them are ready to give birth and two have jumped over the fence. The elves begin loading the sleigh and one of the boards of the sled breaks off and the bag of toys falls to the ground dispersing the toys all around. It goes without saying that Santa was not exactly in his best state of mind and slightly triggered. Then the doorbell rings and Santa goes to the door and expects another problem. He opens the door and there is a little angel with a big Christmas tree brought to cheer up Santa. The angel says in a loving tone: "Merry Christmas Santa, is it not a beautiful day today? I have a big beautiful tree for you, is it not a beautiful tree, where do you want me to put it?" And so began the tradition of the angel on top of the Christmas tree.
Man seaching for the right gift
...... for him
After being away on business for a week before Christmas, Tom thought it would be nice to bring his wife a little gift.
"How about some perfume?" he asked the cosmetics clerk.
She showed him a bottle costing $50.
"That's a bit much," said Tom, so she returned with a smaller bottle for $30.
"That's still quite a bit," Tom groused.
Growing disgusted, the clerk brought out a tiny $15 bottle.
Tom grew agitated, "What I mean," he said, "is I'd like to see something real cheap."
So the clerk handed him a mirror.
Yep....here's a blonde joke
Two blondes roam the woods looking for a nice Christmas tree. After hours of freezing and chasing away the odd wolf, one of the blondes brings down her axe and says, "OK that's it. I'm taking the next right-sized tree we see and I don't give a dime if it's decorated or not!
The girls above are the older version of the younger ones below.
But we still have the pride.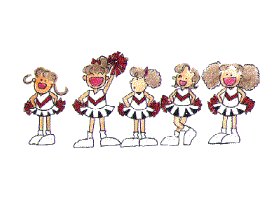 Please come back and visit-update your profile and stay in contact with each other. That's the reasonn for the website.
You
r website administrator

,

PRIVACY NOTICE:
All contact information (address, phone number, email address_ entered into this websidte will be kept confidential. It will not be shared or distributed. Your contact information is private: your street address, email address, and phone number cannot be seen by the classmates unless you grant permission on your Profile. When someone clicks on your name, the only contact information they will see is your city and state and whatever information about yourself you choose to put on your Profile. Unless you expilicity grant your permission, your email address is not visible, although an email can be sent to you using the contact box at the bottom of your Profile page. Note, however, if you send a message to someone through their Profile page, the classmate will see your email address so they can respond.
MEMBERSHIP DISCLAIMER:
This is a private site for Butler Class of 1966 Graduates. Classmates that did not graduate with the class, or that graduated from other years may be admitted on a case by case basis. Membership, regardless of graduating year, will be granted or denied, at the discretion of the committee. If not a graduate from the Class of 1966, a referral from a classmate or from a committee member is the deciding factor. Membership may be revoked at the discretion of the committee. The privacy and security of all registered will be consider a priority for the purpose of invitations, admisttance, denials and revocations.

If you are a member of this website, please make sure when you leave the site to Log Out found under the MEMBER FUNCTIONS. This will prevent anyone doing a Google search of your name to find any results from this website.