Classes of 1963 - 2020
Clearfield

High School

- Alumni Association
In Memory
Mary Carol Stuart (Pratt) - Class Of 1968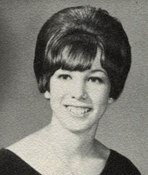 Mary Carol Stuart Pratt of Syracuse, Utah died 24 January 2000 at the age of 50 after a courageous battle with ALS (Lou Gehrig's Disease).

Carol was born 7 January 1950 in Ogden, Utah, the daughter of LeMar and Mary Ashton Stuart. She had lived in Syracuse, West Point, and Clearfield, Utah and briefly in Missouri. She graduated from Clearfield High School and attended Weber State College for one year before she married the love of her life, Kenneth Pratt, on 25 February 1971 in the Salt Lake LDS Temple.

Carol had a genuine love for people, especially children. She was a Tutor Teacher at Cook Elementary School for six years and dearly loved helping the children. It was a very sad day for her when, because of the ALS, she had to quit teaching. Carol loved her family. She was a devoted wife, mother, grandmother, sister and aunt. Family gatherings were a source of joy for her.

She was active in the LDS Church, and served in many capacities in the Relief Society, Sunday School, Young Women, Primary, and Nursery. Her greatest joy was working with the children.

Carol was survived by her husband; four children, Brian (Candace) Pratt, Dominica; Carley Pratt, Syracuse; Lisa (Joe) Woods, Clinton; and Heather Pratt, Syracuse; two grandchildren, Madison and Shaylee; and her father, LeMar (Gwen) Stuart, West Point. Also surviving were four brothers and two sisters: Melvin (Carmen) Stuart, Jay (Susan) Stuart, Steven (Sam) Stuart, Cheryl Bailey, Ruth (Brent) Oram, and Robert (Kimberly) Stuart,, and an uncle, Thomas Ashton, who dearly loved her. She was preceded in death by her beloved mother, Mary Stuart.

Funeral services were held Saturday, 29 January 2000 at the Syracuse 9th LDS Ward, 1625 S. 1100 W. A viewing was held the evening before at Lindquist's Clearfield Mortuary, 1050 S. State. Interment was in the Syracuse City Cemetery.