Concordia Catholic/Notre Dame

High School




Classes of 1945 - 1974
Welcome to the Concordia Catholic/NotreDame
---
Please take the time to log in and "edit" your profile we'd love to hear from you! Thanks!
FIRST CLASS TO GRADUATE "1945"
LEFT TO RIGHT: Gladys LaBarge, Shirley Vaughn, Norman Brown, Anna Hebert, Betty Langdon, Berniece Trembly and Norman Leckberg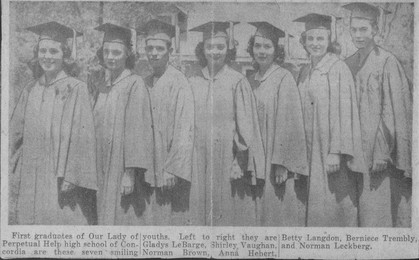 CLASS OF 1969 - 4Oth REUNION
"THE LAST CLASS TO GRADUATE"
Back Row: Debbie Gennette, Joyce Bonebrake, Edna Cote, Cheryl Bogart, Becky Heinen, Mike Yaksich, Susie Stangel, Kyle Nault, Diane Chizek, Gary Letourneau, Betty Gosselin. SITTING: David Collette, Carolyn Nobert, Max Peltier, Mary Kay Cailteux, Marvin Hamel.
Mike & Gaye Yaksick, Max & LaDonna Peltier, Odella Yaksich, Gertie Breault (partially hidden), Becky Heinen, Mary Jane & David Collette
Standing: Joyce Bonebrake, Cheryl Bogart, Becky Heinen, Mary Kay Cailteux, Debbie Gennette, Betty Gosselin. Sitting: Susie Stangel, Edna Cote, Diane Chizek, Carolyn Nobert.
ANNOUNCEMENTS
Our class will be joining the other class of 66 for our 45th class reunion, It will be next year, Sept 24th at the Country Club. I don't have all the details yet but will let you know later. Tom Trower is head of Concordia High's class and is keeping me informed. Marcia and Bob. and Mary Garlow are also helping with this. Our class is also planning on meeting at the Parish Hall on Sunday for a buffet breakfast. I hope you all can make plans to join us.

Regina