Covina

High School




Class of 1968
ANNOUNCEMENTS
Join the Party!!
Friends! Food! Fun!
Pay online, or make your check payable to Alex Goland,
c/o Nancy Mellon, PO Box 8486 Alta Loma, CA. 91701.
See you Saturday, September 29th!!
3 NEW ANNOUNCEMENTS AND REMINDERS!!
•BUY YOUR TICKETS BY SEPTEMBER 15TH. After the 15th, tickets will no longer be available except for extenuating circumstances.
•Come to the Meet and Greet! Friday, Sept. 28th, from 5pm - 8pm, at the Hospitality Suite.
•WANT TO MEET FOR SUNDAY BREAKFAST? Email Robin (Ocheltree) Rook at robin.rook@yahoo.com for reservations by Friday, September 28th OR sign up at the Meet and Greet. Breakfast will be at 9am at the Kellogg West Restaurant, Sunday the 30th. If you are a hotel guest, breakfast is included. If not, the price is $9.50.
Look Who's Going to the Reunion!
Newer Sign-ups are Underlined
*Even Newer Sign-ups Have an Asterisk*
Check it out! More and More Classmates on the List!!
Carol (Adams) Caley
Jill (Albert) Breen & Peter deBethune
Dave & Debi Armbruster
*Becky (Beamer) & Keith Witt
Dan & Joy Bethel
Phyllis Bobrow
Tom Brady and Lynn Fairbanks
Brad Brown & Linda Bannerman
*Sandy (Brown) Manzer*
Leanne (Bryan) & Ivan Bedell
*Renee (Cambon) & Tom Pigg*
Mary Ann Cappa & Larry Rotunno
Debbie (Carruthers) & Dan Schell
*Cliveden (Chew) & Guy Haas*
*Valerie (Ciancio) & Dennis Parmenter*
Cathy Cimbalo
Karen (Cox) Macklin
Mike Couch
Ralph & Karen Crabtree
Ed Daniels
*Anita (Dorrington) & Tom Caban*
Nancy (Duricka) & Tony Plante
*Jan (Easterday) Keith*
*Joan (Easterday) Meissenburg*
Gail Edwards
*Joe Fagan*
Cheryl (Fest) & Bill Watts
*Art Giser*
Chris (Gobble) & Paul Salenko
Alex Goland
Henry Gross
Diana (Harward) and Rocky Reynolds
Colleen (Hayes) and Ken Elliott
Judy (Honan) Hawkesworth
*Donna (Johnson) & Don Saunders*
Bill Kahl
*Richard Kaumeyer*
*Lynda Killworth-Dale*
*Jim & Debbie Kintzel*
Duane & Susan Kirk
*Bonnie (Laneville) Pacheco*
Sue (Livingston) & Alec Berkman
Judy (Lyons) & Paul Kemper
*Sue (Malson) & Ray Jones*
*Linda (McCafferty) Dixon*
*Steve & Jonee' McIntosh*
Doyle & Julie McMullin
Nancy (Nichols) & Dan Mellon
Robin (Ocheltree) & Jim Rook
Jan (Patton) Donaldson
*Chuck & Sarah Pollak*
*Marcey (Pomerantz) DiCaro*
Stan Preston
Sharon Rasmussen & Bill Rhodes
Jeff and Karen Rhiner
*Susie (Ribal) & Allan Piwonka*
*Virginia (Sealy) & Fred Fate*
David & Lorena Solinger
Lora (Skinner) Bennitt
Christine (Smith) & Matt Geddes
Greg & Theresa Steffes
*Candace (Walters) & Morris Hampton*
*Tim Whidbee*
Steve & Dawn White
*Dan Willey*
___________________________________________
DO YOU HAVE MEMORABILIA YOU CAN SHARE AT THE REUNION?
Hooray! Dave Armbruster has graciously agreed to head up our Memorabilia collection and return process. Contact Dave for coordination - davearmbruster@gmail.com.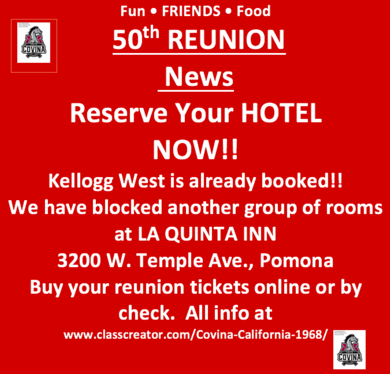 COVINA HIGH SCHOOL – CLASS OF 1968
50th REUNION
Kellogg West – Cal Poly, Pomona
Sat., Sept. 29, 2018
6:00-11:00 PM

Meet & Greet – Fri., Sept. 28, 2018 – 5:00-8:00 PM