Covina

High School




Class of 1968
ANNOUNCEMENTS
Look Who's Going to the Reunion!
Newer Sign-ups are Underlined
*Even Newer Sign-ups Have an Asterisk*
Check it out! More and More Classmates on the List!!
Carol (Adams) Caley
Jill (Albert) Breen & Peter deBethune
Dave & Debi Armbruster
*Becky (Beamer) & Keith Witt
Dan & Joy Bethel
Phyllis Bobrow
Tom Brady and Lynn Fairbanks
Brad Brown & Linda Bannerman
Leanne (Bryan) & Ivan Bedell
*Renee (Cambon) & Tom Pigg
Mary Ann Cappa & Larry Rotunno
Debbie (Carruthers) & Dan Schell
*Cliveden (Chew) & Guy Haas
Cathy Cimbalo
Karen (Cox) Macklin
Mike Couch
Ralph & Karen Crabtree
Ed Daniels
*Anita (Dorrington) & Tom Caban*
Nancy (Duricka) & Tony Plante
*Jan (Easterday) Keith*
*Joan (Easterday) Meissenburg*
Gail Edwards
Cheryl (Fest) & Bill Watts
Chris (Gobble) & Paul Salenko
Alex Goland
Henry Gross
Diana (Harward) and Rocky Reynolds
Colleen (Hayes) and Ken Elliott
Judy (Honan) Hawkesworth
*Donna (Johnson) & Don Saunders*
Bill Kahl
*Richard Kaumeyer*
*Jim & Debbie Kintzel*
Duane & Susan Kirk
*Bonnie (Laneville) Pacheco*
Sue (Livingston) & Alec Berkman
Judy (Lyons) & Paul Kemper
Doyle & Julie McMullin
Nancy (Nichols) & Dan Mellon
Robin (Ocheltree) & Jim Rook
Jan (Patton) Donaldson
*Chuck & Sarah Pollak*
*Marcey (Pomerantz) DiCaro*
Stan Preston
Sharon Rasmussen & Bill Rhodes
Jeff and Karen Rhiner
*Susie (Ribal) & Allan Piwonka*
David & Lorena Solinger
Lora (Skinner) Bennitt
Christine (Smith) & Matt Geddes
Greg & Theresa Steffes
*Candace (Walters) & Morris Hampton*
Steve & Dawn White
___________________________________________
DO YOU HAVE MEMORABILIA YOU CAN SHARE AT THE REUNION?
Hooray! Dave Armbruster has graciously agreed to head up our Memorabilia collection and return process. Contact Dave for coordination - davearmbruster@gmail.com.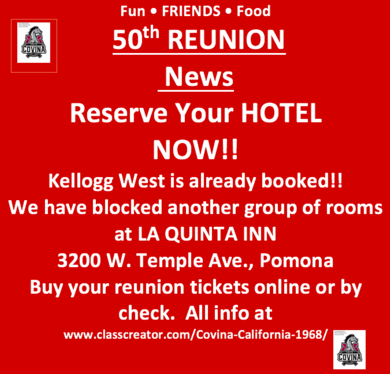 COVINA HIGH SCHOOL – CLASS OF 1968
50th REUNION
Kellogg West – Cal Poly, Pomona
Sat., Sept. 29, 2018
6:00-11:00 PM

Meet & Greet – Fri., Sept. 28, 2018 – 5:00-8:00 PM