In Memory
Billy Darren Floyd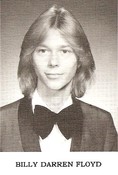 Billy Darren Floyd, of Covington, passed away December 2, 2008, at the age of 47. An employee of Hercules, Billy also built computers and enjoyed electronics. He loved the mountains and especially enjoyed camping and trout fishing. Billy was a devoted father, grandfather, son, brother, uncle, and friend.
Survivors include his daughters and sons-in-law, Chanda and Billy Bowen, Kayle' and Sandy Galiano; son, Joshua Darren Floyd; grandchildren, Nova Bowen, Becca Bowen, Kane Bowen, Sara Galiano, Hayle' Galiano, Devon Galiano; parents, Bill and Sara Floyd, all of Covington; brothers and sisters-in-law, Dana and Trina Floyd of Covington, Mark and Tracey Floyd of Denham Spring, LA; several nieces, nephews, cousins, aunts and uncles.
Funeral Services for Mr. Floyd will be held Friday, December 5, 2008, 2:00 PM, at the Chapel of Caldwell & Cowan, 1215 Access Rd., with Pastor Wayne Whitley officiating, and interment following in Lawnwood Memorial Park.