In Memory
Larry Maxey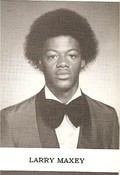 Larry died on Sept 17, 1990. He was 29 years old. Cause of death: Cardiac arrest. He was living in Covington, Ga at time of death. He is survived by mother and brother.
Larry was a good friend with a wonderful sense of humor and a talented singer.
Accomplishments: He graduated from Barbizon School of Modeling. He sang with the Mitchell Gospel Choir. He directed the Mass Choir of Bethel Bara Baptist Church.