ANNOUNCEMENTS
Mother of classmate Dennis Brasile
Irene C. (Manning) Brasile, 94, passed away on July 6, 2019 at Baystate Medical Center. Born in New Britain, CT on August 19, 1924 to the late James and Mary (Newbauer) Manning, she graduated from New Britain High School. Irene enjoyed painting, stenciling and graphic arts as well as spending time at the East Longmeadow Senior Center. She was also very devoted to her faith. Besides her parents, Irene was predeceased by her loving husband of 63 years, Paul J, Brasile, who passed away in June, 2009. To cherish her memory, she leaves her sons Paul and Dennis Brasile; grandchildren Breean, Glen and Scott as well as 6 great-grandchildren. Services will be private and have been entrusted to Forastiere Smith Funeral Home. Memorial contributions in Irene's memory may be made to St. Michael's Parish, 128 Maple Street, East Longmeadow, MA 01028.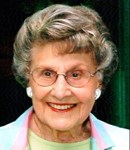 Mrs. Estelle Krause - English teacher during our Birchland years
Estelle L. (Leikin) Krause, age 102, passed away on Sunday, June 30, 2019 in Quincy. Estelle moved from Springfield to Brookdale Quincy Bay in 2014.
She was born in Springfield to the late Anna (Rosenberg) and Leon H. Leikin, a prominent Springfield dentist. A longtime Springfield resident, Estelle graduated from Classical High School, as did her mother and her children.
Estelle earned her bachelors and masters degrees at American International College. Estelle's volunteer experiences from reading to blind young adults triggered her interest in becoming an educator. She taught English for 25 years at Birchland Park Junior High School in East Longmeadow. It delighted her to run into adults who had been her students many years before. At age 97, Estelle passed her Massachusetts driver's road test again, then promptly gave up driving when she moved to Quincy to be near her daughter.
Estelle married the boy downstairs in her parents' two-family house – the late Paul Krause, a Springfield newspaperman who was chief photographer and produced the rotogravure section for the Sunday Republican. Paul was a Navy flight instructor and photoreconnaissance pilot based in Guam during World War II.
Following her husband's death in 1993, Estelle lived independently in her Springfield condo at Georgetown. She was an avid reader and enjoyed playing bridge. Estelle also volunteered for many years as a docent at the George Walter Vincent Smith Art Museum in Springfield.
Estelle is survived by her daughter, Karen Krause Lippincott and her husband Joe of Quincy, and by her son, attorney Peter Krause and his wife Gail of Plantation, Florida. She also leaves three grandchildren and four great grandchildren.
At the request of the family, funeral arrangements were private.
For those who wish, donations in Estelle's memory may be made to Season's Hospice of Massachusetts, 597 Randolph Avenue, Milton, MA 02186.
Judy Ann (Hiller) DelNegro - sister of classmate Sue (Hiller) McCormack, deceased
Judy Ann (Hiller) Del Negro, 65, passed away peacefully on Thursday, July 4, 2019. Daughter of the late Dave and Lois (Keane) Hiller, she was a lifelong East Longmeadow resident and a longtime member of East Longmeadow United Methodist Church. She is survived by her beloved husband of 42 years Andrew Del Negro, children: Matthew Del Negro and Tammy Sheehan and her husband Chris, and her brother Dave Hiller. Judy was predeceased by her sister Susan McCormack. Visitation will be held on Monday, July 8th from 4 – 7 PM at Wilbraham Funeral Home, 2551 Boston Rd., Wilbraham. Family and friends may meet for Judy's Funeral Service on Tuesday at 10 AM at East Longmeadow United Methodist Church. Burial will follow in Greenlawn Cemetery. In lieu of flowers, memorial contributions may be made to East Longmeadow United Methodist Church, 215 Somers Rd., East Longmeadow, MA 01028.
Tina M. Jette - Sister of classmate Amos Jette, deceased.
Tina Marie Jette passed away in Springfield, MA on Tuesday, June 25, 2019. She was born in Palmer, MA January 12, 1958. Tina is predeceased by her father, Amos Jette ,Sr. and her brother Amos Jette, Jr. She will be lovingly missed and remembered by her surviving family members, her mother, Elsie Jette, her sister, Ellen Scavotto, sister Cindy Thomas and her husband Jeremiah Thomas, sister Suzanne Boisvere and her husband Barry Boisvere. Tina will also be lovingly missed by her seven nieces and nephews, eleven grand nieces and nephews and five great grand nephews and nieces.
Tina worked for 28 years at Home Depot and previously at Rocky's Hardware and Electrolux. The family will gather and receive friends from 4:00PM – 7:00PM on Saturday July 6, 2019 at the Forastiere Smith Family Funeral Home, 220 North Main St., East Longmeadow. Please visit www.forastiere.com to offer a personal note of condolence to the family.
---
Just a quick reminder.....for those who would like an abbreviated class directory, please use the "contact us" button on the upper right hand of the home page. This listing has classmate names and addresses only. There are no emails shared or phone numbers shared. There are also a small number of people who requested that all of their information remain private. I will not divulge anyone's personal information without their permission. I will gladly contact a classmate for you and ask how (or if) they would like to be contacted. Please do not share their info with anyone else without their permission. Thank you.
Nancy
---
---
How to Join
(It's free.........)
If you graduated from East Longmeadow High School in 1971, your name appears in the menu at the top of the page under the tab labeled "Classmate Profiles." Find your name, click on it, and you will be brought to the "Join Here" link. Follow the instructions on that page. If you have any questions, click on the "Contact Us" link at the top right of the home page. When you find your name on the Classmates list to create your profile, please include a narrative about your life since Graduation Day, June 15, 1971. Guest members are listed at the bottom of the profiles page. Thank you very much.
---
---
---
Please visit the other ELHS class pages on the Class Creator website. They contain a wealth of information, pictures, videos, recollections and much, much more. Offered are: 1964, 1970 and 1974. I extend a huge debt of gratitude to those class administrators for doing all the hard work for the rest of us to enjoy.