Principia College
Classes of 1968 & 1969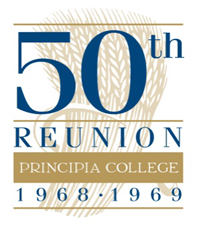 If you just logged into this site for the first time, then go down below this message to catch our welcome message. We have already posted two installments of our Stories for each class. Go to the tabs at the top of the page and click on the class to read them. We would still love to have your Story if you have not yet sent one in. We will continue to add installments as they come in. (If you haven't sent yours, please submit it TODAY to Principia50thReunion6869@gmail.com.)
We also just posted our Tributes for classmates who have passed on. To find those, click on the In Memory tab at the top of the page.
Welcome to our 50th Reunion webpage!
We are primarily using this site for sharing our Stories with one another. You can find them by clicking on the tabs at the top of this page.
Initially, we shared the Stories of our Reunion Committee, but when we had our 1st installment of Class Stories, we added our Stories into those documents. Our Stories are as varied as 33 people can be. However, no matter how varied our paths to right now, we can tell you that each one of us shares one special bond and purpose - to make our Reunion together the best possible four days you can imagine.
Now we want you to write and submit your Story! We would love to have them at any time!! Even if it is after our Reunion. We will continue to post them as long as they keep coming in. If you haven't registered to attend our Reunion, please do so soon! Go to this link: http://www.principiaalumni.org/50th2018 and click the tab at the top right hand side of the page that says REGISTER NOW.