Eudora High School
Class Of 2004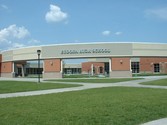 ANNOUNCEMENTS
CPA PARADE
Start time: 7:00 pm
Meeting Time: 6:00 pm
Location: The old Laws field parking lot near the swimming pool and Notingham Elementary.
Meet at 6:00 to ride the class of 2004 parade float for the CPA Picnic. Bring tons of CANDY!
Friday Night Pre Party
When:
July 25th, 2014 @7:00 p.m.
Where: Chance Rowland's Property
1257 E 2300th Rd
Eudora, KS 66025-9274
Additional Info:
Friday night will be a casual pre event gathering for anyone who is in town and wants to get together to reconnect with old classmates. This gathering will be free but it will be a BYOB/BYOF (Bring your own food) occasion. Bonfire and music provided.
REMINDER: Please bring a method of trash disposal. We dont want to trash up Chance's land, Also it's completely fine if you want to pay for Saturday night's event on Friday (Cash or check accepted) find Mandi.
We will be decorating signs for the float so bring your art skills!
Saturday Night After Party
When: July 26th 2014 @ 8:00 p.m.
Where: Kenny Waldock's Property
22652 Alexander RdLinwood, KS 66052
Why: Somehow 10 years have passed since we graduated and we need to celebrate!
Additional Info: The property includes fun and entertainment for the whole family. There will be music, games, a unique banquet hall, restrooms and food. This will be a BYOB event but also a family event so respect is required. The party will take place directly after the CPA picnic in Eudora.
Come on out, bring the whole family and swap new/old stories with your 2004 classmates! There will be an admission price at the door to help cover rent, food and decorations. We will try to make it as reasonable as possible.
UPDATE: I have been asked by Kenny to keep everyone near the banquet hall, he wants to ensure child safety. The property is large and beutiful but also full of old equipment and antiques, try to stay close to the party. We have finalized the price of the event and it will be;
Adults: 17 Dollars per person
Children: 3 Dollars per child
We are charging 3 dollars per child to help cover the rent fee, they will eat for free.