Faga'itua High School Alumni Association
Classes of 1979 - 2015
We are saddened to hear the passing of Jake Poyer, one of the co-founders & dedicated leaders of the Fagaitua High School Alumni Association. Our very own FHSAA website is part of his contribution to our mission and vision. One of the biggest projects we worked on was our school marquee. Our annual scholarship project continues to thrive because of his leadership. It's endless services to FHSAA and we are indebted to his contribution. Like his native village Lauli'i "Moli o le Ava", he was our torch of light to a lot that we do.
O le a misia oe Iakopo Poyer. Fa'afetai mo fautuaga ma lapata'iga mo se lumana'i manuia o tupulaga o tama ma teine tuai a Faga'itua o lo'o papaa'ao i atunu'u i fafo. O le a le galo lau tautua matavela. O le a faigata ona fa'agalo oe i taimi uma e fai ai mea a le tatou asosi ma le tatou alma mater.
Thank you for your military service to this great country. Thank you for all that you've done for our alma mater. Ia manuia lau malaga. Ia sau ia i na alu, aua ua e toto fatu i loto ma agaga o tupulaga le taua ma le aoga o le ola lotonu'u. Alofa'aga e le mavae mo oe le tuagane. Ia fa'amaise le Atua ia Joy, le fanau ae maise le aiga fa'avauvau. "IA PA'U SE TOA, TU SE TOA."
Your favorite saying, "GO VIKINGS" ~ We'll miss you Jake!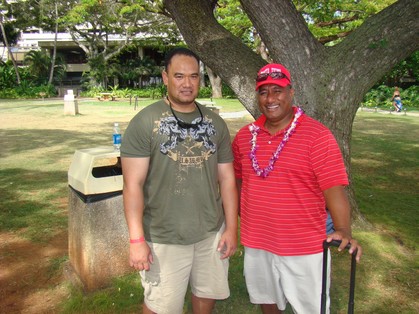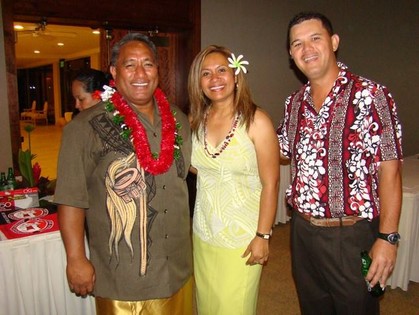 ---
Talofa lava! On behalf of the FHSAA-Hawaii, we'd like to express our sincere gratitude and appreciation to all who came out to support our May 2, 2015 FHSAA-Hawaii Volleyball Tounament at the Kalakaua Gym in Kalihi. It was a great turnout. Always a great pleasure to see our fellow alumni, families, and friends coming out to support our alma mater. "Tasi le tino, tasi le loto, tasi le fatu! Go Vikings!"
We also like to thank all of our donors who made monetary donations at this event. Ia alofa le Atua fa'atutumu atu mea ua outou fagaogaoina pei ona iai le fa'amoemoe a lenei asosi fa'atauva'a pei ona mavae atu nei. Fa'afetai tele I lo outou agalelei. With that being said, we like to acknowledge the following donors:
-Class of 1988: $100
-Pepine Lauvao (c/o 1982): $50
-Pollyanna Fiaui (c/o 1993): $50
-Pavela Fiaui (c/o 1995): $50
-Katerina Lutu Lagai Moeoge (c/o 1992): $50
-Lenamuaimalae Ioramo (c/o 2000): $50
-Team All Natural: $10
-Team Fa'asolo: $5
-Team Untouchables: $60
E momoli tele atu fo'i le fa'afetai tele lava to all alumni that helped out with setting up/ running the tournament. It was not an easy task; but with the helping hands of our fellow alumni and friends, we made it happen. Fa'afetai tele lava to all who donated drinks and food, equipment, and all the miscellaneous items that helped run our event smoothly. You know who you are. Malo le fa'amalosi; malo le onosa'i ma le fa'apalepale; malo le loto aoga ma le agaga fai mealelei.
Please stay tune for our upcoming events. Any questions, please contact (808)343-8775 or email: rlemaota@hotmail.com. Manuia le aso, and God bless! Go Vikings!
---
WHAT'S NEW?
***New officers for the Hawaii Chapter as of April 24, 2015. We are moving towards the process of becoming a 501C3 Not-For-Profit Organization. So there's lot of exciting things to look forward to. Please come out and support your alma mater. We'll keep you posted with our upcoming events on Oahu.
FHSAA - Hawaii Officers
President: Richard Lemaota (c/o 1993)
Vice President: Rani Tiatia (c/o 1998)
Secretary: Gingerlei Porter (c/o 1999)
Treasurer: Alice Malepeai Silbanuz (c/o 1995)
Advisors: Elisapeta Tuupo-Alaimaleata (c/o 1988) & Jake Poyer (c/o 1979)
FHSAA - California Officers
President: Luki Toia
V. President: Patricia Moana-Letoi
Secretary: Julie Afe-Fa'ataualofa
Treasurer: Niusila Pulou-Falaniko
Advisors: MAJ Rodney Malauulu Fuimaono & Steve Tialavea
What an awesome team to lead FHSAA for the next two years! Show your support by congratulating our new officers and wish them well.
FHSAA-HAWAII VOLLEYBALL TOURNAMENT - MAY 2, 2015 AT KALAKAUA GYM KALIHI
Congratulations to the winner of the FHSAA-Hawaii May 2, 2015 Volleyball Tournament: "Team Untouchable" with Ms. Gingerlei Porter front and center.
Alice and Berkley holding down the fort for our May 2, 2015 FHSAA-Hawaii Volleyball Tournament.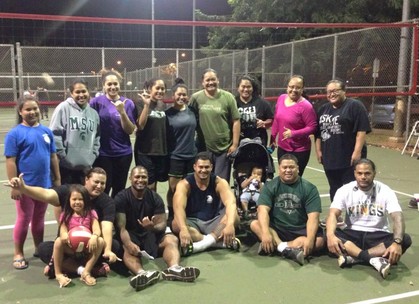 Tama ma teine of Vikings sa auai i se fonotaga a le FHSAA-Hawaii ia Aperila 24, 2015 at Pearl City Manana District Park.
Tama ma teine o le Vikings celebrating our very own Joey Iosefa's (c/o 2009) UH Manoa Graduation December 2014. Team Joey Iosefa #7 to Tampa Bay Bucaneers. Congratulations Joey! Go Vikings! Go Bucs!
---
Marquee Dedication
WE DID IT FHSAA......MALO LE ONOSA'I!
Note: "Alumni Association" wording will be added to our marquee once we secure a sponsor.
---
This website is for you! Simply click on Classmate Profiles at the left; click on your senior class year and find your name on the list. Then, register to log in and create your profile page where you can upload photos, and let your classmates know what you have been up to since our Vikings days; or, share a school memory. As a member, you may also send and receive messages; so, be sure to Check Messages, and take a look at our Announcement Board. Then, take a stroll down memory lane by viewing the Photo Galleries and feel free to participate in our forum Fai Sou Manatu. Please be sure to keep checking back for updates and new postings; and let others know about our site, too!
If your name is not on the list of your senior class year and would like to join our site, please click Contact Us to send me or Peka your name, including maiden if applicable, along with your senior class year and we'll add your name to the list. If you have access to your senior class list and photos, please send it to us so we can enter the names and photos for your class.
---
Need your high school transcripts, job verification or high school diploma verification?
Contact American Samoa Department of Education Student Services Department.
Program Director, Office of Student Services
Pago Pago, American Samoa 96799
Costs: Transcripts - $3; Job Verification - $10; Diploma Verification - $10
****Please allow 1-2 weeks for US Air Mail delivery
ANNOUNCEMENTS
•

To ALL seniors:

As you will be transitioning to college, please remember to fill out an online FAFSA before graduation. FAFSA (Free Application for Federal Student Aid) is available at . If you need any assistance in filling out the FAFSA, please come to ASCC and ask for me or contact me via phone: 699-9155 ext. 377 or email: m.vaovasa@amsamoa.edu.
I am the financial aid counselor here at ASCC dealing with all the new students that have never attended college, in assisting with filling out their online FAFSA, and it would really make my job a little easier knowing that all or most of the Fagaitua student's FAFSA have already been taken care of.

Sincerely yours,

Mana'o Satele-Vaovasa

•

Respect & Humility


To all my Dear, Fagaitua High School Alumni,

I ask that everybody plays an active role in policing our website to ensure that we operate and maintain a respectful site that is conducive to all those that will access it, like your brothers and sisters and especially your parents. This is a reflection of who we are and Fagaitua High School. Let's operate in the spirit of RESPECT & HUMILITY. (Be mindful of the language and the pictures that you post on the site) O LE I'OIMATA O LE AGANUU SAMOA O LE FA'AALOALO...ae fai mai le Tusi Sa, o le sili o na mea o le ALOFA lea...aua o le ALOFA e FAAALOALO ma e AGAMALU. God bless,

Tauapai Laupola

•

Please take a few minutes to visit the "in memory" section. It would be great if you could add any personal stories about our classmates who have passed.

agape