Faga'itua High School Alumni Association
Classes of 1968 - 2016
In Loving Memory
Of Our Dear Brother & Friend
LCDR Iakopo Poyer, USN (Retired)
"Class of 1979"
On May 17, 2015, Iakopo (Jake) Poyer was absent from the body to be at home with the Lord (2 Corithians 5:8). He is survived by his lovely wife Joy, of 26 years and children: Patricia Maina, 25 and Derek Esau, 22.
Jake's memorial service was on May 30th, 2015 at Carrow Baptist Church, where he was a Deacon. His burial was on November 9, 2015 at Arlington National Cemetery, Arlington, VA with full military honors, from the Old Post Chapel, where he occasionally delivered Bible Studies to the Samoan Church there. Our Hero resting Among Heros; his only wish.
Jake was one of the co-founders & dedicated leaders of the Fagaitua High School Alumni Association (FHSAA). Our very own FHSAA website is part of his numerous contribution to our mission and vision. One of the biggest projects Jake was involved with was the school marquee. Our annual scholarship project continues to thrive because of his leadership. Like his native village Of Lauli'i "Moli o le Ava", he was our torch of light to a lot that we do.
Thank you Jake for your military service to this great country. Thank you for all the you did for our alma mater and FHSAA. Alofa'aga mo oe e le mavae. "IA PA'U SE TOA, TU SE TOA." Your favorite saying, "GO VIKINGS" ~ You are truly missed. May your soul rest in peace until we meet again:)
---

Faga'itua High School
50th Year Celebration
Updates:
Message by Tauapa'i Laupola - President of the 50th Anniversary Celebration Committee (July 15, 2016)
Malo Team Vikings! The officers (Carol Maafala-Baqui, Rodney Malauulu, Jeanette Vasai and I) will keep everybody posted on our next FHS Alumni Association meeting for our (50th Anniversary-Golden Jubilee) as well as what the officers have been working on to date. Malo lava le onosa'i ma faafetai i lau tapuaiga.
Update by Jeanetter Vasai - Treasurer (July 10, 2016)
Meeting Summary: Thursday, 5:00pm FHS Gym
-About 50 alumni were in attendance
-Introduction of all alumni by class starting with c/o 1968..had a few present...:)
-Election of officers for 50th Anniversary Celebration
Pres: Tuimavave Tauapa'i Laupola c/o '79
VPres: Carol Ma'afala Baqui c/o '94
Treasurer: Jeanette Vasai-Tilo c/0 '80
Secretary: Rodney Malau'ulu c/o '88
Now the officers will meet and will call the next meeting for later on this month to get things going...
Thank you to VP/Coach Suaese Pooch Ta'ase for getting the ball rolling to start preparing and planning our school's 50th Anniversary
---
Fa'amalo atu lava i le Class of 1990 for their generous donation of $1,500 to our alma mater in celebration of their 25 years class reunion. Thank you Class of 1990 for your donation. "Once a Viking, Always a Viking! Go Funky!"
featuring in the photo: Teine Tuai o le Class of 1990 - Fatima Leau,Tofaaga Salatielu-Unutoa, VP Sua'ese Pooch Ta'ase, Tofoi Unutoa Mageo
---
CONGRATULATION VIKINGS!
CONGRATULATIONS HEAD COACH SUA'ESE "POOCH" TA'ASE, COACHING STAFF, AND VARSITY FOOTBALL TEAM FOR BRINGING THE CHAMPIONSHIP BACK TO THE HOME OF THE MIGHTY VIKINGS ONCE AGAIN.
FA'AMALO ATU LAVA I LE TAPUA'IGA A LE VIKING NATION. THANK YOU PARENTS, ADMINISTATION & STAFF, EAST SIDE, AND VIKINGS ABROAD FOR YOUR SUPPORT.
CONGRATULATIONS:
2015 ASHSAA VARSITY FOOTBALL CHAMPIONS
"THE MIGHTY VIKINGS"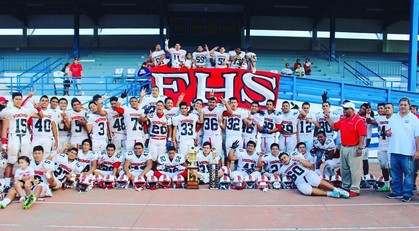 ---
Congratulations MS. MARILYNN HOSANNA ELEITINO THOMPSON of Aunuu, recipient of the 2015 FHSAA Scholarship/Jake Poyer Award. Marilyn is the daughter of Aunu'ufou Lisi and Suluo'o Thompson. Marilyn plans to attend ASCC in the Fall majoring in Mathematics. Malo lava Marilynn.
The FHSAA is proud to have awarded this scholarship in memory of our dear friend and member, Jake Poyer. The FHSAA is also very fortunate to have the continuous support of the family of the late HTC Tuatoo Tautalatasi with providing the trophy. Thank you also to Liana's Flower shop in Faga'alu for sponsoring the ula. Faafetai tele lava!
WE DID IT FHSAA......MALO LE ONOSA'I!
Note: "Alumni Association" wording will be added to our marquee once we secure a sponsor.
---
This website is for you! Simply click on Classmate Profiles at the left; click on your senior class year and find your name on the list. Then, register to log in and create your profile page where you can upload photos, and let your classmates know what you have been up to since our Vikings days; or, share a school memory. As a member, you may also send and receive messages; so, be sure to Check Messages, and take a look at our Announcement Board. Then, take a stroll down memory lane by viewing the Photo Galleries and feel free to participate in our forum Fai Sou Manatu. Please be sure to keep checking back for updates and new postings; and let others know about our site, too!
If your name is not on the list of your senior class year and would like to join our site, please click Contact Us to send me or Peka your name, including maiden if applicable, along with your senior class year and we'll add your name to the list. If you have access to your senior class list and photos, please send it to us so we can enter the names and photos for your class.
---
Need your high school transcripts, job verification or high school diploma verification?
Contact American Samoa Department of Education Student Services Department.
Program Director, Office of Student Services
Pago Pago, American Samoa 96799
Costs: Transcripts - $3; Job Verification - $10; Diploma Verification - $10
****Please allow 1-2 weeks for US Air Mail delivery
ANNOUNCEMENTS
•

To ALL seniors:

As you will be transitioning to college, please remember to fill out an online FAFSA before graduation. FAFSA (Free Application for Federal Student Aid) is available at . If you need any assistance in filling out the FAFSA, please come to ASCC and ask for me or contact me via phone: 699-9155 ext. 377 or email: m.vaovasa@amsamoa.edu.
I am the financial aid counselor here at ASCC dealing with all the new students that have never attended college, in assisting with filling out their online FAFSA, and it would really make my job a little easier knowing that all or most of the Fagaitua student's FAFSA have already been taken care of.

Sincerely yours,

Mana'o Satele-Vaovasa

•

Respect & Humility


To all my Dear, Fagaitua High School Alumni,

I ask that everybody plays an active role in policing our website to ensure that we operate and maintain a respectful site that is conducive to all those that will access it, like your brothers and sisters and especially your parents. This is a reflection of who we are and Fagaitua High School. Let's operate in the spirit of RESPECT & HUMILITY. (Be mindful of the language and the pictures that you post on the site) O LE I'OIMATA O LE AGANUU SAMOA O LE FA'AALOALO...ae fai mai le Tusi Sa, o le sili o na mea o le ALOFA lea...aua o le ALOFA e FAAALOALO ma e AGAMALU. God bless,

Tauapai Laupola

•

Please take a few minutes to visit the "in memory" section. It would be great if you could add any personal stories about our classmates who have passed.