Pictures of Reunion
20 Years Later!
Football Game against Arundel on Friday, Oct. 3, 2008.
Denise Ryan and Bob Mumper waiting at the gate for the alumni.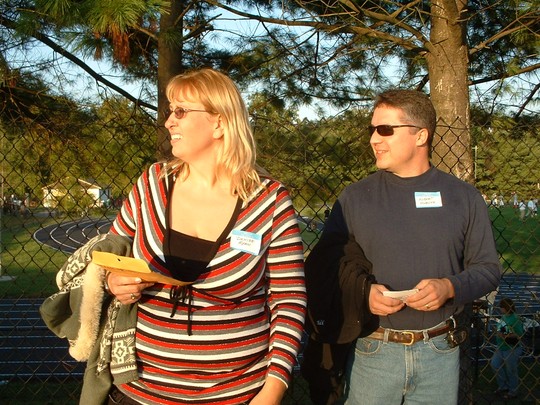 Dave Ziemer (hiding behind) Michelle Ogden, Larry Bowen, Jeff Thew, Kim Benz next to Jarrod Murry with Windy Bynum and Sherry Braxton ('87).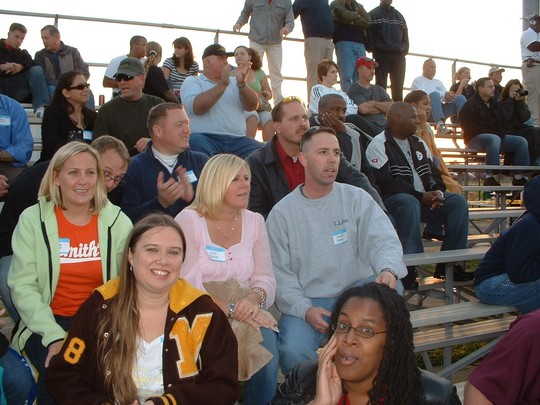 From way back in top left: James Manchester with Claire House (both '87) turned back talking to him, Andrea Gwinn, Denise Ryan, James Golden ('87) and Sandy Fox ('87) smiling with her friend. Todd Jones with cap, David Ziemer ignoring me, Larry Bowen, then down to left - half of Dave Arrington's face (sorry about that - not intentional) and Beth Norris too with Michelle Ogden and Kim Benz with Windy Bynum fixing her tag.
Up front - Rolando Chacon, Doug Schultz, Bob Mumper and Dave Arrington, then up is Eugene "Bubba" Lloyd, up from him is Donald Jones, Lani Rickets, Claire House ('87), Andrea Gwinn, Denise Ryan, James Golden ('87) then up is James Manchester ('87), his mom and sister, Vanessa Manchester ('89).
In back Nadia Echeveria ('89), Vernell Nelson with America Vila Germann and her brother Carlos Vila ('86).
Mr. Stud Larry Bowen with Beth Norris and Denise Ryan.
Dave McFarlane ('93), with Jeff Katon ('92) talking to Ken Cruz and his wife. Kim Benz looking on.........
Up front are Dave Arrington, Derrick Farmer ('87), Mike Loggans, then up is Todd Jones, David Ziemer and Jeff Thew.
Champions Bar and Grill after the game!
Tara Rucker, Christine Young, Bonnie Spry, Vernell Nelson, Windy Bynum.
Stacey Clayton, Bob Mumper and Doug Schultz
Larry Bowen, Eugene "Bubba" Lloyed, America Vila, Bob Baxter, Doug Schultz and Bob Mumper.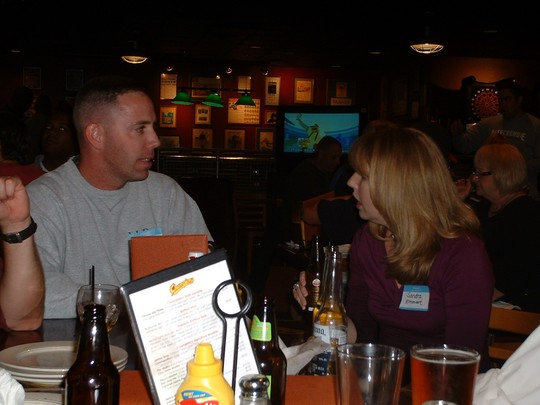 Jarrod Murry and Sandra Emmart talking about the old times!
Donald Jones, Beth Robinson Jones and Jarrod Murry. Cute smile, Beth!
Vernell Nelson, Bonnie Spry and Wallace Price......haven't changed a bit, huh?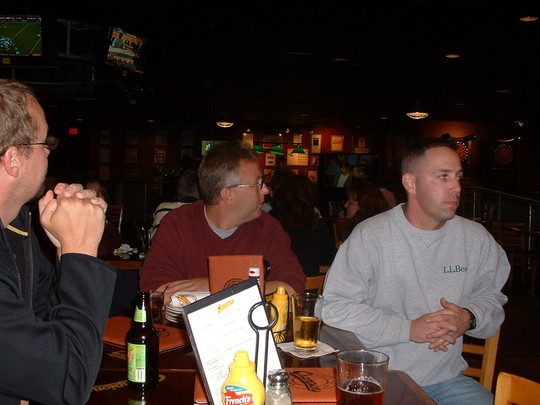 Dave Ziemer, Dave Arrington and Jarrod Murry waiting for refills - waitress took FOREVER!
Larry Armwood, America Vila, ???, Nancy Echeveria, Kevin Powell, ???, Brian Pratt
and now we have Wallce Price!
Rolando Chacon and Michelle Ogden
Mark Rollingston, Bonnie Spry and Lucius ??
Bonnie Spry hamming it up with none other, CC Cunningham ('87)
Kathy Studer, Maryann Stanco, Beth Norris and Debbie Slapo
Tim Walker ('87) and Nancy Roe
If you have any that you would like to share, please email them to Stacey at slcmcfarland@hotmail.com.