Great Mills High School

Welcome to the GMHS Class of 1993's website! We're glad you're here.
First time visiting and want to register? It's easy! Look to the right and click on "JOIN HERE". Find and click your name and away you go!
Visit the Edit Profile Page and let us know what you've been up to! Reunion is coming around and the Planning Committee is doing brief bios on everyone. Besides... so many of us would love to know you've been doing the last twenty years. Our class has a lot of catching up to do! Be sure to upload some photos, too, so we can include in our slideshow at the reunion gala. We've got a great night planned, but we can only do it with your help!
Please note that this site is owned by the GMHS Class of '93 and access to the site is strictly controlled. All information and photos contained in this site are kept private and are not shared or distributed with individuals or companies outside of the Class of '93.
ANNOUNCEMENTS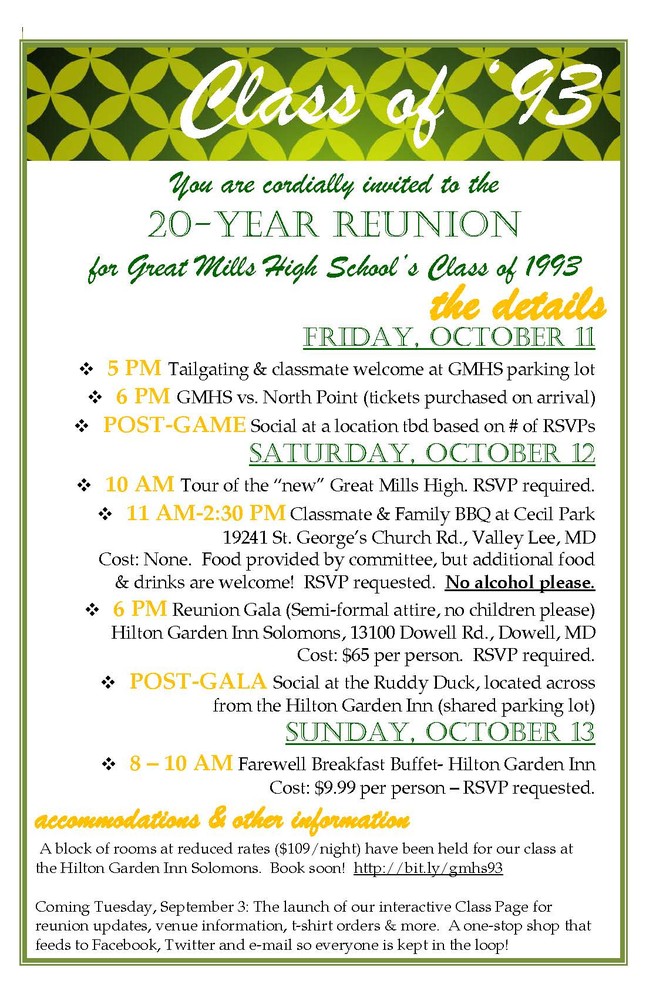 QUESTIONS OF THE DAY: SUNDAY, 10/6 - FRIDAY, 10/11


You must be logged in to submit this survey. Please use the login box in the upper right corner.


| | |
| --- | --- |
| 1) | Sunday, 10/6: Once located in St. Mary's Square, this was the first retail ice cream company in the U.S. |
| | |
| --- | --- |
| 2) | Monday, 10/7: Once "the" place to shop in St. Mary's County, this company states: "Our specialty is bringing nationally-known, brand name apparel, accessories, footwear and cosmetics to small towns and communities throughout the U.S. |
| | |
| --- | --- |
| 3) | Tuesday, 10/8: Name the two popular teachers that became engaged to one another during our senior year. |
| | |
| --- | --- |
| 4) | Wednesday, 10/9: This GMHS staff member shares a name with a famous shoe. |
| | |
| --- | --- |
| 5) | Thursday, 10/10: What straight-out-of-college teacher our senior year taught Anthropology and is still at GMHS today? |