Class of 1966
Hialeah Senior
High School
Reunion/ Class Events
This is for the classes of 57, 58, 59 and 60. The link below will take you to all the info for the event.
---
Hialeah High Class of 1963 Reunion Info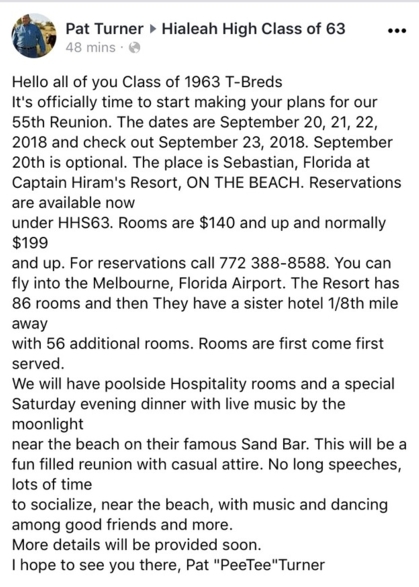 CALLING ALL 1963 HIALEAH HIGH SCHOOLT-BREDS
IT'S OUR "55th" REUNION
At CAPTAIN HIRAM'S RESORT, Sebastian, Florida
This fun and Romantic location has become a favorite Vacation location
with it's private beach on the River, yacht harbor, Restaurants, clubs
moonlight, good food, libation, live music and more mixed with good
friends and you have good times galore!!!
Our High School was not just any high school, but a very "Special" high
school where lifetime friendships were made to last, "What a Blast".
AT THIS POINT IN OUR LIVES,IT IS IMPORTANT TO SAY,
"EVERYDAY ABOVE GROUND IS A GREAT DAY". So lets "Enjoy"them all.
SO: Whether your styling in your support hose or cruising on your walker
OR: You think you are ready to be a contestant on" Dancing with a star"
EVEN IF: Your teeth are sitting near the sink in a jar
POSSIBLY: Your back pain has you on a cane
MAYBE: Your ready to compete in the Senior Olympics
" IT DOESN'T MATTER"
So call all of your Hialeah High School T-Bred friends and make your plans
for our 55th reunion
Dates: September 20, 21, 22, check out the 23rd, 2018 ( 20th optional)
Reservations available under HHS63 772 663-0547
Rooms from $140 per night and up 86 rooms available main hotel and
56 more in adjoining hotel first come, first served
Poolside hospitality room--- Saturday evening moonlight dinner on private
beach with live music and more.
See You There,
Pat "PeeTee" Turner
---
JOIN THE FUN FOR ANOTHER GREAT HIALEAH HIGH REUNION CRUISE
RCCL ALLURE OF THE SEAS. FEBRUARY 24, 2019. 7 NIGHT SAILING FROM MIAMI
PORTS ARE ST MAARTEN SAN JUAN AND LABADEE
GUARANTEED GROUPS RATES WILL HOLD UNTIL SEPTEMBER
Daily Special Rates are for the day they are posted.
The Daily Special Rates will be posted separately
6 V Interior GROUP RATE: $1359.44 Cabin Total includes all taxes and has $50.00 on board credit
4I Boardwalk View Balcony GROUP RATE: $1833.44 Cabin Total includes all taxes and has $75.00 on board credit
8D Oceanview Balcony GROUP RATE: $1919.54 Cabin Total includes all taxes and has $75.00 on board credit
Daily Specials Rates
Cabins booked this way will be brought into the group after deposits are paid.
Deposits for daily rates are non-refundable. Insurance recommended at time of booking.
Cat 6D-Oceanview Balcony, total for 2 including taxes $2278.44 includes a $100.00 Onboard credit
Quantities limited. Prices subject to change
Other categories available upon request
Make your reservations as soon as possible to get your cabins in the best possible location.
Please book here to stay part of your REUNION and we price match RCCL rates.
For information and reservations please contact
Lorraine Martinez at lmartinez@travelleaders.com
Or direct line: 754 900-9892
The Hialeah High contacts for this cruise are as follows:
Gary Snow 305 775 4061
Sherry Hameetman Paris 954 243 1414
Linda Lee Rillo 954 389 8807 or 954 347 5047