Class of 1966
Hialeah Senior
High School
Reunion/ Class Events

WHO - HHS alumni, family & friends.
WHAT - Class of '68, 50th Reunion.
WHEN - Friday, June 1 - Sunday, June 3, 2018. A farewell breakfast (on your own) is tentatively planned at one the hotel restaurants; more info on that will follow as we get closer to June.
WHERE - Sirata Beach Resort, 5300 Gulf Blvd, St Pete Beach, FL 33706; www.sirata.com
COST - $120 per person, for the Friday night welcome/get-together (hors d'oeuvres & cash bar); AND Saturday night dinner/dance, DJ & cash bar. Friday night only $30; Saturday night only $100 Please let me know which night you will be attending, if you're not attending both nights. Tickets may be paid in 2-3 installments, first installment is due by March 31st, any remaining balance is due by May 1st.
ROOMS - Information that follows is what the Sirata Resort provided me: The group rate hotel rooms are first come, first served basis, based on availability—the sooner you book your reservations, the more likely you'll receive the group rate. There are a limited number of rooms that are blocked for the group.
You must call the number below to request the group rate. DO NOT use their website, you will not be able to get a discounted rate.

RESERVATION PROCEDURES:
Please call the Reservations Department DIRECTLY by phone at: 1-800-344-5999 (USA and Canada) and identify themselves as part of the Hialeah High School Class of '68 - 50th Reunion Group block. Any Group participants who do not make their arrangements in this manner will not be linked to the Group and will not be counted as part of the Group block.

To confirm a reservation, a valid VISA, MasterCard or American Express Card must be held on file. To avoid a one nights' charge to card, notice of cancellation must be received by Hotel at least 72 hours prior to arrival. Minimum age requirement: At least one person in each guest room must be 21 years or older.

GUESTROOM RATES:
Sirata Beach Resort & Conference Center is pleased to confirm the following special guestroom rates:

Room

Single Rate

Double Rate

Traditional Rooms

$189

$189

TWO-NIGHT MINIMUM STAY REQUIRED

Studios: +$20.00; One Bedroom Suites: starting at +$30.00 – both based on availability. Rates quoted are based on single or double occupancy and subject to state and local taxes; currently 13%. Each additional person 18 years of age or older will be charged a fee of $15.00 per room/per night. There is no charge for children 17 years of age and younger who are in the room with parent. Rates quoted are net non-commissionable.

SPECIAL CONSIDERATIONS:
Group room rates will be extended three-(3) days prior and three-(3) days following the main program dates of June 1, 2018 - June 3, 2018, at $159.00 per Traditional Room, per night, based on room and rate availability.

CHECK IN/CHECK OUT TIME:
Check in time is after 4:00 PM and check out is prior to 11:00 AM. Complimentary luggage storage is available for those guests who arrive early or must remain past checkout time.

RESORT FEE AND PARKING:
Nightly Resort Fee of $29.00 per guestroom, per night has been reduced to $5.00 per guestroom, per night, prior to taxes. Resort Fee is required nightly with each guestroom. Resort Fee to include overnight parking amongst other hotel amenities. Please note that due to limited parking; only one vehicle per guest room will be permitted to park overnight. Day visitor parking will be subject to $5.00 per car, per day. Day visitor parking is based on availability.
See "Amenities/Resort Package in red below.

AIRPORT AND GROUP TRANSPORTATION:
Sirata Beach Resort and Conference Center has made special arrangements with Avis / Budget for car rentals available on property. Group will be given a 5% - 10% discount on any car rentals needed. Please call Avis directly at: 1-800-331-1212 or go to: www.avis.com and use the discount code: W054900. Sirata Beach Resort and Conference Center has partnered with Resort Transportation Services to offer your Group exclusive discounts on individual airport transportation as well as vehicles from sedans to vans. Large Group airport transfers are available. Call 866-403-3303 for pricing.

Amenities/Resort Package:
The Sirata is virtually giving us a "Resort Package" for each hotel room. This resort package is typically $29.00 per guest room, per night, however they have reduced it to $5 per guestroom, per night for our group, at this time.
· Overnight Parking – one car per room
· Basic Wi-Fi in guest rooms and public areas
· One complimentary Beach Photo Shoot & Print – Visit Jpegs at Rum Runners Pool Hut
· Access to a Premier Gaming Lounge featuring Xbox One
· Bicycle Usage based on availability
· Live Entertainment nightly at the Resort's Beach Bar
· Daily Resort Activities and Games "something different each day for all ages"
· Resort Games – Family board games, volleyball, corn hole, etc.
· Pool Lounges & Towels with easy access from two conveniently located Kiosks
· Suncoast Water Sports - 10% discount off Regular Pricing
· Boogie Boards and Noodles Beachside
· Two bottles of water daily in room
· Unlimited local & 1800 phone calls
· Access to property Fitness Center and Business Center
· **Please note: Does NOT include cabanas—cabanas/umbrellas are based on availability at the rates set by beach services (not complimentary).
Airport Info:
For those of you flying, you can get to St. Pete Beach via these airports: St. Pete-Clearwater (less than a half-hour away), Tampa (a half-hour away), Sarasota (less than an hour away), Orlando or Ft Myers (both about 2 hours away).
Note: I will be compiling a list of other local motels/resorts that are available for lodging you may want to consider, especially once our block of discounted rooms are sold out. If you would like to be included in my Gmail Reunion Update emails, which allows me to attach documents such as the Who's Coming List, Alternate Motel/Resort Listing, etc. just let me know.
Bill Burns
---
---
Calendar Girls of the 60's Present
A Sock Hop!
WHEN: June 22 – 24, 2018
WHERE: Shula's Hotel and Golf Club
Friday, June 22

4pm – 7pm: Check in and register at the Hospitality Suite
7pm – 11pm: Meet and greet fellow classmates from the 50s, 60s and 70s in the hotel lounge
Dinner on your own

Saturday, June 23

All day: Gather with fellow grads to shop, play tennis or golf, visit the hospitality room and reconnect.

Contact Dave Gergley for golf tee times and summer rates: 305-820-8097 or 954-980-4653.

6pm: Cocktail hour
7pm - 11pm: Sock hop dance with all you can eat dinner buffet and dance the night away to the golden oldies

Sunday, June 24

7am – 10am: breakfast on your own
10am: Softball game, Team 60s vs Team 70s @Miami Lakes Park (north of hotel on 67th Avenue) This event is weather permitting with a cookout to follow. Please bring something for everyone to share.
COST: $95 per person (includes buffet dinner on Saturday night and two drink tickets). We are asking for a deposit of $50 by March 1st and the balance paid in full by June 1st
This sock hop is presented by the Calendar Girls of the 60s and is an extension of our fundraising activities to help classmates who need financial help due to health issues. If you cannot attend but wish to contribute anyhow, please make all donations and sock hop tickets checks to:
HHS Cancer Fund
6837 Main Street
Miami Lakes, FL 33014
For credit card purchases, please call Gary Snow at 305-556-0511, 10:30am – 6:30pm
---
This is for the classes of 57, 58, 59 and 60. The link below will take you to all the info for the event.
---
Hialeah High Class of 1963 Reunion Info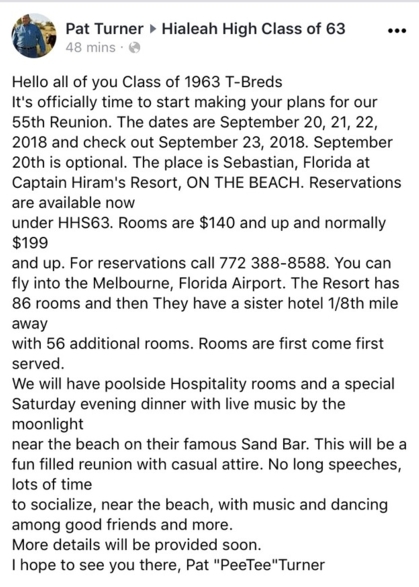 CALLING ALL 1963 HIALEAH HIGH SCHOOLT-BREDS
IT'S OUR "55th" REUNION
At CAPTAIN HIRAM'S RESORT, Sebastian, Florida
This fun and Romantic location has become a favorite Vacation location
with it's private beach on the River, yacht harbor, Restaurants, clubs
moonlight, good food, libation, live music and more mixed with good
friends and you have good times galore!!!
Our High School was not just any high school, but a very "Special" high
school where lifetime friendships were made to last, "What a Blast".
AT THIS POINT IN OUR LIVES,IT IS IMPORTANT TO SAY,
"EVERYDAY ABOVE GROUND IS A GREAT DAY". So lets "Enjoy"them all.
SO: Whether your styling in your support hose or cruising on your walker
OR: You think you are ready to be a contestant on" Dancing with a star"
EVEN IF: Your teeth are sitting near the sink in a jar
POSSIBLY: Your back pain has you on a cane
MAYBE: Your ready to compete in the Senior Olympics
" IT DOESN'T MATTER"
So call all of your Hialeah High School T-Bred friends and make your plans
for our 55th reunion
Dates: September 20, 21, 22, check out the 23rd, 2018 ( 20th optional)
Reservations available under HHS63 772 663-0547
Rooms from $140 per night and up 86 rooms available main hotel and
56 more in adjoining hotel first come, first served
Poolside hospitality room--- Saturday evening moonlight dinner on private
beach with live music and more.
See You There,
Pat "PeeTee" Turner
---
This is reunion Info for the Class of 1964 furnished by Vince Rusinak
The Class of 1964 will be having a 50ish Reunion (missed having one on our 50th anniversary and don't want to wait until our 55th) at Shula's Hotel in Miami Lakes on May 4th and 5th, 2018. Information can be found on our website: www.hialeahhigh1964.com. This is open to all classes.

---
This is reunion Info for the Class of 1972/1973/1974 furnished by Roger Gerken. The reunion is open to all classes.
There is a reunion scheduled for april 13- 15th at Capt Hirams in Sebastian, Florida. The website for info is: https://www.facebook.com/events/1401002953312160/
---
Classes of 1957-1960
June 24-26, 2018, "The Luau" at Daytona Beach
This event is for 57, 58, 59 & 60 but all classes are invited to join in the Luau fun at the only 4 star AAA hotel in Daytona. Bring your family and friends and enjoy a casual, relaxed stay on the beautiful beach.
Tickets are on sale and room reservations are open. This is the link to the event web site, http://tinyurl.com/y7gch9gz , it has all the details.
---