In Memory
Tabatha Calvert (Steele)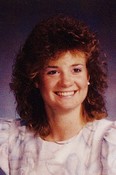 Tabatha went to live with the Lord after a courageous battle with cancer. She was born November 4, 1970, in St. Petersburg, FL. She graduated from Irmo High School in 1989 and the University of South Carolina in 1993. Tabatha was employed by Lake Murray Elementary School in Lexington School District One.
Tabatha is survived by her husband, Jeff L. Steele, Sr.; son, Jeffery Lee Steele, Jr.; daughter, Brianna Lynn Steele; her parents, Tom and Cheryl Calvert of Ridgeville, SC; brother, Tommy Calvert of Reno, NV; sisters, Brandy (Frank) Thompson of Summerville, SC, and Danielle (Shane) McDowell of Hanahan, SC; mother- and father-in-law, Andrea and Ray Steele of Lexington and brother-in-law, David (Amy) Steele of Lexington.
On September 4, 2008, Tabatha C. Steele was taken from this earth by kidney cancer at far too early an age. She is survived by all those whose lives were made better simply because they knew her. For those who did not know her, Tabatha was a loving and gentle wife, mother and daughter. She honored her parents and respected her elders. She strived to make the world a better place and did so every day by seeking out ways to help others. She was the kind of person you wanted as a friend because you knew you could count on her to do whatever was needed.
Tabatha had a sly sense of humor about her that caught you off guard when you least expected it. She took the time to appreciate the smell of roses, the taste of chocolate-covered strawberries, and the playfulness of puppies. She loved God and tried to be a better person every day. Tabatha baked cakes with our daughter and spent countless hours at soccer practice with our son. I had the privilege of knowing her for twenty-two years. In that time, she was my high school sweetheart, my wife, and the mother of my children...but above all else, she was my friend. And for that, I am truly blessed to have known her.