Albert Einstein

High School




Class Of 1989
Welcome to the Albert Einstein High Class Of 1989 web site.

Please check back often as things will be changing.
Please look for you name under "Classmate Profiles" and create a profile and login. Some parts of the site require a login.

The date and plans have been set for the reunion.

IT'S THAT TIME
IF YOU HAVEN'T PURCHASED
YOUR TICKETS
YOU STILL CAN OR WALK UP
(Click for Details)
Class of 1989
20th Year Class Reunion
Saturday, Oct 24, 2009
CLICK HERE FOR MORE DETAILS ABOUT ATTENDING
Please also check out the "Reunion Planning" page often for updates from the planning commitee
Current committee members: James Dean, Dan Abate, Ed Gagain, Lynn Figgers (Caton), Stephanie Tarant and Anne Rickert

COMMITTEE MEETINGS happen via conference call at least once a month

PLEASE USE THE "CONTACT US" LINK IF YOU ARE INTERESTED IN JOINING THE COMMITEE AND HELPING OUT

If you are new to our site, WELCOME!
Please click on the "Classmate Profiles" and set up your profile and log in information. If you are having problems doing anything and need more information try looking in the FAQ section of this site. If you are still having problems beyond that use the "Contact Us" section to send me an email and I will be able to help you get going.
Reunion coordination and planning provided by: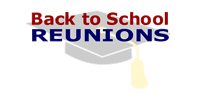 Enjoy some music from the 80's below
Hint: I you you click the "Pop-out Player" button you can listen to the music while you go through this site
NOTE: If you don't see or hear your favorite songs let me know by clicking here and sending me an email and I can add it.