Krugersdorp High School
1961 Matric Class
Welcome to the 1962 Krugersdorp High School Matric Class 50-year Reunion web site.
THE 1962 KHS MATRIC CLASS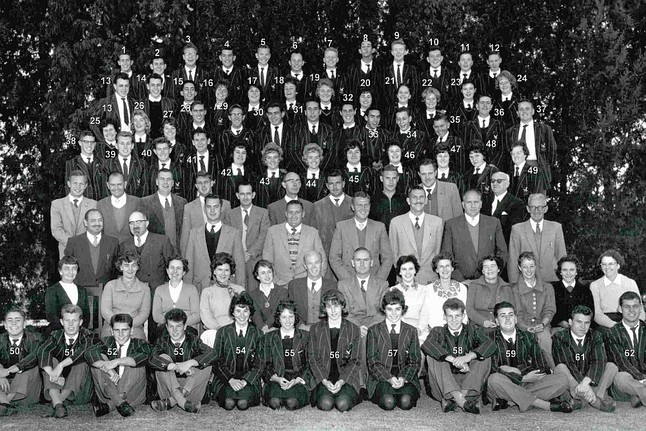 THE 50TH REUNION OF THE 1961 KHS MATRIC CLASS WAS HELD ON THE WEEKEND OF 23 / 24 SEPTEMBER, 2011 AND WAS A RESOUNDING SUCCESS.
WELL DONE STEVE MELTZER, PETER ADAMS, ETIENNE VLOK AND BRUNO SWANEPOEL. YOUR HARDWORK, PAVED THE WAY FOR A WELL ORGANIZED REUNION WHICH IS THE TALK OF THE TOWN.
PLEASE SEE PAGE "50 YEAR REUNION" FOR REUNION PHOTOS.STILL HAVE TO NAME AND LABEL PROPERLY
Site Administrator
Bruno Swanepoel
ANNOUNCEMENTS
•

HI everybody. Bruno here.

Juat short note to let you know thai I am out of hospital now, am battling with cancer, but I am winning.

I have subscribed the website for another year, and it will be a pleasure running the site again.

I think we need a volunteer to take over the site at some stage, so please don,t be shy.

Steve. ET. and Peter, thanks for all your support along the way.

Cheers

Bruno

Administrator

•
Wow!!! At last, after 6 years of study, I have completed a Certificate in Theology.It has been a great adventure for me considering my Biology/Science background.It just shows that if you put your mind to something you can do it.I spent Christmas with my nephew in Windsor,UK. No snow but cold and grey. It made for good eating and sleeping. Happy New Year everyone.

UA-9215331-1