Leonia High School
Class Of 1958
Then and Now Photos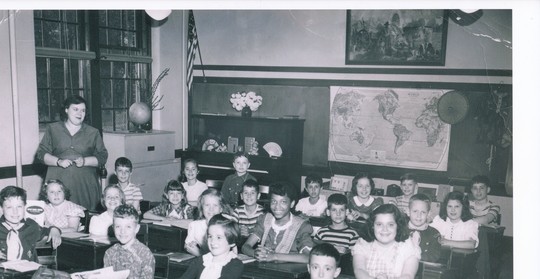 1949-50 Miss Doris Butz Class Leonia Elementary School 4th Grade: l to r - 1st row - Ron Turecki (cub scout), Dick Frank, Sandra Kirwan, Phil Colbert; 2nd row - Alma Ruesch, Joan Ward, Prudence Kimball, Martina Christmas, Marge Celantano; 3rd row - Paul Rose, Lawrene Chermak, Gil Raposo, Bob Hilgen, Scott Peterson; 4th row - Linda Gildea, Rex Gismond, Louis Biosca, Betty Ellis, Paul Ammon, Jeanne Gilbertson, Peter Sager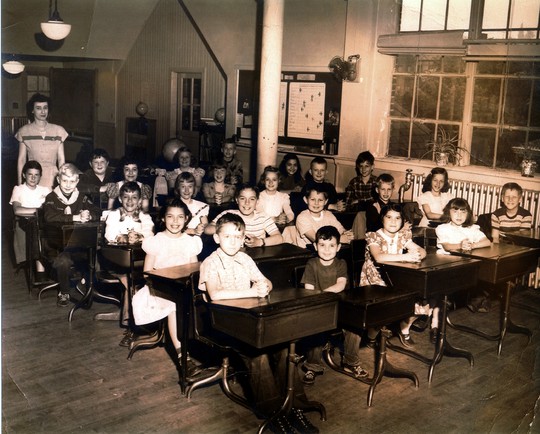 1949-50 Miss Korth Leonia Elementary School 4th Grade l-r 1st row- Rett Oren, Lou Moscowitz, Clara Payne, Lillian Detrick, Paul Duckles ; 2nd row - Ellen Sherman, Joe Vergona, Tim Iradi, David Blood, ___; 3rd row - Robin Cook, Mary Lou Smith, Barbara Bucannan?, Jay Cole, Bob Martin; 4th row - Herb Hill, Linda Drexler, Sandra Dittmore, Edwina Grande; 5th row - Martha Buckwalter, Harold Schachner, Marilyn Evans, Jon Zubin
1949-50 Miss Mores Class Leonia Elementary School 4th Grade: l to r 1st row - Patty McCabe, Ray Stupienski, Johnny Martin; 2nd row - Ken Nakayama, Dorothy Krinitz, JaniceJaeger, Kathy Lanier; 3rd row - Irene Sarich, Betty Craven, Shirley Moran, Frank Meisner, Harry Mints; 4th row - Carole Root, Val Mingle, Bob Michard, Howie Smith, Phyllis Gromest; 5th row - John Cassavetes, Ralph Hellmold, Richie Cooper, Muriel Raczkowski, Roger Shoenbach
Baseball Players at Lindbergh School Field ?1950
Baseball Players - Lindbergh School Field ?1952
June 1955 Palisades Park Junior High School 9th Grade Graduating Class
I'll fill in names later

20th Reunion April 15, 1978 Indian Trail Country Club Franklin Lakes, NJ
Seated: Loretta Martina, Lucille Pallotta, Vince Sgro, Kathleen Sgro. Standing: Ed Giannantonio, Gerri Giannantonio, Ann Albanese Ring, Jim Ring, Luke Casbar, Loretta Casbar.
Seated: unknown, John D'Angeli, Joann Allen, D'Angeli Nick Rotonda, Rosemarie Vegliante. Standing: Loretta Martini, Mike Mulieri, Aida Stipo, Althea Garfs
Seated: Carol Mintz, Harry Mintz, Dick Frank, Nancy Frank, Bruce Kovacs, Anne Kovacs. Standing: Rett Oren, Marlene Oren, Jon Zubin, Judie Zubin, Dave Blood
Seated: Frank Pallatta, Rita Pallatta, Fred Phillip, Bette Ann Phillipss. Standing: Dolores Giannantonio Biamonte, Frank Biamonte, Janet Lewandowski, Hank Lewandowski, Charlie Johannen
Seated: Carole Root, Martha Buckwalter, Betty Ellis, Alma Ruesch, Marilyn Evans Michaels. Standing: Jack Reppert, Angela Cirone Reppert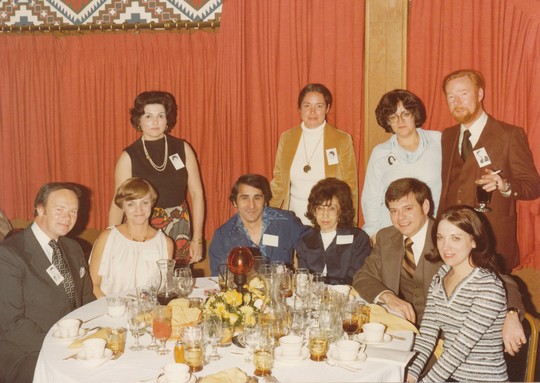 Seated: Bob Vaka, Unknown, Ed Ardire, Linda Ardire, Bob Sands, Jane Jabel Sands. Standing: Gerry Paris Severino, Adriana Giardina Austin, Susan Gardner Gordon, Bob Gordon

Seated: Johanna Keating, Charlie Keating, John Koppinger, Joe Amendola, Rosemary Amendole, Dean Uva, Joan Uva. Standing: Herb Hill, Norah Hill, Ray Stupienski, Loraine Stupienski, Jim Hartley, Sharon Hartley.
Seated: Ed Gilligan, Helen Tumenelli Gilligan, Bob Oliver, Elaine Vignola Oliver, Richard Ciarletta?, Susan Paige Olson. Standing: Carolee Nolan Parisi, Bob Parisi, Donna Carey, John Koppinger, Jerry Olson
Seated: Shelia Strauss Strauss, Henry Strauss, MaryAnn Rose Bunner, Steven J. Bunner, Lou Moscowitz, Joann Moscowitz. Standing: Marie Trabulski Rybicki, John Rybicki, Christine Kulikowski Del Greco
Seated: Margaret Hellmold, Barbara Flack, Charles Bryk, Joan Vermeulen Bryk. Standing:Ralph Hellmold, Jerry Schwartz, Ellen Sherman Schwartz, Ed Rietz, Janet Rietz

Seated: Pat Murray, Unknown, Unknown, Harold Schachner. Standing: Susan Dotti, Lou Dotti, David Fogel, Linda Drexler Fogel, Bill Carnright, Jean Carnright.
Various Snapshots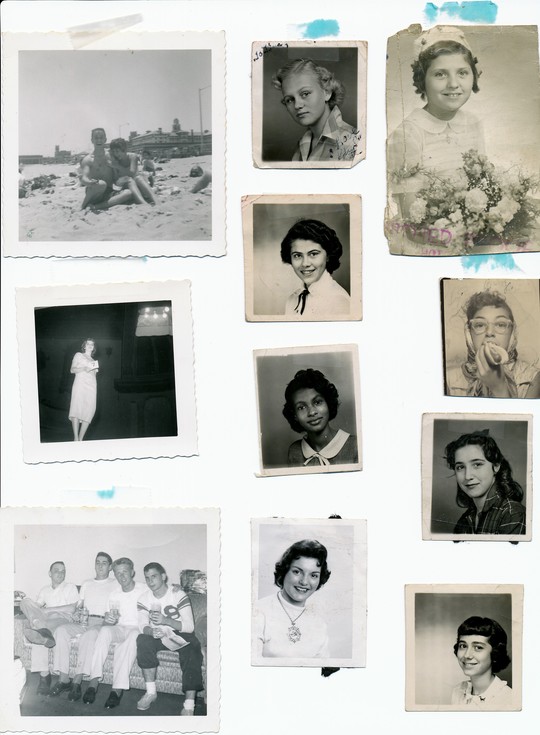 Mike Vipiani & friend; Phyllis Gromest; ? ; Kathy Fury; Bonnie Davino?; Jeanne Gregg; Aida Stipo; Dolores Alliotts?; John Ploger, Gil Raposo, Ken Keenan, Ron Van Heertum; Gerry Paris; Claire Cavaliere
35th Reunion June 18-20, 1993 Glenpointe Marriott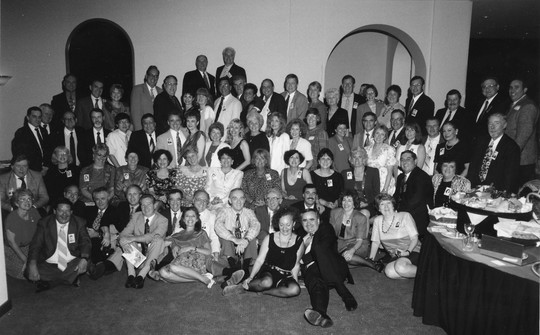 LHS Class of 1958 35th Reunion Photos June 1993
Back Row: Charlie Johannen, Ray Stupienski, Patty McCabe, Charlie Keating, Ed Rietz, Lloyd Jeronen, Tom Henry, (in front 0f Tom) Dorothy Krintz, Sandra Dittmore, Hank Lewandowski, Bill Fitch, Lucille Pallota, Harry Mints, Jon Zubin, Val Mingle, Pat Kenny, Dave Ausmus, ?John Connelly, Nancy Romagnoli, Adri Giardina, Ron Turecki, Bob Adam, Frank Pallotta, Tony Ragazzo –next to Dave Ausmus
3rd Row: Rich Farrell, Herb Hill, Ralph Hellmold, Paul Rose, Ken Nakayama, Frank Biamonte, Bill Carnright, Carolee Nolan, Susan Paige Julie Gilbert, Anne Albanese, Carmella Giannantonio, Linda Eisenstein, Pru Kimble, Elaine Vignola, Dean Uva, Angela Cirone, Joe Amendola, Claire Cavalier, John Koppinger, Marylin Ellis, Bob Gordon
2nd Row: Ken Keenan, Carole Root, Dolores Giannantonio, Betty Ellis, Susan Richmond, Alma Ruesch, Kathy Fury, Phyllis Gromest, Aida Stipo, Christina Kulikowski, Althea Garfs, Gil Raposo, Susan Gardner
Front Row: Lillian Detrick, Pete Weaver, Jeff Giardina, Vinnie Fusco, Dave Blood, Andy Puller, Mike Mulieri, Ellen Sherman, Frank Giodano, Dave Degnon, Eddie Giannantonio, Mary Ann Rose, Bruce Kovacs, Carmen Olmo, Ginnie Azzolini, Pat Murray

Addendum: died since photo- Peter Weaver, Mary Ann (Ursa) Rose, Kathy Fury, Chris Kulikowski, Gil Raposo, Tom Henry, Harry Mints
45th Reunion October 24-26, 2003 WoodCliff Lake Hilton
Front Row:Frank Giordano, Cyndy Hair, Jeff Giardina, Ellen Sherman, Jane Walsh, Ralph Hellmold, Angela Cirone, Claire Calvaliere, Irene Sarich, Rett Oren, Dave Blood. 2nd Row: Dean Uva, Angi Adam, Pat Kenney, Sue Gardner, Dolores Giannantonio, Adriana Giardina Austin , Ken Keenan, Julie Gilbert, Janet Weiblen, Kathy Fury, Stephanie Castiglioni Martin, Peggy Donovan, Lucille Pallotta, Ed Giannantonio, Frank Biamonte, Bob Adam, Frank Pallatta. 3rd Row: Lillian Detrick,Bunny Giordano, Jan Jaeger, Dave Ausmus, Tony Ragazzo, Charlie Keating, Andy Puller, Bruce Van Heertum, Edwina Grande, Phyllis Gromest, Bob Gordon, Pat Murray, Ron Turecki, Marylin Ellis, Anne Albanese, Paul Rose, Suzy Hirsh, Joann Allen, Ed Bremer , Bill Fitch. 4th Row: Herb Hill, Bruce Kovacs, Dave Degnon, Harry Mints, Ed Rietz, Dorothy Krinitz, Ray Stupienski, Hank Lewandowski, Mike Mulieri, Val Mingle, Lloyd Jeronen, Paul Rose, Howie Smith, Vince Sgro, Bob Hilgen, John Koppinger, Tom Henry. PLEASE CHECK AND SEND ME CORRECTIONS-My eyes are failing, as is my memory.