In Memory
James Carmichael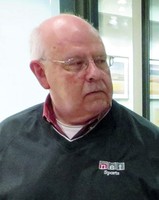 Jim Carmichael, longtime producer/director with NET Television, passed away Feb. 12 at the NET facilities. Joining the statewide television network in 1985, Carmichael was producer for NET Sports' popular "Big Red Wrap-Up" series, as well as live coverage of Nebraska high school and collegiate sports competition. He also produced the "Backyard Farmer" series for NET Television.
Jim Carmichael loved bringing sports to Nebraska television viewers.
So it came as no surprise to those that knew him that he was working when he left this world. Carmichael, a senior producer/director at NET Television, died at his office late Wednesday night while preparing for an upcoming live broadcast of a UNO hockey game.