In Memory
Robert "Chip" Durrie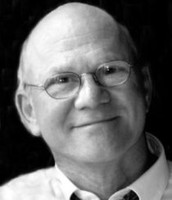 Robert Paul Durrie Jr., age 63, of Lodi, Wis., died on Friday, June 19, 2015, in Lodi. He was born on April 4, 1952, in Lincoln, Neb., the son of Robert and Mary Durrie. He married Lauren Schaefer on June 11, 1977, in Deerfield, Ill.
Robert "Chip" Durrie grew up in Lincoln, Neb., and graduated from Iowa State University with a doctorate in veterinary medicine. He married Lauren while he was in veterinary school in Ames, Iowa. Following graduation they moved to Chicago where he practiced small animal medicine. He went on to earn a doctorate in biochemistry from Loyola University Chicago and taught biochemistry at the medical school. He and Lauren moved to New York where he accepted a position as a research scientist at the Nathan Kline Institute of Orangeburg, N.Y. He spent the next 15 years researching human brain metabolism. He retired in 2000 and settled in Lodi with Lauren.
Chip was a master gardener, active in the Lodi Farmers Market and taught horticulture. He also enjoyed woodworking and making furniture. He was a board member of Habitat for Humanity in the local area for many years. Chip was a kind and gentle soul with a quick wit and a wry sense of humor. He loved people and had many close friends. Although Chip was a lifelong diabetic and encountered numerous serious health challenges, as a result, he and Lauren faced life with a positive attitude that was inspirational to all who knew him. He will be missed greatly.
He was preceded in death by his father, Robert P. Durrie Sr., and his mother-in-law, Shirley Schaefer. He is survived by his wife, Lauren of Lodi; his mother, Mary Durrie of Lincoln, Neb.; his father-in-law, Richard Schaefer of Lodi; his brother, Daniel Durrie (Anne) of Kansas City, Kan.; his sister, Mary Lynn Reiser (Richard) of Omaha, Neb.; his sister and brother-in-law, Robert and Leslie Evert of Wyocena, Wis.; his brother-in-law, Richard Schaefer Jr. of Chicago, Ill.; and his nieces and nephews, Todd Reiser, Erin Durrie Stahl, Sally Reiser Christensen, Joshua, Robert Evert and Melissa Schaefer.
Memorials should be directed to Habitat for Humanity Sauk-Columbia Area, P.O. Box 38, Baraboo, WI 53913.