In Memory
Jane Henderson (Delano)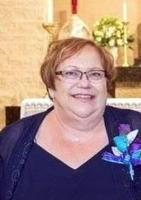 Jane Ann Delano, 67, of Lincoln, Nebraska passed away on July 31, 2019.

She was born to Gay T. and Dorothy Mae Henderson on July 25, 1952. She graduated from Lincoln Southeast High School and attended University of Nebraska. She married Alfred Delano on June 29, 1974. She enjoyed traveling, vacations, camping, flowers, baking, swimming and especially spending time with her family. Preceded in death by her parents; Gay T. and Dorothy Mae Henderson; brother Thomas Reid Henderson; father and mother-in-law; Floyd Albert and Christina Barclay Delano.
Survived by husband Alfred Delano; brother Richard (Debra) Henderson; children, Heather (Jeremy) Gaver; Elizabeth (Damian) Shotkoski; Carrie (Bill) Wheeler; Eric (Ginny) Delano; Christopher (Alyssa) Delano; grandchildren: Mackensie; Tanner; Amelia; Madison; Brooklyn; Aden; Mason; Liam; Charlotte; Zachery; Dalton; Kylee; Samuel.
Funeral service will be held on Friday, August 9, 2019 at 10:00 am at Lincoln Memorial Funeral Home, 6800 South 14th Street, Lincoln, NE. May leave condolences at lincolnfh.com
https://www.dignitymemorial.com/obituaries/lincoln-ne/jane-delano-8799046?fbclid=IwAR3q2IWPFyggTszqzjllWuyAibdxDJawa1Mv73OWIuOOp73aS1Wq32CTD04