In Memory
Lisa Johnson (Nicklas)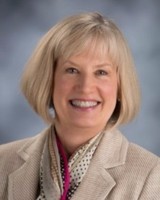 Lisa Lynn Nicklas, 64, of Hickman, Nebraska went to be with the Lord June 1, 2017 surrounded by her family. Born September 3, 1952 to Lloyd and Barbara (Engel) Johnson in Alexandria, Louisiana. Lisa and her husband Gregg were Co-Founders of Christian Heritage and she received her MBA from Gallup University.
Lisa is survived by her children, Jon (Erin) Nicklas, Jami (Brandon) Harms, Jeff (Michelle) Nicklas, Jennifer (Kyle) Coffie, Joy (Stetson) Fuller; grandchildren, Grace, Micah, and Hayden Nicklas; Jaelynn, Connor, Izabella, and Harper Harms; Chase and Cole Nicklas; siblings, Jeff (Geri True) Johnson, Kris (Neil) Engstrom. She was preceded in death by her husband Gregg Nicklas and her parents.
A Celebration of life will be held at 10:30 a.m. Friday (6-9-17) at Lincoln Berean Church, 6400 S. 70th Street. Burial will be at Elmwood Cemetery.
Visitation with family greeting friends will be from 5:00 – 7:00 p.m. Thursday (6-8-17) at Roper and Sons Funeral Home, 4300 'O' Street.
Memorial Contributions can be made to Christian Heritage, 14880 Old Cheney Rd., Walton, Nebraska.
http://journalstar.com/lifestyles/announcements/obituaries/lisa-lynn-nicklas/article_2b211be4-7e9f-5e03-bb35-2363311d13e4.html