In Memory
Connie Koop (Fertig)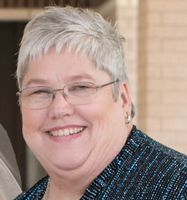 October 7, 1952 — March 17, 2020
Connie Jean (Koop) Fertig, 67, of Liberty, MO, and a former lifelong Lincoln, NE resident, passed away unexpectedly on March 17, 2020, at her home in Liberty.
Connie was born October 7, 1952, in Lincoln, NE, the eldest of two children of Wayne Edward and Lois Jean (Deitemeyer) Koop. She graduated from Lincoln Southeast High School. Connie was united in marriage to James Robert Fertig on May 28, 1976, in Lincoln.
Connie was an accountant all her working life, retiring from Stephens and Smith Construction in Lincoln. Following retirement, Connie and James moved to the Kansas City area to live near family. Connie was preceded in death by her mother, Lois.
Survivors include her husband of 43 years, James; daughters, Jaime Rash (Kory) of Kansas City, MO, and Camie DelBarba (Kris) of Carol Stream, IL; grandchildren, Makayla Dove, Hailey Dove, Korben Rash, James DelBarba and Sabrina Rash. Connie also leaves her father, Wayne Koop; brother, Ken Koop (Sally) of Decorah, IA; two nieces, a nephew and their families.