In Memory
John Winkler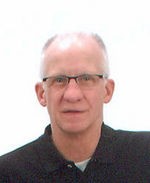 John R. Winkler - 59, Lincoln, NE, died Tuesday (11-30-10) after a courageous battle with pancreatic cancer. Born (6-24-51) in Lincoln, Nebraska to Eldon and Margaret (Wilson) Winkler. Ret. police officer with the Lincoln Police Department after 22 years, Special Investigator for Progressive Insurance and currently with Nationwide Insurance. Attended Sheridan Elementary, Irving Middle School, Southeast High School and UNL, receiving his BS degree from Doane College, did graduate studies at University of Minnesota. Past president, vice-president and secretary-treasurer for Iowa-Nebraska Chapter International Association of Special Investigators. In 1985 completed the Hawaii Iron Man competition. Enjoyed snow skiing, scuba diving, running, biking and spending time with his family and friends.
Family members include wife: Deb; son: Drew; daughter: Shannon; sister: Pam Overhalser, all of Lincoln; parents-in-law: Kenneth and LaVonne Guthrie, Exeter, NE; brother-in-law, sister-in-law: Dan and Kris Guthrie, Lincoln; sister-in-law, brother-in-law: Dixie and Bill Krejci, Exeter, NE; sister-in-law: Denise Schwanebeck, Lincoln. Preceded in death by parents, brother Jerry Winkler
Cemetery: Lincoln Memorial Park, Lincoln, Nebraska
Memorials: Memorials may be sent to the American Cancer Society for Pancreatic Cancer Research, 5733 South 34th Street, Suite 500, Lincoln, NE 68516 and LIVESTRONG.