Hotel and Travel Info
Hi Classmates.
Hotel options for reunion stay in Lincoln are below. All but one are within walking distance from one another in downtown Haymarket area. We have two hotels with a rate guarantee time frame. Rates for other hotels can be determined by calling or through hotel website. There are many more hotels available in Lincoln; these were chosen with regard to proximity to airport and downtown venues and the other hotel is between our two reunion venues. If you have questions, please let me know.
See you in October! Mona
Lincoln Haymarket (click the map to open in your browser):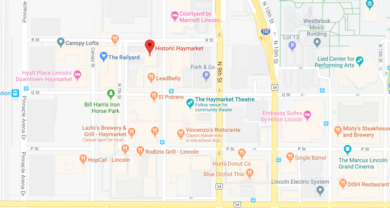 Hyatt Place 600 Q Street, 888.492.8847. Ten rooms with rates available until 09.18.19 for Oct 18 and 19: king, $149 (5 rooms), double queen, $159 (5 rooms). Code G-NER9 (www.hyattplacelincoln.com).
Courtyard by Marriott 808 R Street, 877.678.4105.
Hilton Gardens 801 R Street, 402.475.9000.
Embassy Suites 1040 P Street, 402.474.1111.
Northeast Lincoln:
Staybridge Suites 1501 N 86th Street (86th and Holdrege), 402.484.6000. Fifteen rooms in a block at these rates until 09.18.19: queen $114.99, king $$129.99, double queen $149.99. Rate includes breakfast. Code NR1.