In Memory
Rickey Duke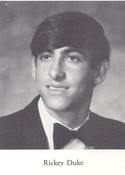 Funeral services for Mr. Rickey Wayne Duke, age 53 of Beechgrove, will be conducted Friday morning, January 30, 2009 at 10:00 AM with Bro. David West and Bro. Eddie Duke officiating services at Coffee County Funeral Chapel. Burial to follow in Gnat Hill Cemetery. Visitation with the Duke family will be Thursday evening, January 29 from 5:00 PM - 9:00 PM at the funeral home. Mr. Duke passed away January 28 at his home surrounded by his family following an extended illness.
Rickey Duke was born May 31, 1955 in Cannon County, TN, the son of Hazel McCullough Duke of Beechgrove, and the late Elvin V. Duke. He worked for Sverdrup as an Instrument Technician Specialist, and was a member of the Unity Church of Christ. Rickey was also an avid golfer.
In addition to his mother Hazel, his survivors include his loving wife Deborah Duke of Beechgrove; one son, GySgt. Jarrod (Wyndi) Duke of Naples, Italy; one daughter, Jessica (Ryan) Hamby of Manchester; sister, Mary Jane (Bill) Burnett; brother, Lyndal (Patricia) Duke, both of Murfreesboro; two grandchildren, Alayna and Austin Duke, both of Naples, Italy; and many nieces and nephews.
In lieu of flowers, the family suggest memorial contributions be made to the Alive Hospice and/or the American Cancer Society.