In Memory
Ken Murray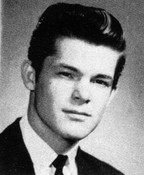 Kenneth Edward Murray
LEWISVILLE — Kenneth Edward Murray, 68, of Carrollton, Texas, passed away November 29, 2012. He was born October 4, 1944, in Marshall, Texas, to Joe and Bertha Murray.
Kenneth is survived by his wife, Carmenza Murray; two sons, Chris Murray and Jason Murray; two brothers; five sisters; and two grandchildren.
In lieu of flowers, please make donations to The Parkinson's Disease Foundation
www.pdf.org
.
A visitation will be from 6-8 p.m. Monday, December 3, 2012, at Dalton and Son Funeral Home in Lewisville. Graveside services will be 1:15 p.m. Tuesday, December 4, 2012, at DFW National Cemetery in Dallas.