WVU vs. Pitt, 1975
The WVU Mountaineers coached by Bobby Bowden, met the ranked Pitt Panthers under Johnny Majors on an overcast fall after- noon, Saturday, November 8, 1975. The gray skies contrasted the previous golden fall days on the Morgantown campus. On those days there was a buzz in the air, an excitement that could be felt over the town. ABC Sports was coming to televise the game with none other than Keith Jackson in the broadcast booth. The Daily Athenaeum had the headline one day "This Is Our Season." It didn't matter what happened on the rest of the days, as long as arch-rival Pitt was defeated.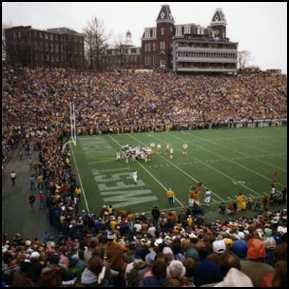 By Saturday morning the energy was electric. Fans were flooding Sunnyside and the area surrounding Mountaineer Field, many sporting the derisive tshirt of that era,
Under the Arm
! By 11am, early for WVU students partying the night before, the bowl and student section was almost jammed to capacity to watch the WVU-Pitt men's soccer game. It was a good omen that the Mountaineers won that game.
Game time with over 35,000 in their seats. The Pride of West Virginia was loudly cheered, as always, for their pregame show. Then came the teams. Pitt, with running back, Tony Dorsett, and effective quarterback, Matt Cavanaugh. We brought on the Mountaineers in blue jerseys and gold pants with back Artie Owens, quarterback Dan Kendra, and receiver Randy Swinson.
The game itself was a great one, with strong defense on both sides of the ball. At the half, the game was scoreless, with the great Tony Dorsett held to 51 yards on 12 carries. Early in the fourth period, the Mountaineers led 14-7, but by the middle, Pitt had tied it at 14.
I recall little of the game, except of course, the finale. In the last play from scrimmage, Kendra fakes a draw to Artie Owens, and hits Randy Swinson at the Pitt 22 yard line. Four seconds left! Warwood native Bill McKenzie, comes on to attempt the 38 yard field goal. Pitt calls time out to freeze our kicker.
Let's leave the description to the forever Voice of the Mountaineers, Jack Fleming. Can you believe this? McKenzie kicks it, it is long enough, it is good! The ballgame is over! There's a mob scene out on the field -- you haven't seen anything like it!"

Fans flooded the field, students from the bowl, others from all directions. My parents, Sanford and Nan Watzman were at the game, sitting elsewhere. They reminded me that I came screaming across the field, not unlike others that day, We beat Pitt! We beat Pitt!

The mob scene continued for a long time, long after my friends and I made it to the PRT station for the ride back to Evansdale campus, near where most of us lived that year. My parents were staying in downtown at the Hotel Morgan, and, after a nap, I was to meet them for dinner. I don't know that I made it to dinner, after hearing that University Avenue in Sunnyside was flooded with celebrants, roads were blocked, and, for the first time to my awareness, couches burned.

Memories by Neal Watzman, MA, 1976