Mount Lebanon

High School




Class Of 1960

Nancy (Rhoades) Warner on November 23, 2018
(complete obit on the IN MEMORY link to the left)
* * * *

New Classmate Registration
Lucia Cicchino (Spicuzza)
* * * *
As of November, 2018:
316 Classmates registered on website
80 Deaths
73 US mail only
69 Missing
31 Email only
11 No interest
8 Asked to be removed from website
* * * *
Classmate news:
Cheers from Suzanne (Hoffmann) Sevray and husband on the northern most tip of Europe (North Cape) on a recent coastal trip with a Norwegian boat from Bergen to Kirkenes – under lovely sunny weather!
* * * *

Gary G. Close on October 13, 2018
Rodger B. Ebert on March 14, 2018
Robert Halsey Campbell on November 28, 2013
Marion Suzanne (Snaith) Erlich on March 2, 2018
Richard Headley on January 4, 2018
View complete obituaries on the IN MEMORY link.
* * * * *
"Old friendships are the very best!"
Donna, Barb, Nancy, Betsy, Cookie
Gathering to Celebrate Christmas 2017 (South Hills Village!)
* * * * * *
The HHI mini-reunion group met September, 2017
sitting: Len & Bob
standing: Barb, Bill, Donna, Karen, Mary, John & Ann
missing: Nancy Anderson & Peggy Williams
* * * * * *
PHOTO from Bill Lohrentz taken at Newport Shipyard....August, 2017
Mary Lou and I were due to pass through Newport RI recently and I remembered that one of my favorite Mellon friends was living there so I messaged Herk to wave if he saw our (Oceania Insignia) ship in the harbor. Short version - Herk offered us a private tour which far exceeded the quality of the ship's offerings. Great to see Herk again after about 60 years!
* * * * *
Additional recent deaths....
Irene Gates on November 1, 2017
Geraldine (Narky) Kinsinger on September 26, 2001
June (Mohler) Wenzel on August 27, 2016
Phyllis (Russell) Kowalewski on April 29, 2016
Thomas A. Lindsay on March 13, 2017
Mary Ann (Higgins) Rooze on January 10, 2017
new photos were added to MaryAnn's IN MEMORY page
William H. Bauer on November 6, 2016
Robert C. Hecht on June 11, 2016
Click on the IN MEMORY link on the left
to view complete obituaries and leave comments.
* * * * * *
Mt. Lebanon Historical Society INFO: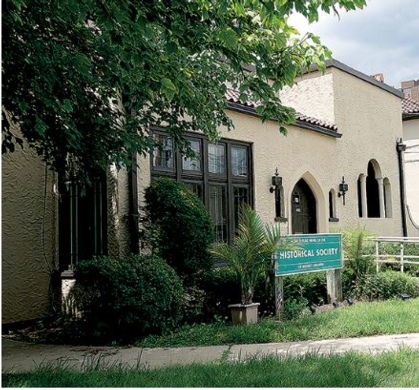 The new home of the Mt. Lebanon Historical Society - Washington Road. This Spanish-style house, built between 1926 and 1933, was once the family home and office of Mt. Lebanon physician Donald McMillan (and classmate Ann McMillan).
You may visit http://lebohistory.org/ for additional details.
* * * * * * * *
News from Donna:
This is to inform you that I have extended our website to 2024. Class Creator notified me recently that rates were going up; however, if I renewed before September 1, my price would stay the same. We saved approximately $200. Hopefully, we will all be around that long and longer.
I contemplated doing a 75th Birthday gathering in 2017, but we just had our 55th Reunion in 2015 and felt that another one in 2017 was just too soon. Our 60th Reunion could be in 2020, so if there is enough interest, I will plan for that. Just to change things a bit, I thought maybe a dinner river cruise instead of going to St. Clair CC on Saturday. I will check the Pirates baseball schedule and a few other venues. I would still have the picnic at my home on Sunday. If you have any other ideas that you might like me to explore, let me know.

Stay connected through the website. Update your profile and let us know what has been going on in your life.
Enjoy and stay healthy! Donna
* * * * *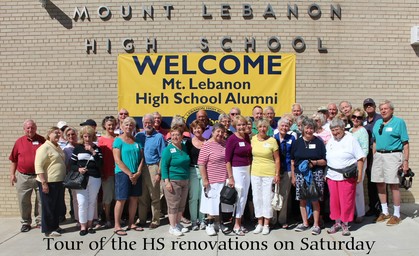 http://www.mtlsd.org/highschoolrenovation/
* * * * * *
We are always looking for new items and photos to post on our homepage. If you have anything you would like to share with your classmates...please email me: