Newport Senior High School
Class Of 1989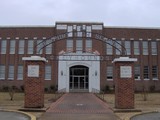 WELCOME BACK!
Welcome to the Newport Senior High Class Of 1989 web site. We are so glad that you found us!! This website is designed to help our classmates keep in touch a lot easier! Remember to register and update your information! 25 year class reunion is just around the corner!
NEWPORT HIGH SCHOOL 25th CLASS REUNION
Here is the schedule of events for October 24th & 25th, 2014
Friday Night Greyhound Field:
6:00-7:00 pick up tickets and shirt by the stadium gate at the Class of 1989 table-Look for the sign!
After the game, meet up at Bailey's! GO HOUNDS!!
Saturday Night Newport Country Club
6:00-7:00 Meet and Greet
6:15-Class picture-Don't Be Late!
7:00-8:00 Dinner
8:00-12:00 Dance/DJ
8:00-11:00 Photo Booth Fun
CASH BAR!
UPCOMING BIRTHDAYS