Newport Senior High School
Class Of 1989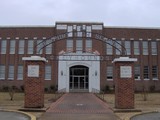 We are up and running again!
WELCOME BACK!
Welcome to the Newport Senior High Class Of 1989 web site. We are so glad that you found us!! This website is designed to help our classmates keep in touch a lot easier! Remember to register and update your information! 25 year class reunion is just around the corner!
If you are a visitor, we hope you enjoy our site! :)
ANNOUNCEMENTS
25th Class Reunion
October 24-25, 2014
We had a great time last reunion watching the HOUNDS play football, cheering them on like the good old days, and enjoying the fall weather.
Planning session:
April 11th
7:00 pm
US Pizza (Newport)
Anyone wanting to help plan our 25th reunion, please join us on the 28th! All classmates are welcome to help plan!
Reunion Planning Committee
Janaga Dilday Trotter
UPCOMING BIRTHDAYS