West Leyden High School

Class of 1987


Not a member?
JOIN HERE
Find and click on your name.

GENERAL DONATION
Contributions to help cover costs are always welcome...If you would like to donate to help with reunion costs please click on the "DONATE" link.

TICKET DONATION
Would you like to help a classmate go to the reunion? Add a donation to your purchase & mention it is for a ticket donation in the note section.

WHERE WE LIVE
Who lives where - click links below to find out.

1 lives in California
1 lives in Florida
1 lives in Georgia
15 live in Illinois
228 location unknown



Show Classmates on map
UPCOMING BIRTHDAYS
Hi classmates! Welcome to the FREE website for West Leyden High School Class of 1987! The main reason we created this site is so we can easily organize our reunions & collect registration fees. We can add to this site as needed/requested, no annual fee (with ads), and it has a free Class Connection Facebook app (for use on a computer or with any web browser).
If you're an alumni from West Leyden Class of 1987, please click on Classmate Profiles at the top of the page and find your name. If you don't see your name, please ADD yourself. We tried to put everyone's name on the list, but I'm sure we missed some. Register and create your own profile page where you can upload photos, and share with us as much or as little as you care. If we had an email address for you, we used that to get started. Please update your profile if you want a different one used. You can also send and receive messages; be sure to Check Messages and participate in our class Message Forum.
Return to this site often (or visit the FaceBook app) to stay updated on all things Leyden Eagles Class of '87! Keep us up-to-date on your family news and email/contact changes. Spread the word to all your classmate friends! You can share this link to our page to do so: https://www.classcreator.com/Northlake-Illinois-West-Leyden-1987
---
If you're a friend to our classmates, but not from Class of '87 and you'd like to join this site, please press Contact Us. Send us your name, including maiden (if applicable), along with your graduation year and we'll add you to the list. Guest members are listed separately at the end of the Classmate Profiles page. You can also create a website like this for your own class at www.ClassCreator.com.
---
ANNOUNCEMENTS
Post by Diana...
Update number 2 thousand and 17!
So we are at crunch time, now that we are at only days away to an event that I am hoping most of you are excited for!
Anyone that knows me, knows that I am always that person that wants to help & make people happy & more so to bring our classmates together again. I chose to volunteer to get this together because I wanted to make our 30 years special.
I truly truly appreciate everyone that has took interest and has committed to come out and have a great time.
What I was hoping for was to have more people committed to coming out.
With the expenses I took the initiative to purchase such as a photo booth, desserts & souvenirs, I will be losing money if we don't get more people to attend.
There are a good handful of people that said they were going are not going which has caused this dilemma. In order to make this a success, people who has said they were coming really need to contact either myself, Rebecca Román Rodriguez or Amy Glass Trevino to make payment arrangements within a few days. If not, I would have to ask if you all could pitch in an extra $10.
We are really trying our hardest to make this a success. We all would love for everyone to enjoy themselves and make it special.
Again, if you have any questions, comment below or message any of us.
I could go for a juice box right about now 👍 🍷 🍷 🍷 🍷 🍷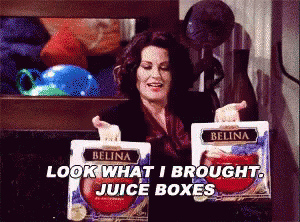 ---
Message from Diana on Facebook:
I just wanted to take this moment to say thank you to all who have paid so far and to Amy Glass Trevino & Rebecca Román Rodriguez for helping me get this off the ground.
We are less than 3 weeks away to enjoy an evening with you all!
We do need to finalize our caterer & our venue with a head count so we do need everyone to send in their payment no later than September 10th.
Any questions, please feel free to comment below or message any of us.
Thanks!!
---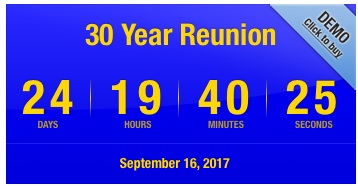 Hello all, can you believe it? Our reunion is just 24 days away!
We (the reunion committee) would like to ask you all to pay the $20 registration as soon as possible. There have been some questions as to if you can pay at the door. After discussing it amongst each other, we agree that we would rather everyone pay ahead of time.
As I'm sure you can imagine, all of us would prefer to just have fun the night of the reunion & not have to worry about collecting a lot of money. Also, a lot of the money has already been paid upfront, so we'd like to make sure those that have paid these upfront costs can get back what is owed to them as soon as possible.
So, please do use one of the many options we posted to pay your $20. And please reach out to us if you need any additional information or assistance.
In case you're wondering, here is a list of who has already paid:
Amy (Glass) & Henry Trevino,
Danielle (Dituri) Ramos & Guest,
Diana (Cavazos) & Joel Woloszyk,
Jim Dizonno & Christine Specchio,
Laura (Bakun) Peppers & Guest,
Phil Patti & Guest,
Rebecca (Roman) Rodriguez,
Ronda (Ferguson) Knight & Guest
We can't wait to see everyone!
--Diana, Amy & Becky--
---
You are invited to celebrate with all the familiar faces that you have missed over the past 30 years! Please join us on Saturday, Sept 16th from 7pm - 1am at Izzy & Moe's in Bloomingdale, IL. Where we will renew friendships, reminisce about days gone by & share in life experiences both past & present.

Cost is $20 per person. This will cover the cost of the food & the photobooth.
There will be wristbands available at the door for $30 for all your alcoholic drinks.
Dinner served at 7PM
There will be an in house DJ
---
We have set up 5 different ways you can pay. Choose the one that works best for you:
Option #1-Pay using the option built into this class website
**Because of the fees associated with paying online through this site, tickets are $21.25. You can save money if you want to pay another way. **
---
Option #2-Click here: Buy Tickets & pay $20 per person using a debit or credit card.
**If you pay with a debit card there is no transaction fee. Please indicate Alumni name (including maiden) in the "Note" section. You don't need to create an account to pay this way (if you do create an account you can get a $5 referral reward [see instructions below]).**

** If you pay with a credit card they will charge a 3% fee so the total will be $20.60. To pay with a credit card instead of debit you must create an account. If you create an account you can get a $5 referral reward (see instructions below).**

To create an account click here: Download the app and follow the instructions to create an account.

After you're logged in, you need to enter the Reward Code, then send your payment, in order to receive the $5 bonus (code is VTHKFCW).
To enter the code, open the Cash app > tap the icon at the top-left corner.
At the bottom of the screen, tap Enter Reward Code.
Enter the Square Cash Reward Code. (VTHKFCW)

Once that is done click on "Create a Payment", Then type $20 as the amount to pay & in the "To" section type $1987Reunion. Please indicate Alumni name (including maiden) in the "For" section.**
---
Option #3-If you have Chase you can use Chase QuickPay. To use this option, pay $20 per person. Please put the alumni name as a comment (please include maiden name). Send it to 847-858-3191 or BeckyTrekkie@gmail.com.
---
Option #4-To pay by PayPal send $20 per person to e-mail address: musicdiana69@gmail.com
**Please make sure to send it using the Friends & Family option so there are no fees.**
Please put the alumni name as a comment (please include maiden name).
---
Option #5-To mail a check, send it to:
Amy Glass Trevino
7 Ashton Ct.
South Elgin, 60177
Checks should written out for $20 per person. Please put the name of the alumni on the memo line (please include maiden name).
---
If you use Option #'s 2, 3, 4 or 5 we will manually update the system to show as attending once we have received the payment.
*******HOTEL INFO**********
There is a block of rooms reserved at The Hilton Chicago/ Indian Lakes Resort.

There are 7 rooms left total for the discounted rate of $98.
**3 Rooms are under the name Diana Woloszyk.
All three of them have 1 King Size bed.
**4 Rooms are under Amy Trevino.
3 Rooms are 1 King Size bed & 1 has 2 Queen beds.
Now if you like to reserve one of these rooms, you would call reservations at (630) 529 - 0200 and tell them the group name Izzy & Moe's. You will then give them a confirmation number of either #3367655860 ( that carries 3 Rooms of One King Size bed) or #3367655860 (which carries 3 Rooms with one king size and 1 Room with 2 Queen size beds)
You also need to give them my phone number. 815-302-7756

Once they pull up the reservation, have them change one of the rooms to your name & your credit card info.
---