Peekskill

High School




Class Of 1969
Welcome to the Peekskill High School Class of 1969 website. I have established this website so that all classmates can stay in touch with one another. This is for all of our use. Please feel free to make suggestions and if you want them posted, please email me and let me know. I will gladly post your ideas or opinions on the website.

Remember: There is No Charge to join this site.

Thanks, Betsy and Kathi
Until I can verify for certain the names of people on the In Memory page, the page has been deactivated as well as the class list for each class. I found out today that I had erroneously added a classmate who is alive and well to the page based on information that I received. I cannot imagine the way this classmate and her family felt in seeing her name listed. I can only tell you how horrible I feel that this has happend. If you know of people in your own class who belong on this list and you can provide an obituary or a way for me to confirm with a family member, please let me know. I will no longer be adding people unless it is confirmed with an obituary or a family member. It will take me a few days to re-do the pages and get them back up and activated. In the meantime, please accept my sincerest apologies if you were mistakenly added to our list.
Betsy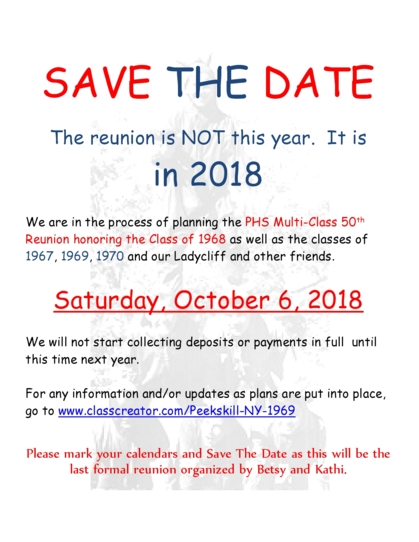 Even though we are not going to start asking for deposits and/or payments in full yet, we needed to secure a location for the reunion. I know many of you plan vacations and trips abroad way in advance so hopefully you can work around the date of October 6, 2018 so that you can come to our last formal reunion. Let's make it the biggest and the best one of all.
Also, I hope you will let us know if you are planning on attending and if you will be bringing a guest. It will guarantee us the space we will need if everyone can decide early. Look for updates on this website. I hope to establish a Facebook page with all of the information as well.
Any questions or concerns, please email at onidor@yahoo.com.