John Bartram

High School




Class Of 1999
Welcome to the John Bartram High School Class Of 1999 web site.
John Bartram High

Class of Ninety Nine

After A Decade!
!!!!!!!!!ATTENTION CLASS OF 99!!!!!!!!!
The Committee is sorry to announce that "After A Decade" we did not meet our numbers by the deadline with the caterers/venue so the reunion as planned will not take place. With this said we will try again in 5-10 years for a more formal affair like the one that had already been planned [based on further research classmates are more settled in their lives and financially stable and willing to pay higher ticket prices for more formal affairs after 20 years (not to mention the fact that we are currently in a "recession")]. In the meantime it is still reunion time so we will still host our planned fundraisers and have a less formal, less expensive event for the 10 year reunion! For those of you who have purchased tickets for the reunion as planned please bear with us as someone from the committee will be contacting you directly some time this week regarding a refund. You will have the option of (a) full refund or (b) partial refund and keeping the balance towards a fundraiser ticket and/or the reunion. Also, since many of the Bartram graduating classes close to ours haven't held reunions and were interested in being a part of ours we have extended the invitation to the classes of 1997-2000!
TENTATIVE EVENTS TO COME:::
Ø BOWLING PARTY @ LUCKY STRIKES BOWLING
Ø TENT PARTY BBQ @ LEMON HILL
Ø COMEDY SHOW @ MANYUNK BREWERY
MORE TO BE ANNOUNCED… KEEP COMING TO CHECK OUT THE SITE!
We are excited to announce that The Bartram Class of 99' Reunion Committee has been formed and is in the process of planning our 10 Year High School Reunion. Yes, it has been about that long so mark your calendars because the day is soon coming (Aug '09). This is going to be a remarkable, extravagant event… definitely one to remember.
We are still obtaining the most recent and accurate contact information for the graduates. We have created two online profiles and you've clearly found our website! Please register here with your information. And of course if there's anyone whom is on the list but not yet registered or not on the list and you know how to contact them tell them to come and register!!! Although we are celebrating 10 years for the "graduates" the doors are open to our significant others, friends/family as well as those who attended with us 95-99.
We are trying to ensure that this is a spectacular affair that all of our classmates will have the opportunity to partake in and not soon forget. So please respond as soon as possible so that we may proceed accordingly with keeping you all up to date with the necessary information, procedures and reminders. Hope to hear from you soon!!!
P.S. Keep in mind if you have already provided us with your contact info via facebook, myspace or gmail then don't worry about giving it again (you should still register here) but definitely forward this info to anyone with whom you still keep in contact or happen to run into. Also click on the Myspace and/or Facebook links if you aren't already a friend!
Thanking You So Much In Advance
The Bartram Class of '99 Reunion Committee
Which Charter did you attend in 99?
~Academy of Finance (Business Annex)
~Academy of Travel & Tourism
~Arts & Humanities
~Communications Academy
~Health & Fitness
~Human Services
~Math, Science & Technology
~Motivation Center
***Be sure to put that in your comments section when you join the site & update your profile***
be sure to click on the '10 Year Reunion' page link to register for the reunion and to order tickets!!!!!!!
Payments can be made (1)on-line, (2)by sending a check/money order to our p.o. box or (3)by sending a request via e-mail (bartramclassof99@gmail.com) or the contact us button in the column to the left to have one of the committee members meet with you to personally accept your payment. Note that the conveniences of the on-line payments do include a small service/transaction fee. Also, tickets will not be mailed until a date closer to the reunion but you will get a receipt as proof of payment.
You can also purchase tickets by sending your check or money order (made payable to bartram class of 99 reunion committee) along with your name, charter, address & phone# to:
Bartram Class of 99 Reunion Committee
P.O. Box 23432
Philadelphia, PA 19143
ANNOUNCEMENTS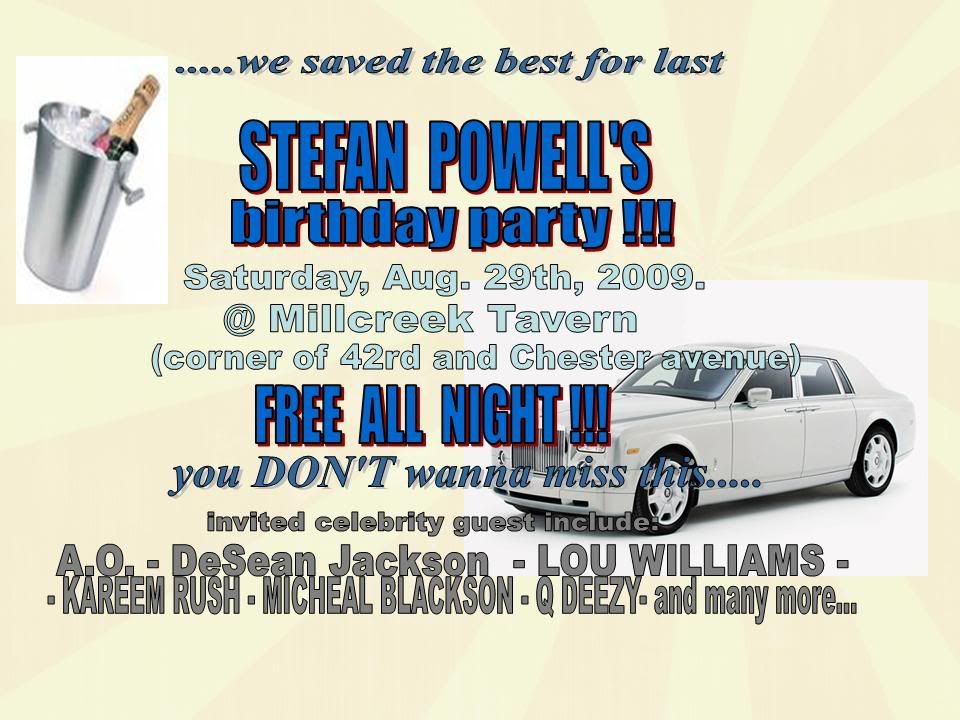 Class of 99… Make sure you keep checking in to the site!!! We will be hosting a few Fundraisers and really look forward to your support in order to make the event that much more memorable as well as to try and honor a Bartram Class of 2009 Graduate with a scholarship from us!!! More info to come!
~~~~~~~~~~~~~~~~~~~~~~~~~
Don't forget to send your updated address (we will be sending save the date cards, fundraiser info) and check out the 10 year reunion page for tentative ticket & event information!
~~~~~~~~~~~~~~~~~~~~~~~~~
CHECK OUT OUR WEBSITE AT http://sites.google.com/site/bartramninetynine/