Washington High School
Welcome WHS Class of 1969
Remember more than 4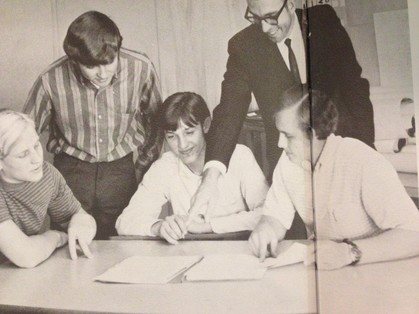 5 years ago when Mrs. Horrigan constantly reminded us to sit up straight at our typewriters? Who would have ever imagined that one day we'd be using a keyboard to communicate with our WHS classmates via computer, iPad and cell phone?
For our 20th Reunion a "fax" was something new. Who knows what is lurking around the corner for our 50th? Our own Class of '69 droid?
For right now, we are SO HAPPY to have our own website, and we can't wait for you to sign on. This site is all about connecting with old friends and recreating the spirit of our younger days—minus those nasty social anxieties we suffered from as teenagers!
How the Site Works
To access everything on the site, you need to put together a quick profile. It takes TWO MINUTES to get started. Click on your name on the Classmate Profiles tab, enter at least an email address and a simple password, save the page, and you're on! Come back and fill in more information later and if you'd like, add some photos to spice up your profile.
For more information on what you can do on the site and how your privacy is protected, see the announcements below and First Time Vistiors on the top menu.
Take a look at the Missing Classmates tab. They're "missing" because we don't have an email address for them. But you probably know some addresses that we don't. If so, click on their name and you can send them an email invitation to join this site.
Or you can click Contact Us and give us a classmate's name, email address or any other information you have, so that we can reach out to them.
We'll be adding more so check back often!
All the best from your site administrators,
Betsy Giddings Smith, Debbie Dorius
ANNOUNCEMENTS
| | |
| --- | --- |
| • | If you're thinking about signing up, the first thing to know is that you decide how much information to share with classmates. Contact information is absolutely private and will never appear on this site. But until you're signed up, you won't have access to all our yearbook photos, fun facts that classmates have shared in their profiles, pictures of how they look now, who's coming to the reunion, and past reunion photos. So do it now! Click on your name in the Classmate Profiles list. |
| • | You control how much email you get from this site. Click Notify Me in the Member Functions section and choose what to receive and how often. If you are coming to the reunion or thinking about it, we recommend accepting emails sent by an administrator, because we will only email you with important reunion details. |
| • | Make sure our emails are not treated as spam. In some email programs, you create a new contact in your address book and enter the email address no-reply@classcreator.net. In others, you add the same address to your "safe senders" list. |
UA-55656506-1