Plaquemine Senior High School
Class of 1983
30 Years - Class of 1983 at Plaquemine High School Round-up
2013 was a GREAT year for our class. We planned a PHS Round-up with-in one month and had a great time. Not only did we gather for fun, we planned a benefit dinner for our classmate, Jimmie Randle, that was held at The Greater St. Mary Baptist Church in Plaquemine, LA. The following day, we gathered for dinner at Guidry's Resturant. Photos coming soon!!!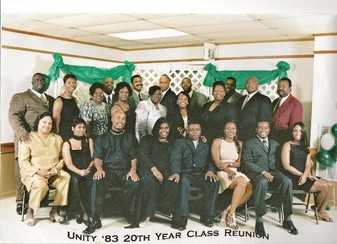 Class of 1983:
The PHS Class of 1983 Reunion Planning Committee is asking that you please be a part of our website to share memories, exchange updates on your lives, and get updated information on this year's celebration. Please plan to attend our 25th year festivities. Updates will be forth coming. Let's get together with some of our high school friends that you may not have seen since graduation.
In order for us to get the reunion planning started, I need your support. Please click on the tab labeled "Classmates Profiles" at the top of this page to enter your contact information. You can add contact information and will get the option to share this information ONLY with your classmates.
Please feel free to upload any pictures to share with your classmate. I have already included some of your pictures from back in the day. (Smile) If you have any suggestions/inputs for this site, please forward them to our attention. Your participation will be greatly appreciated.
Yours truly,
LaDonna Smith, Photographer
Madeline McElroy, Event Planner
PERFECT BEGINNINGS
"Professional Photography and Planning Services"
Website:
http://ladonnawalker.zenfolio.com