New Here?
Hello! And welcome to the Community Presbyterian Church of Redmond!
We are sincerely grateful that you have chosen to visit our church family and
hope that you feel welcome on your first and future visits.
Click on the Q link below for a list of frequently-asked questions
.
However, if you have a question that you find is not answered, please feel free
to contact us by clicking on the request information link below.
You can learn more about our Sunday worship and education opportunities by
clicking the appropriate links below. If you still have questions when you arrive
or if you just need help finding your way around, ask the volunteer greeters at
the doors as you enter.
---
OUR STORY
Community Presbyterian Church began as the First Presbyterian Church of Redmond on November 25, 1906 with ten charter members. The first meetings were held in a rented hall over Lamb's Feed Store. It wasn't until 1912 that the first church building was completed and dedicated on June 30 of that year.
The First Presbyterian Church of Redmond and the Methodist church merged in 1929 to become Redmond Community Presbyterian Church. A Moller pipe organ was purchased in 1953 to replace an organ made in Worchester, Massachusetts around 1870 which is now designated as a historic piece by the Deschutes County Historical Society.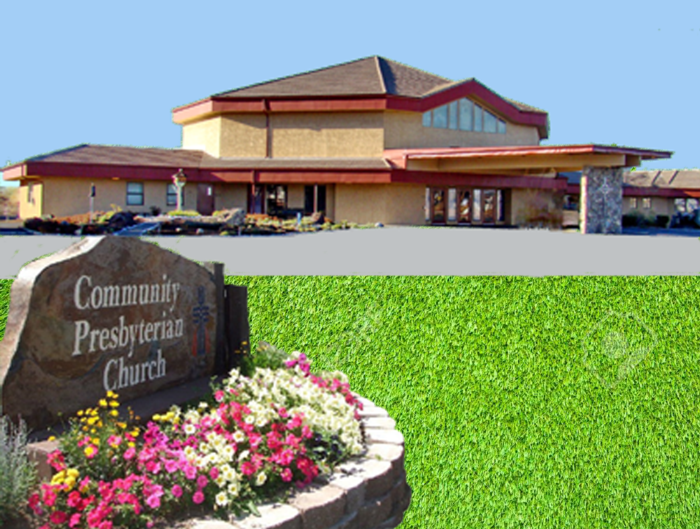 In 1978 the church purchased property on Northwest Way (now NW 19th St.), our present location, for the purpose of building a new church building. The old building was sold and the congregation met temporarily at Redmond High School through February of 1980. The first worship service was held in the Fellowship Hall of the new building on March 2, 1980. The sanctuary was completed for Easter Sunday in 1986 and was dedicated on May 18, 1986.
In 2006 the church celebrated the 100th birthday of Community Presbyterian Church
Return to Top
---
MISSION STATEMENT
Community Presbyterian Church is a congregation serving
Jesus Christ in our community and the rest of the world through
worship, education, mission, and service.
Return to Top
---
THE PRESBYTERIAN CHURCH
Presbyterianism in a wide sense is the system of church government by representative assemblies called presbyteries. In its strict sense, Presbyterianism is the name given to one of the groups of ecclesiastical bodies that represent the features of Protestantism emphasized by French lawyer John Calvin (1509-1564). Presbyterians trace their history to the 16th century and the Protestant Reformation.
Presbyterians were among the earliest reformed immigrants to America. They settled up and down the East Coast and began to push westward into the American wilderness, founding congregations as early as the 1630s. In 1706, seven Presbyterian ministers met in Philadelphia and formed the Presbytery of Philadelphia
, the first Presbyterian presbytery in the New World. Presbyterians were only one of the reformed denominations that dominated American colonial life at the time of the Revolutionary War.
Presbyterians participated in the writing of state and national constitutions. Reformed views of God's sovereignty and of human sinfulness moved the new nation toward checks and balances and separation of powers. Independence forced adjustment in church as well as government structures. Currently the largest group is the Presbyterian Church (U.S.A.), which has its national offices in Louisville, Kentucky.
As of 2012, the Presbyterian Church (U.S.A.) had approximately 1.8 million members, 10,000 congregations, and 20,000 ordained and active ministers.
Return to Top
---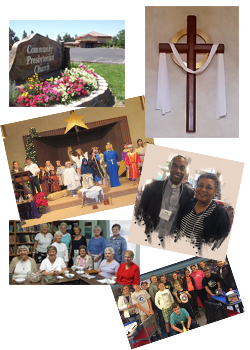 VISION STATEMENT
Community Presbyterian Church of Redmond believes that the invitation of Jesus Christ is for all. Together, as a community of faith and hope, we treasure our past, accept our present, and are excited about our future. Together, as opportunities for growth occur, we are ready to act by providing quality in our worship, in our programs for young and old, and in our outreach within our community and beyond.
Click here for > Our Beliefs
---
FREQUENTLY ASKED QUESTIONS (FAQ's)
What are your service times?
We have two services on Sunday Morning. The first is a contemporary service and starts at 9 am. The second is a more traditional service and begins at 11 am. For a description of the worship services Click Here.
When I arrive, is there anything special I need to do?
When you enter the foyer, let the greeters know you are a first-time visitor. They will direct you to our visitors' desk and seating in the sanctuary.
Do you have a children's program?
Yes. We have children's Sunday School that begins at 9:15 am for children ages 6 to 11 years old.
Do you have a youth program?
Yes. The Sunday morning youth program begins at 9:15 am for ages 12 through 18.
How should I dress?
We welcome you to come in casual attire, business casual or suits. Basically, it is come as you are.
Will I be asked to introduce myself?
Probably not, however, you will get many friendly greetings if we know that you are a visitor.
What can I expect?
Our greeters will welcome you with a smile and show you around and get you situated. Our first service is very musical and upbeat with contemporary Christian songs. The second service is a more traditional service with a chancel choir and their special anthem each Sunday along with familar hymns. In both services there will be a powerful and encouraging message from our pastor.
Return to Top
---