Gull Lake

High School




Class Of 1974
GULL LAKE HIGH SCHOOL CLASS OF 1974
40TH REUNION WEEKEND!!
"We May Never Pass This Way Again"
Friday, July 4, 2014 Richland Annual 4th of July Parade!
Once again, we will be participating in the Parade! Come dressed in your favorite 70's attire (tie dye, peace signs, fringe,etc.)
and meet behind the Middle School (formerly our HS). Parade begins at 11:00 AM...plan to arrive about 10:00 AM to
park & find our group (it gets crowded!). This event is a BLAST, so please join in! (See 2009 photo on class website.)
Saturday, July 5, 2014 Richland Invitational Golf Tournament (RIGT)! Contact Jeff Harnden or Mike Arvidson for details.
For those who don't golf, Jim Carl would like Tennis players to bring their rackets up to the High School around noon Saturday for some singles and doubles matches. If interested email Scott.
Contact Scott Alexander at film2dvd@att.net
Sunday, July 6, 2014 Prayer Luncheon 1:00 PM Families Welcome! Bring your swimsuits!
Home of Becky (Diller) Doorlag: 15704 Rich Lane, Hickory Corners (Little Long Lake)
Potluck: Please bring a dish to pass.
Saturday, July 5, 2014 GLHS Class of 1974 40th Reunion!
The Dock (formerly Bayview Gardens) at Gull Lake 6:00 PM - ??
Appetizers will be served. Cash bar available.
Class photograph at 8:00 PM
Open to all GLHS classes after 7:30 PM
RSVP by June 1, 2014. However, late revervations will be accepted!!
Early reservations are appreciated to defray advance expenses.
*Donations to keep our Reunions affordable and to maintain the continuation of our Class Website are also gratefully accepted and sincerely appreciated!
Please check the Class Website periodically for any updates on Reunion events and to help locate those classmates who are on our list of unknown addresses.
Name____________________________________
Address__________________________
Phone____________________ Email__________
Number of Adults ____X $15.00 = $___________enclosed.
Please mail forms and checks made payable to our
Reunion Treasurer,
Barb (Golliher) Shorter and mail to her at
66 Woolnough, Battle Creek, MI 49017
. RSVP by June 1, 2014.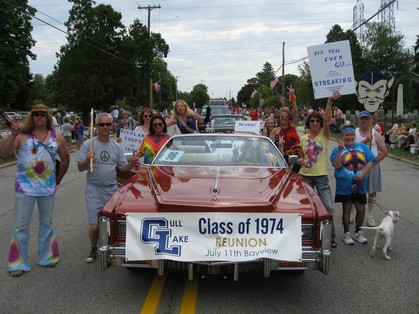 From left to right: Doug Stanton, Scott "Alex" Alexander, Babette Tatro, Deb Pearson, Melanie Fayling, Laura Johnson, Sue Stimson, Laurie Shaw, Jeff "Lew" Harnden, Sue Ayres, Jeanie Stevens driving the car, and Spot the Dog.
PLANNING COMMITTEE


Jeff Harnden
269-671-4807

Jeanie Stevens
269-342-1785

Doug Stanton
269-731-5873

Melanie Fayling
269-731-5141

Sue (Stimson) Leech
847-446-8350
847-609-8350

DO YOU KNOW WHERE THESE CLASSMATES ARE??

DELBERT ANTEL
DEBBIE BISHOP
DANARD BOEHM
TORI BONT
STEVE BROMLEY
BARB CHAPMAN
DENISE DANIELS
STEVE FROOK
GRAIG GAY
JEFF GAY
STEVE GRIFFITH
ROBERT HALE
WAYNE HARBACK
MARK HERRICK
MIKE HOAG
KIM KENYON
BRUCE KNOWTON
JIM MEIER
DAWN MONTIGUE
MOLLEY MOORE
JEANNINE PEEKSTOCK
DON RANDOL
SUE SLATER
CINDY ST CLAIR
LAURIE STEVENS
KANDI TOLHURST
CARMEN VILLATORA

ANNOUNCEMENTS
Another round of thanks to Jon Aloisi for a generous donation to keep the site rolling until the next reunion.
Scott