Roseburg Senior High School
Class Of 2000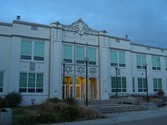 Welcome to the Roseburg High Class Of 2000 Website!

---
This site is for anyone who was a part of the Roseburg High School Class of 2000, even if you moved away in 10th grade, we want everyone to participate!
---
Saturday, August 7th:

New High School Tour-10:00am, Family Picnic-12:00pm, Evening Reception-7:00pm
If you missed the ticket purchase deadline but still really want to attend please contact us directly.
---
If you have not already, please go to the Classmate Profile Page and create your profile so we know that you found us. Then take some time and look at the different links, say hello to old friends, and re-connect on the message board.
---
Top Ten Reasons to attend the reunion:
1. Find out what people AREN'T talking about on Facebook or MySpace
2. Feel better that you aren't the only one that life threw a few curve balls at
3. Use it as an impetus to finally get that impossible six pack
4. Realize that your most embarrassing moment in high school was actually pretty funny

5. It's one place you don't have to lie about your age

6. If we don't get enough reservations, we will have to hold the reunion at Denny's

7. Show that boy/girl from English class that didn't give you the time of day what he/she is really missing out on

8. Catch up with friends you've known since you were a teen, tween, or urchin
9. Marvel at everything you've accomplished in the last ten years, laugh at how different it was from what you've planned, and adjust your goals accordingly
10. Reflect on the people and events that made your high school experience (and you) pretty dang cool
-- and remember, studies* show that people that initially were hesitant but decide to come to their reunion NEVER EVER regretted it --
* You win, there are no studies and I made it up but I imagine it could be true
Convinced? You should be! Thus, it is time to purchase your ticket!
You can find information about the reunion and how to purchase tickets on the link to the left titled "Buy Tickets Here."