Roxboro High School
Class Of 1969
Congratulations to all 2018 GRADUATES!
Seems like yesterday the Class of '69 'walked the aisle'!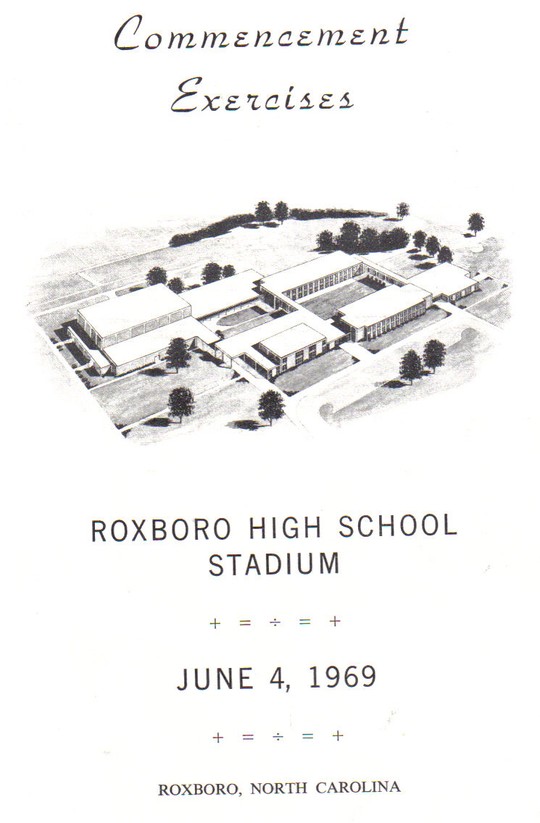 Thanks, Connie & Jamie Mundy, for your hospitality October 15, 2016! We enjoyed fellowship at your home by Hyco Lake
Who would like to host the next gathering of the RHS Class of '69? Whether few or many, it's so nice to keep in touch!
* * * *
Celebrate Toofy on July 23, 2016
Sheila Clayton and Jeff Norman welcomed 26 classmates and 12 guests to their party barn and we all enjoyed a time of fellowship and honoring Donald Wilson and wife Becky. To view photos, go to link in upper left of Home Page: PHOTOS - RHS Class of 1969 and click on the "Celebrate Toofy 7-23-2016". After you click on the first photo, a slide show will play. If you took photos at the event, you may add your own gallery to the link! Please keep Toofy and family in your prayers.
* * * * * * *
45th Reunion - August 16, 2014 Photos
Photos have been added to this section and on Roxboro High School Class of 1969 Facebook group page. If you are on Facebook and not a member of the group, email Connie Crowder Mundy at merlin-@esinc.net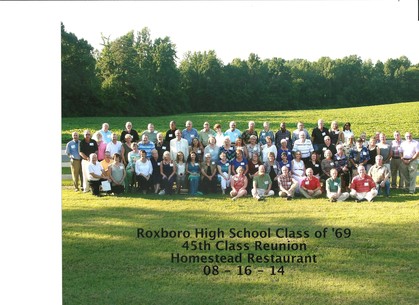 Thanks to Sandra Chambers for our class photo! The photo was placed in The Courier=Times 9-13-2014 with the following information and classmate names:
Roxboro High School Class of 1969 held their 45th Class Reunion at Homestead Restaurant on August 16, 2014. 69 classmates attended along with 38 guests. 1st row (seated on ground): Deborah Oliver Weaver, Hayden Newell, Randy Wrenn, Tom Rogers, Jim Wade, Bobby Shackleford. 2nd row: Donald Wilson, Cecil Jones, Jo Anne Keel Jones, Patricia Gentry Goodwin, Donna Garrett Eddins, Vicky Denny Stigall, Pet Garrett Spears, Bobbi Brooks Gaddy, Beverly Adcock MacPhee, Lou Lockhart, Kathy Overby Tally, June Taylor Ashley, Donna Whitt Brustad, Connie Crowder Mundy, Julia Martin Phipps, Blanche Long Clayton, Gail Stephens Holding, Kay Merritt Brown, Faye Guill Stevens, Gregg Harmon (kneeling.) 3rd row: Bob Wilkerson, Mickey Clayton, Larry Broach, Larry Ray Newton, Debi Thomas Wilkins, Rob Fitzgerald, Jimmy Tuck, Anthony Oakley, Fran Cleveland Walker, Susan Gillis Norred, Margie Dickerson Gentry, Donna Shull Harris, Dixie Shipman Airey, Nancy Evans Minatel, Brenda Sanford Parks, Bobby Horner, Buddy Stevens, Thomas Drumwright, Bob Slaughter, Sheila Clayton, Larry Holeman, Martin Vernon, Chris Teague. 4th row: Jackie Gunter, Jimmy Weaver, H. C. Young, Robert Coleman, Ray Long, David O. Oakley, Betsy Booth Murray, Tommy Humphries, Tony Satterfield, Sandra Whitt, Cisco Lyons, Andy Wooten, B. J. Lester, Robin Simmons McRae, Deborah Ramsey, Victor Vining, Daylon Laws. Missing from photo (arrived after class photo taken): Mike Parham, Patricia Paul Parham, Gail Wrenn Denny
ROXBORO HIGH SCHOOL
CLASS OF '69
*248 graduated June 4, 1969
*The Courier named 242 receiving diplomas, Commencement program shows 244, and

(to include all with senior photos in year book)

248 'classmates' are listed on the website.
40 classmates have passed away (see 'In Memory' section)
As of March 20, 2018, 142 (67%)
are
active on the class website, plus 'guests'

(those in our class in earlier years who would have finished in '69 but moved away or had to leave for work or other reason)

.
The class website was created on 10/18/2008
Home Page Visitors as of 3/20/2018: 26,557
(this number is the cumulative total visitors since creating our class web site)
Check the Classmate Profiles for inactive (on website) classmates and encourage them
to log onto the class website and create a profile .
Encourage all to make updates and add photos!
Reminisce with photos from our annual pages...
RHS Album Memories
(the way we were!)
Courier articles of '69 baccalaureate & commencement...
RHS '69 Commencement
40th Reunion (6/6/09) attendees, photos, info....
PHOTOS-Reunion Night, Mundy/Picnic

45th Reunion (8/16/14) photos
Class Reunion Photos
(includes decorating and reception 8/15 for out-of-towners at Mundy home)
Thanks to ClassCreator.com for providing a bit of history...
1969 History/Videos
And more websites for a blast from the past ....
http://objflicks.com/TakeMeBackToTheSixties.htm
http://www.billsretroworld.com/RETROLIFE.HTM
http://oldfortyfives.com/DYRT.htm
UPCOMING BIRTHDAYS