Snyder Memories
This page is just a "fun" page with info, pics, on things and places we all remember from our days in Snyder. Some of the first ones are raw information I have put together for a book I am doing for the Scurry Co. Museum on again "fun" stuff from our era. Working title is "Boomtown Baby Boomers". It is just goofy stuff like restaurants, movie theaters, gas stations, court house etc. I have files and files of info and will try to post a different article every week I've got several hundred. . Anyone, please, anyone that has pics, funny stories in this vein please use the email on this site to me and I'll make sure it gets on this page.
CANYON/TIGER DRIVE IN
Here is what, at least to me, are some little known, or at least remembered, facts about the iconic Canyon Drive In Snyder. Posted a few things in the past about the Canyon, Starlite and Trail Drive-ins but overlooked this tidbit about the mural.
Didn't pay much attention to it back in the day, but what do you remember about the giant mural on Canyon ?
Ok, couple of cowboys on horses with some cows, no big deal.
Well here's " the rest of the story"
30 X 80 ft in size
Painted by Reed H. McBride of New York. Reed was a fairly famous artist know for his covers of Liberty and Collier's magazines in the 40's. He also did murals for theaters in New York and Cleveland. (see Liberty cover below).
The painting on the Canyon was done as a memorial and is a scene from the movie "Duel in the Sun" a 1946 movie staring Gregory Peck, Lionel Barrymore and Jennifer Jones. The owner of the Canyon at the time was Phil Isley of Dallas. His daughter was Jennifer Jones. The two cowboys are the likeness of Peck and Barrymore.
For the fun of it here's some other Canyon info:
Opened - May 15, 1950
Owned at time of opening by Phil Isley Theater of Dallas and Ruben Williams a Dallas attorney
Was Canyon until sold in June of 1965 to Skeet Noret of Lamesa, the big box screen with the mural was then replaced by a metal screen, and renamed the "Tiger"
First manager was Mrs. Effie Kearley
Second manager was Oscar Haney
Another owner - N.R. Clements (thanks Billy Bowden)
Some Employees - Hubert Starnes,projectionist, Mrs. Eunice Houston, cashier, Cecil Chaucey, maintenace, Virginia Fulks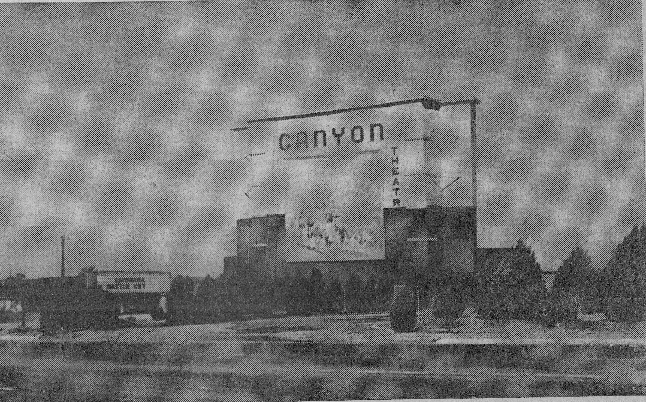 ... few more Snyder movie/theater shots......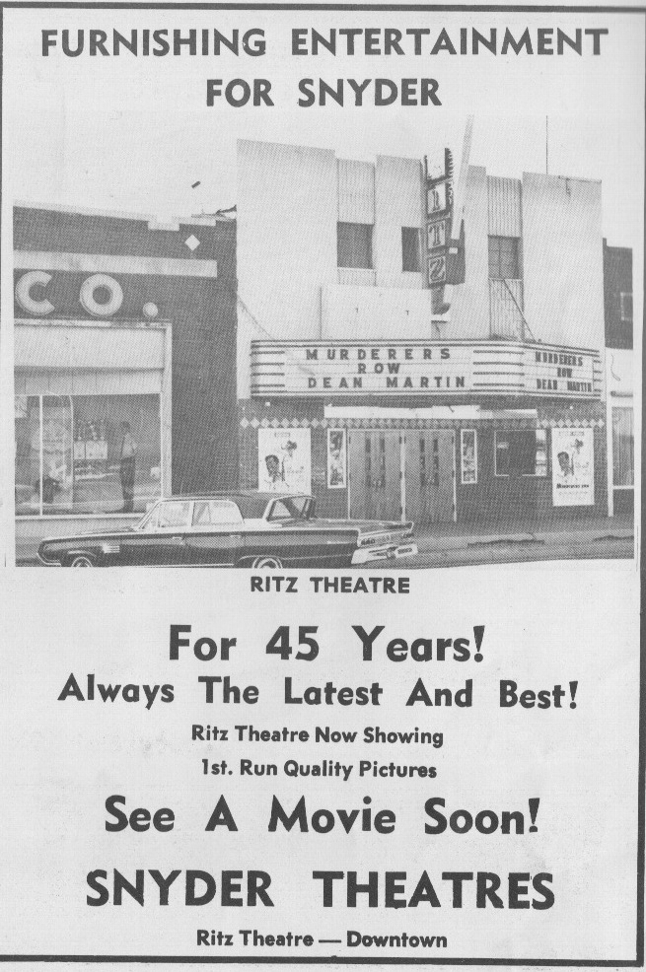 Starlite Drive-In, East Elem. in background
Lot'A'Burger
Ok, the lunch bell rings, Dayton Speedway had nothing on us trying to get to Lot' A' Burger first. Mr. Gressett would have it ready if you had made arrangements. I've been in the restoration business for 40 yrs or so. The Golden Grail I was looking for was the neon arrow pointing to the Lot'A'Burger on the Big Spring Hwy (original was four blks north of the square). Anyway after 20 yrs or so of looking finally found it in the backyard of a house on 28th st. (Don Gressett's daughter). After a year or two of intense negotiations, I obtained ownership. I am in the process of restoring it and putting in back to its glory at my Triangle Sinclair on East Hwy. Jerry Hatfield asked me at least not to point the arrow it toward the Sweet Shop !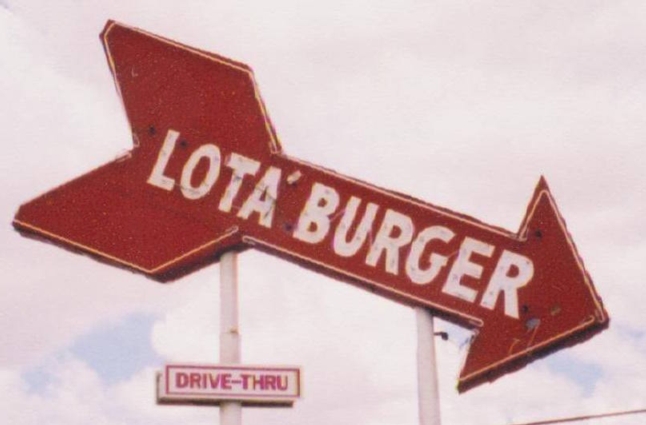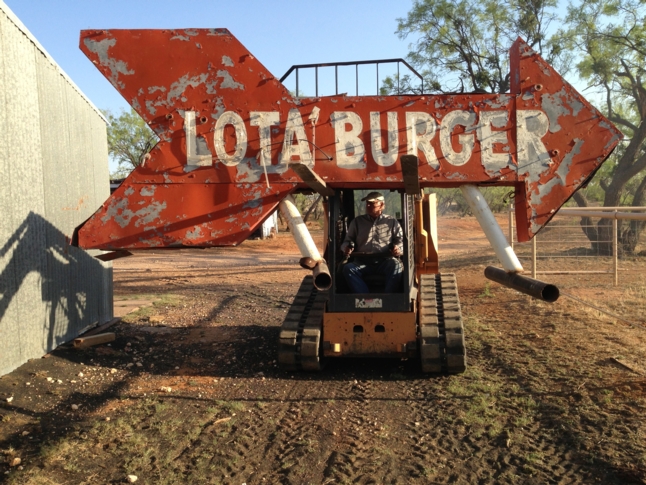 Dryden /Thompson Shoes
Both icons on the southeast side of the Snyder Sq. Here's a couple of pics of each.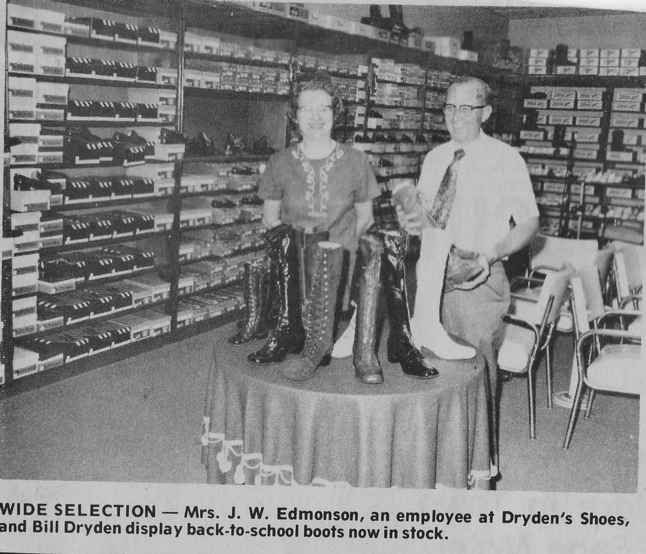 ...with classmate Tim Mebane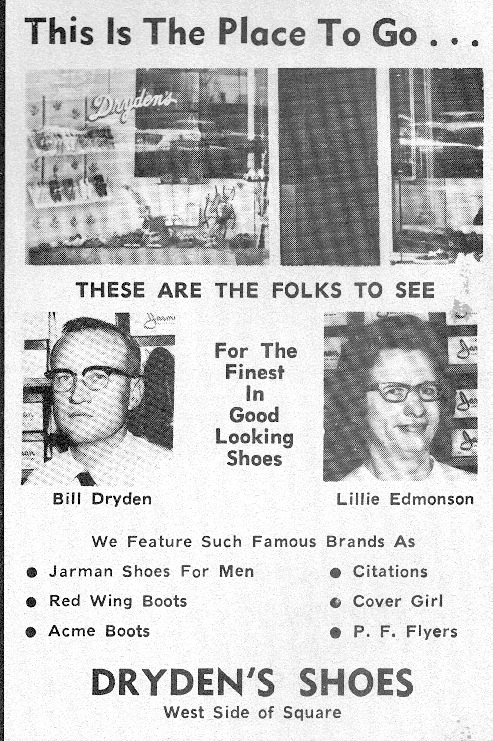 Sweet Shop
Place to be ! Jerry Hatfields family ran the place from 1953 till about 8 years back. It's the Sweet Shop not because of the ice cream, malts etc. but because Mr. and Mrs L.H. Hatfield purchased the business from Mr. L. J. Sweet in June 1953. It was completly remodeled in 1962. At its height, the Sweet Shop had 11 employees including sons Buck and Jerry. At one time you could also buy ice cream there in quarts and gallons. Below also is a pic of one of the original first electronic intercom ordering systems install at the Sweet Shop. I have a couple of them and am restoring two, one for me to put across the street at the station and one for Jerry .
Sweet Shop is still in operation today. It's good, but not Hatfield good !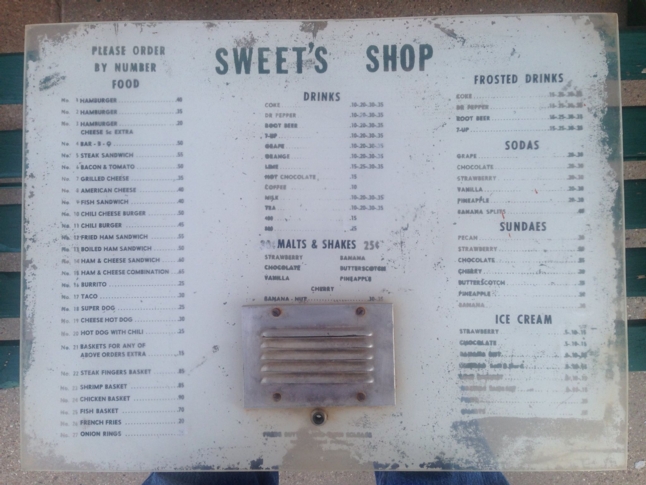 Bowling Alley
Got info on five or more bowling alleys in Snyder over the years but I think the two most of us remember are the on one on the Lamesa Hwy, Town and Country Bowl , originally Snyder Lanes, (yes, it also had Ellie Mays Charcoal Grill (more on that later ) and the Tiger Bowl, on 35th St. Tiger Bowl is where we had all night bowling on Senior Night. Tiger opened in 1963 and had "used" equipment then. That equipment was replaced in 2014 when parts got to be a problem. Everything else is still about the same, including the carpet. I bowled there for the fun of it not long ago and I swear I got the same ball off the rack I used in high school, not real sure I did'nt get the same shoes. Here's some pics and info. Still in operation, might be a fun event for the reunion.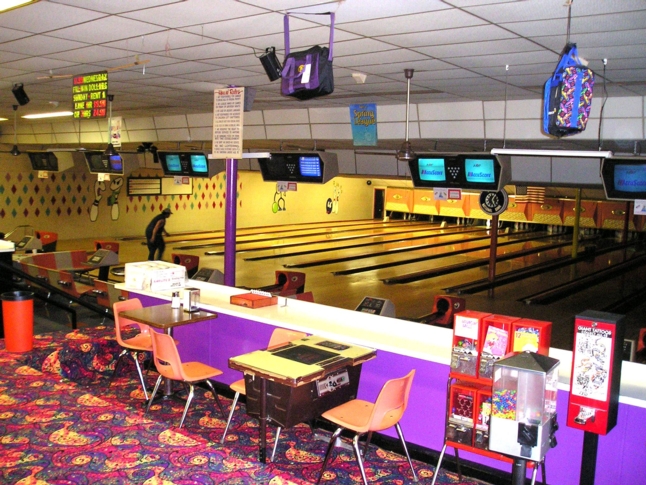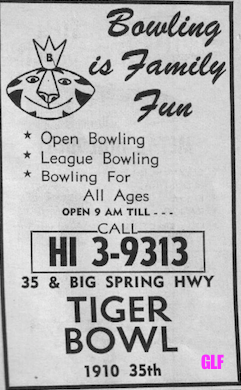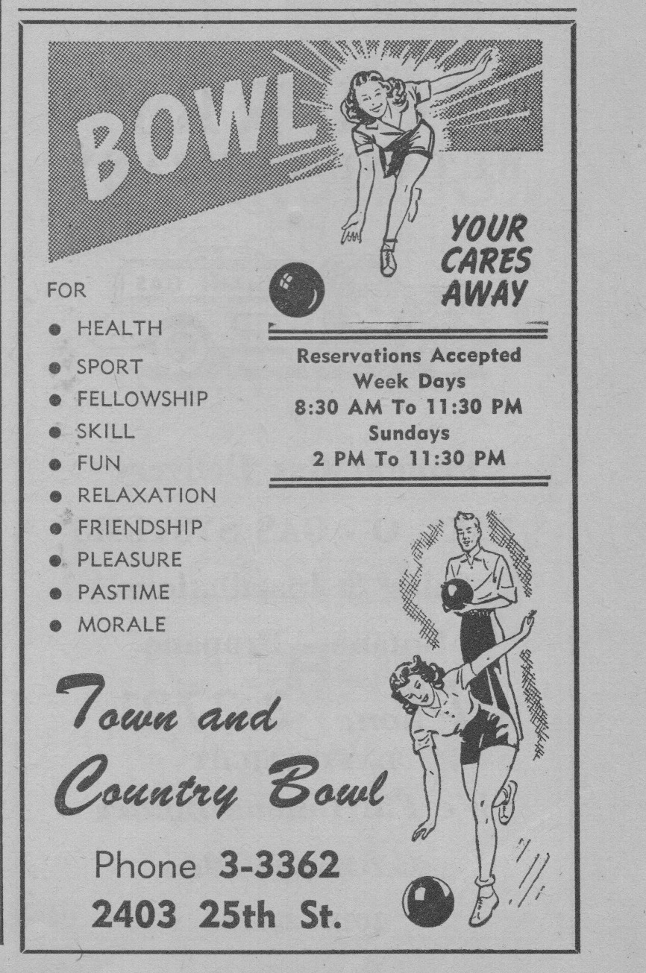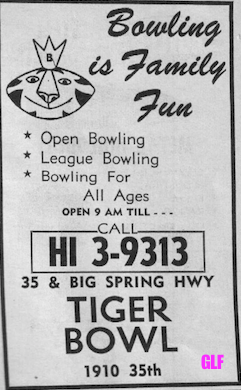 my child bride, Sheri (McGlaun) Fuller '69 on a outting to the Tiger.
We all had our special teachers as SHS that impacted them. Mr. Mc was that teacher for many of us. Here's a great article in SDN few years back. Post your favorite teacher in the "Whats New" section of this site.
PALACE THEATER AND FIRE
This is a long post, sorry. Had lots of PM's about more info on the Palace fire and Palace in general. So here goes. After more digging thru my stuff, talking to my father-in-law who was a Snyder fireman and helped fight the fire, and most importantly having Snyder High FB group member Paula Parks Fulford directing me to her mom, Aline Parks research on the subject. Mrs. Parks was the best ( along with Charles Anderson) and was the gold standard for documenting the history of Snyder.
First some Palace info -
1. Mr. "Snyder Entertainment" T.L. Lollar( man behind the Texan, Cozy (later the Ritz) Azetz, Starlite and Trail drive-in's) bought a 40-foot frontage on what is now 2611 College Ave to build the Palace Theater and opened August 1925.
2. The Palace was 40X120 brick structure , three sets of curtains, 24X40 semi-circular stage 15X18 ft. lobby, modern heating and cooling systems.
3. 480 seats in the lower seating, 130 in the gallery. Seats had Spanish leather.
4. Remember the ceiling lights?. Local electrician B. L. Blaze was responsible for that effect.
5. Mr. Lollar died in 1928, and did not get to see "talkies" come the the Palace. Mrs. Lollar continued to run the Palace, take tickets, for the next 40 or so years.
6. In 1930 Western Electric installed a state of the art system to allow "talkie" movies.
7. In 1937 the Palace announced it would introduce the first Sunday picture show in Snyder. ( the Texas legislature had just approved such a thing). the first Sunday movie was Cimmaron.
8. In 1939 the original front was replaced with a neon sign, maroon tile and a new screen.
9. 1949 Mr. Lollor's son-in-law, N.R. Clements (Carla Clements dad) partnered with Lollor on the entertainment scene in Snyder.
OK, so the fire -
Actually there were two fires at the Palace. The first was in 1932 the film in the projector caught on fire and did $5,000 damage to the projection room.
1. The fire was April 9, 1966.
2. Crews working on building the new drive-in for West Texas State bank noticed smoke for a air vent at the theater. They notified the fire department who had theater manager W.H. Grant open the building.
3. The fire had been burning for several hours without notice.
4. All Snyder fire units responded along with one from C. City. The ceiling collapsed narrowlly missing firefighters. My father-in-law was fighting the fire and luckly got out before the collapse.
5. The Palace marquee fell at 11:30 AM
6. There was smoke damage the the Snyder Community Television (SCAT) building, Sentell Insurace Agency, timely Finance Co and Boren and West Insurance.
7. Of course the theater was not rebuild, and West Texas State Bank later used the property for a parking lot.

LIEBS GROCERY
Liebs is special to me. I remember the athletic bus that took all us farm kids home stopping there after workouts and getting a Big Hunk bar. Remember going there at lunch from school for a B-B-Q sandwich. Remember taking all the tubes out of our black and white Admiral tv to check the tubes on Mr. Liebs state-of-the-art tube testing machine.
Then 30 or so years later my partner in an FBI undercover operation in the Metroplex mom married Mr. Lieb. My partner, Clint, was also a pilot for the Bureau and we would fly out to Snyder to check on his mom, and my folks and the Liebs house on Sunset ( not on the governments tab!). Clint still owns the house on Sunset and I check in on it for him every now and then.
Enough reminiscing here's some history on Liebs Grocery for what it's worth.
Al Lieb started out in the grocery business in Sweetwater as a salesman for Wooten Wholesale Grocer Co. In 1947 Wooten asked if he would like to move to Snyder and manage the office there. After a year or so he teamed up with a customer and friend R.S. Hardee who wanted to open a grocery store on the new upstart area out on the Big Spring Hwy. He built a new building at 3707 37th St. Not long after Mr. Lieb was approached by Mr. Bill Love to add on to the building to the north and added a barber and beauty shop. Mr. L.A. (Scotty) was the butcher for years and responsible for the famous B-B-Q at Liebs. Others that worked at the store were Mr. Liebs sons Charles and Bob, Mrs Jean Sharp(Doyle's mother)and Mrs. Bernadine Maxwell, Thelia Whatley.
Liebs sold the business after 22 years of operation. The building was leased to Mr. and Mrs. Virdie Eades who opened Virdie's Appliance Store. The barber shop was leased to H and R Block and the beauty shop to Mrs. Lolanda Becerra. After he sold the store Mr. Lieb worked part-time at Everybodys.
The Liebs were pillow of 37th St. Church of Christ. Mrs Edna Lieb was a skilled alto and Mr. Lieb was a song leader.
It was a small, family store, but it made a lot of memories for a bunch of Snyder folks.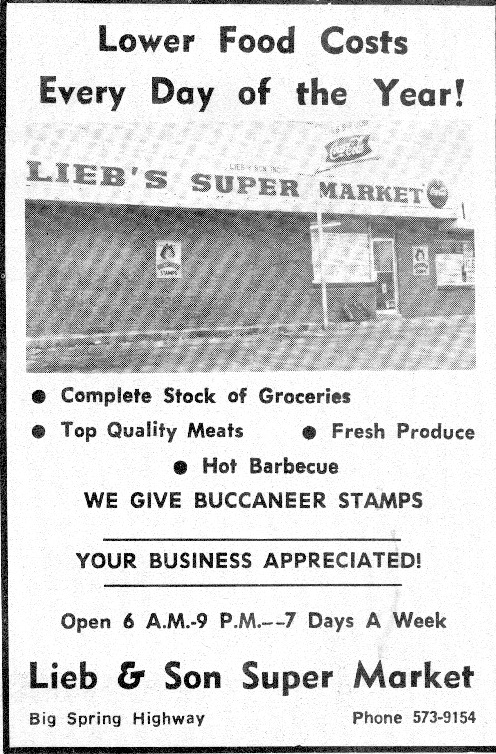 ...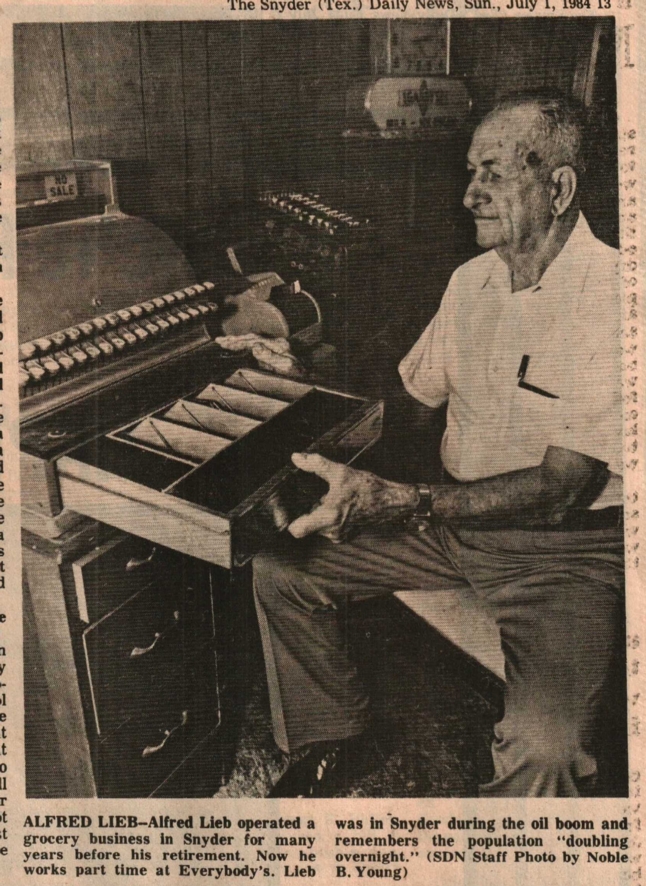 ....much more to come.

UA-115888646-1