Lewis And Clark High School
Class Of 1990
In Memory
Noel Eder
Noel, prior to transplant
Cherese, Mom & Noel, on the waiting list for transplant, Seattle

Noel Eder Jan 21, 1971-June 28, 1996
Lynda Donoian (Eder) Noel's mother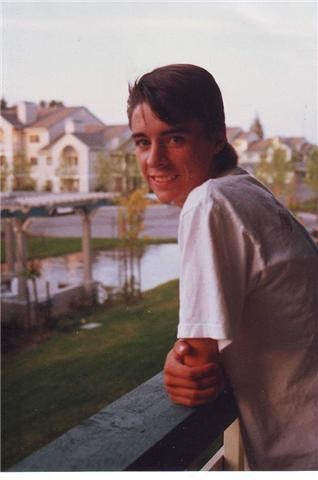 Noel was diagnosed with Cystic Fibrosis at age five; life expectancy was ten in 1976. It was a painful process of understanding and educating ourselves about Cystic Fibrosis the first year, but enough time to know that we: Noel, Cherese and I had to start cramming a lifetime into five years. Acceptance, learning the importance of good nutrition, exercise and a positive attitude settle us into a normal routine of CF care. We set out of change that death sentence into a gift of life through creativity, humor and adventure. We gathered courage and determination as we made our journey, a journey awakened by the reality of CF over & over. We never let it stop us or slow us down and found that living life as full as possible made it easier to face the hard times. We created memories to reflect back on, goals and dreams to hold onto. Noel carried that positive attitude, very strong spirit, and a tremendous love and respect of life with him through his 25 years. Noel had an egoless ability to live in the present, doing all that he could, and strive to do more without complainant or self pity. Noel continued to plan, learn and do in spite of the knowledge of his illness or the inevitability. He was an inspiration to the ill and well, a role model, a true exemplary statement about living life completely. There was something very special about Noel and his effect on others, indescribable, but deeply felt by everyone who knew him or of him. He inspired, encouraged and changed many people's lives. Noel's pulmonary specialist, Dr Moira Aitkin, thanked Noel for doing her leg work: hospital visitations, lecturing on compliance and giving that extra support to others when needed. He brought and bonded the CF community together - throughout the state of Washington. He formed the Cystic Fibrosis Club and organized fundraisers and events to acknowledge the importance of the "HERE & NOW". Noel took acting classes to prepare to educate the public (nationwide) about organ donation, Cystic Fibrosis and the importance of life itself. His goal was to be the biggest transplant success, in order to save other lives.

Noel knew, with Cystic Fibrosis, that working his heart, lungs & body meant life. After his double lung transplant Noel's goal was to finish the 26th Annual Seattle Marathon. The first week out of the hospital he went shopping for running shoes. Noel finished his 1st 5K, Seattle's Salmon Run where he shared the stage with the race winner, honored by the race committee for his accomplishments and inspiration. He and fellow Cystic Fibrosis/Lung transplant recipient Kevin Wohlers, Seattle – were also featured in the November1995 issue of Northwest Runner titled "A Matter of Life and Breath".
Prior to age 19, Noel played baseball, football, hockey ( adult league), enjoyed water and snow skiing, swan on the Spokane Swim team, ran with school cross country & track, participated in many fun runs including Bloomsday. Noel built up to 25 miles biking, 7 miles running, 50 flights of stairs and 20 pool lengths when he was diagnosed with a degenerative hip injury and told running was not advised. He was not able to participate with Kevin at the 26mile Marathon, but was there to celebrate at the finish line.

Noel was able to walk his sister, Cherese, down the isle to marry Michael McCoy, work at a fast paced Café on Bainbridge Island, start a catering business in Seattle, and enjoy a normal life, prior to rejection of his new lungs.

During the final months of his life, Noel was surrounded by support from the CF community, CF Foundation, Lung Transport Support Group, National Organ procurement Agency, staff from all departments of the U of WA Medical center, researchers working on cures and treatments for CF and dedicated family & friends. A party was given in honor of Noel and the work he had done for all of these organizations, prior to his death. People gathered from all over the state to thank Noel.

Noel took his last breath June 28th, 1996 at the UC Davis Medical Center, surrounded by close family and friends where we hoped for a second lung transplant.

Noel requested his remains be scattered by friends and family, postcards came from dream vacations worldwide and he is a permanent resident on 28th Street. Manito Park, along the Bloonsday route, the Gorge – many special places in Washington state, Idaho, Montana, California, Utah, Hawaii, Nebraska, Vermont, Maine, Virginia, North Carolina, New Mexico, Texas, Vancouver Island, Wallace Island, Canada, Mazatlan, Mexico, Verona & Venice, Italy, Southern France, Heidelberg, Germany, Tay River, Scotland, Etritrea, Africa, Misiones, Republic of Argentina.

If you would like a copy of where Noel is residing let us know. ldonoian@earthlink.net

Boise, Idaho – August 1996
Noel joined George Bushmaster Schreiber in setting a new track record of 285 mph in 5+ seconds and went off the end of the race track at 301+ mph in his red & white STARJET dragster. The STARJET does many air shows with the US Navy Blue Angels.

Casecade River, WA
Marble Creek Campground
Off HWY 20, outside of Mablemount
I sprinkled Noel's ashes on a piece of bark and sent him down the Cascade River. The river is this astonishing color of green that makes me think of Noel's eyes and I sang a verse from a favorite John Hiatt song:

"Oh the river knows your name from the Brazos,
to the Wabash to the Seine no two journeys are
ever quite the same. Oh the river knows your name".

"I feel a sadness that he's gone and a happiness that he is free"
Allison Roberts
Noel running 1985 Bloomsday, 1st Bloomsday 1979 ran 3 miles & was hooked.
Was featured on KXLY's after Bloomsday coverage one year.
Fellow Cystic Fibrosis, double lung transplant recipients
Kevin, Ken, Ryan, Noel & David in back, 3 have passed
Lifelong best friend Steve Lloyd, Noel, & grandpa Dan Donoian, after
transplant Cherese & Mike's wedding 8/1995
Cherese & Noel, backyard ice skating pond
Bloomsday, a family tradition continues Sakaiya, Cherese, Grandma Lynda, Mike & Brandon
Annie Salley & Noel at the Annual Cystic Fibrosis Support Group (founded by Noel) Christmas Cruise on Puget Sound. Annie has Cystic Fibrosis, survivor of Double Lung & full intestinal
transplant - just watched her daughter graduate from high school, something
she only dreamed of.